Two Former Jeopardy Contestants Got Married, And We're Jealous Of Their Story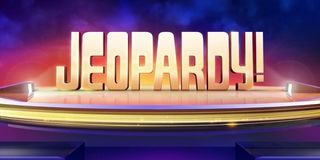 Jeopardy has been on the air for more than 30 years now, and it has resulted in everything from a rapping host to celebrities trying their best to hilarious sketches on Saturday Night Live. Recently, two contestants proved that you don't need to take home thousands of dollars in prize money to emerge Jeopardy winners. Former contestants Maryanne Lewell and Michael Townes got married in a Jeopardy love story for the ages. They'll take wedded bliss for forever, Alex!
It all started in October 2013 when Maryanne Lewell and Michael Townes were both chosen to compete in the annual Teachers Tournament on Jeopardy. Lewell traveled down from New Brunswick and Townes made it from South Carolina to Culver City, California for the chance to make their students proud and win some prize money. What they didn't expect to win was a future spouse. The New York Times reports that they didn't actually compete against each other in episodes, and they formed a connection right away.
The future lovebirds went their separate ways after the end of the Teachers Tournament, but that was not to be the end of their story. The group of competitors stayed in touch via Facebook, and Maryanne Lewell and Michael Townes were able to continue getting to know each other. They discovered a surprising amount of interests -- including comic books, sci-fi movies, and travel -- in common, and they got closer and closer as time passed.
After a period of Facebook messages and texts, Townes finally made a move that extended beyond cyber friendship, texting that he would have asked her out if only they lived in the same city. They began to visit one another, with Townes going to see Lewell in Canada and Lewell joining Townes and his two kids on a family vacation.
Almost four years after their journey began, Maryanne Lewell and Michael Townes were married earlier this month in New Brunswick. Their wedding colors included blue, which was only fitting after they met on Jeopardy. In fact, their wedding program specifically touched on the fact that they two met while in California for Jeopardy. Alex Trebek was invited to the ceremony, but was unable to make it. He sent his congratulations via email, and the rest of the lovebirds' Teachers Tournament competitors were present, so Jeopardy was very much a part of their wedding.
All things considered, it sounds like a wedding and reception that nobody will ever forget. On top of the nods to Jeopardy, there was a photo station with life-sized cutouts of a Star Wars stormtrooper and Aragorn from Lord of the Rings. Masks and lightsabers were available as photo props. Maryanne Lewell plans to move to South Carolina to join her new husband in the not-too-distant future.
Check out our summer TV guide for all your non-Jeopardy viewing options. Don't forget to drop by our rundowns of renewals and cancellations for cable/streaming and network TV to plan your fall TV schedules.
Resident of One Chicago, Bachelor Nation, and Cleveland. Has opinions about crossovers, Star Wars, and superheroes. Will not time travel.