Evil Versions Of Supergirl, Green Arrow And More Are Heading To A New CW Superhero Show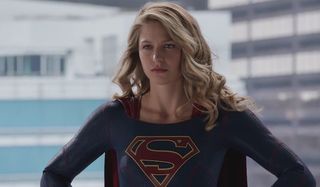 We all know that superheroes are supposed to represent the best of us, embodying lasting ideas of hope, willpower, wonder, and persistence in the face of a lifetime of adversity. However, what if they didn't embody all of those things? What if our favorite DC superheroes stood for hate and oppression? That's exactly what The CW Seed's upcoming animated show Freedom Fighters: The Ray will explore, and the first trailer promises very Nazi-tastic versions of Green Arrow, Supergirl, and much more. Check it out below.
Freedom Fighters: The Ray offers a look at our favorite Arrow-verse characters like you've never seen them before. Taking place in a reality where the Nazis won World War II (because that's all the rage right now), The CW Seed show sees bastardized versions of characters like Green Arrow and Flash serving the Third Reich on "Earth-X." To fight against this totalitarian regime, DC superhero (and LGBT icon) The Ray rallies superheroes of various genders, races, religions, and sexual orientations to stand against an oppressive government predicated on hate.
In keeping with The CW Seed's animated of DC TV projects, some familiar voices will enter the fray to voice these characters -- such as Melissa Benoist, who will lend her vocal chops to Overgirl, the Nazi version of Supergirl. In a chat with TV Insider about the project, executive producer (and overall Arrow-verse guru) Marc Guggenheim explained what it was like to hear Benoist embrace her more evil side, saying:
The idea of DC superheroes turning into fascists is something that many different artists have delved into over the years. After all, DC heroes are often regarded as the more "godlike" characters in the pantheon of the modern superhero genre, and seeing what would happen if all powerful beings abused their powers is something that has consistently intrigued comic book audiences for years. It only makes sense that The CW Seed would continue that tradition in the modern day, utilizing the talent already set up at the flagship network.
In fact, diving even deeper into the greater DC mythology, there are a few key storylines and characters that appear to have offered up some pretty clear inspiration for Freedom Fighters: The Ray. In addition to Grant Morrison's The Multiversity, one of the most prominent examples is DC's Earth-10 universe, which centers on a version of the planet where the Nazis won World War II with the assistance of Nazi Superman called "Overman," who has already been teased on Supergirl. Does this animated Overgirl mean we'll never see a live-action version of either her or Overman? We can never say never with these shows.
It also looks like Freedom Fighters may take some inspiration from the world of classic DC Animation. Specifically, the "Justice Lords" arc from the fan-favorite Justice League cartoon bears a notable resemblance to the universe established by this trailer. Granted, the Justice Lords weren't actual Nazis, but the core themes of fascism and totalitarian governments seem present in both worlds. I guess it's a good thing that we spend more of our time on Earth-1, isn't it?
Freedom Fighters: The Ray is coming soon to The CW Seed, but without a hard release date locked in. Until we know something more, check out our fall TV premiere guide, and make sure to start gearing up for the return of all of your favorite Arrow-verse shows on The CW -- which will kick off with the Season 3 premiere of Supergirl on Monday, October, 9 at 8 p.m ET.
Your Daily Blend of Entertainment News
Originally from Connecticut, Conner grew up in San Diego and graduated from Chapman University in 2014. He now lives in Los Angeles working in and around the entertainment industry and can mostly be found binging horror movies and chugging coffee.