8 Star Wars Rebels Characters That Need To Appear In The Movies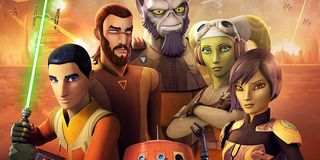 The last several years have been exciting for Star Wars fans everywhere thanks to the release of new movies, a web series, and Star Wars Rebels on the small screen. Rebels premiered in 2014 and has spent four seasons filling in some of the biggest blanks in Star Wars canon in the years leading up to the original trilogy. Thanks to the canon reset following Disney's purchase of Lucasfilm, it's possible for Rebels characters to pop up in future Star Wars stories set in pretty much any era. Although Star Wars Rebels will soon come to an end on Disney XD, here are 8 characters that should definitely appear in the movies.
Sabine Wren
The inclusion of Sabine in Star Wars Rebels has resulted in a lot of information about the Mandalorians in the aftermath of the Clone Wars, and she's a fabulous combination of warrior and artist. How many characters in the Star Wars universe have ever learned to master a lightsaber without the advantage of Force-sensitivity? As one of the young members of the Ghost crew, she could also reasonably still be alive and in action in the era of the sequel trilogy. Sabine could turn up in the next installment of that trilogy, if only for a minor role. Alternately, how about an anthology film about Mandalore?
Grand Admiral Thrawn
Fans of the Star Wars Expanded Universe were thrilled when Star Wars Rebels reintroduced Grand Admiral Thrawn into canon as the big bad of Season 3 and kept him around for Season 4. The character's absence from the original trilogy following his major presence in Seasons 3 and 4 of Rebels has led some fans to speculate that Thrawn will die ahead of A New Hope, but surely Rebels can't kill off Thrawn so soon, even if Rukh is around! He could be sent off to the Unknown Regions or packed off on a top-secret mission or demoted after the probable destruction of his TIE Defender factories on Lothal, which would leave the door open for him to appear in a film.
Hera Syndulla
Technically, Hera Syndulla already had a presence in one of the Star Wars films, although she didn't appear in the flesh. A "General Syndulla" was summoned over the intercom in Rogue One, and the Ghost was visible during the grand Battle of Scarif. The Forces of Destiny web series has also established that Hera survives at least to the end of Return of the Jedi and probably beyond. She could easily pop up in an anthology movie set any time between after the events of The Clone Wars and before the sequel trilogy. Besides, Hera has appeared or been mentioned in A New Dawn (opens in new tab), Rebels, Forces of Destiny, Rogue One, various Star Wars comics, and even Lego Star Wars: The Freemaker Adventures. Surely she deserves to make the leap to live-action!
Kanan Jarrus
Let's face it: Kanan is probably not going to survive the end of Star Wars Rebels. A living Jedi knight in the Rebellion would have been mentioned in the original trilogy. Ezra has Lothal as an excuse to leave the Rebellion and stay alive off-screen, but would Kanan really willingly leave Hera? Luckily for those of us who will be devastated if/when he dies, Kanan led quite a life prior to the beginning of Rebels. The events of the Kanan comic series and the A New Dawn novel reveal that Kanan was more of a scoundrel than a rebel in the aftermath of Order-66 until he met Hera. An appearance from Kanan (or Kanan and Hera together) in a pre-Rebels anthology installment could make perfect sense. Although Solo would have been a great fit, maybe a Boba Fett movie will actually happen and provide another opportunity.
Caleb Dume
Before he was Kanan Jarrus, he was a Jedi padawan by the name of Caleb Dume. If any future Star Wars movies delve or even flash back into the prequel era before or during Order-66, an inquisitive young Caleb could certainly appear. Alternately, we could get an adult Caleb Dume. Season 4 of Rebels has seen Kanan begin to embrace his former identity as Caleb, and the mysterious wolves on Lothal even call him "Dume." Assuming Kanan reclaims his Caleb Dume identity before dying heroically, he could appear in the form of a Force ghost as Caleb. If he does become a Force ghost, he could really appear in any era following his death.
Ahsoka Tano
Ahsoka is one of the most popular original characters to come out of one of the animated Star Wars shows. Like Kanan, she's a former Jedi who did not perish during Order-66. Unlike Kanan, however, she departed the Jedi order before the Republic fell, and there are a lot of blanks in her past that could be filled in with a movie appearance or two. She could easily appear alive and well in a movie set ahead of Rebels or in a later film via some kind of Force shenanigans. A recent Rebels trailer seemed to hint that Ahsoka is alive in the Force. Who knows? Maybe she and Kanan/Caleb can hang out as Force ghosts and give Mystery Science Theater 3000-style commentary on the original trilogy. Who wouldn't watch that?
AP-5
The cranky little murder-bot Chopper is the best-known droid to come out of Star Wars Rebels, but he's not the only one. The Clone Wars-era protocol droid AP-5 defected to the Rebellion after an adventure with Chopper, and he's spent the last season and a half calculating odds and providing droll commentary for the rebels. If Chopper could appear in Rogue One, surely AP-5 could appear in a movie as well, right? After all, this is the droid who delivered what may be the closest thing to a Broadway-style musical number that ever occurs in the Star Wars universe. What's not to love?
Bonus: Rex
Unlike the other characters on the list, the clone trooper known as Rex may have actually appeared in the original trilogy. In Return of the Jedi, an older rebel with a thick white beard was part of Han's mission on Endor. Before the canon reset, this particular rebel was a character by the name of Nik Sant. The resemblance between Rex on Rebels and the character in Return of the Jedi nevertheless had fans theorizing that Rex survives to the Battle of Endor. Star Wars Rebels showrunner Dave Filoni has acknowledged and admitted that he likes the theory, and it's not like Nik Sant is a household Star Wars name. All we need is explicit confirmation that Rex is the old guy in Return of the Jedi, and we'll have a canon appearance of a Rebels character in the original trilogy! Just look at the resemblance:
Tune in to Disney XD on Monday, February 19 at 9 p.m. ET to catch the next new episode of Star Wars Rebels' final season. Our midseason TV premiere guide can point you toward your other viewing options. Don't forget to take a look at our pitches for Star Wars TV shows that should rise up after Rebels is done.
Your Daily Blend of Entertainment News
Laura turned a lifelong love of television into a valid reason to write and think about TV on a daily basis. She's not a doctor, lawyer, or detective, but watches a lot of them in primetime. Resident of One Chicago, the galaxy far, far away, and Northeast Ohio. Will not time travel, but will sneak references to The X-Files into daily conversation.
Your Daily Blend of Entertainment News
Thank you for signing up to CinemaBlend. You will receive a verification email shortly.
There was a problem. Please refresh the page and try again.