Outlander Season 3 Finally Revealed Its Premiere Date, And This New Poster Will Break Your Heart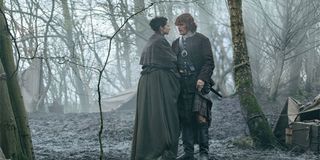 Outlander fans have been waiting over a year now for new episodes, and it hasn't been an easy wait. Season 2 ended in a way that ripped our heroes apart, sending one hundreds of years into the future with a bun in the oven and sending one into a bloody battle that was likely to end in his death. Luckily, Starz has finally announced when we can expect Outlander Season 3 to debut, and it's not that far away. We can expect more of Claire and Jamie on September 10. Prepare yourself for some heartbreak and check out the new poster!
It's okay, I didn't want to stay dry-eyed today anyway! In the new poster, we see Claire and Jamie still separated through time. Claire is in her snazzy 1960s clothes, with her hair stylishly tamed, while Jamie is still wearing his 18th century clothes. The standing stone keeps them separate, as both believe the other out of reach. At least neither of them seems to be dead, dying, seasick, and/or in imminent danger.
Jamie was never going to die at the Battle of Culloden, or else the show would come to a very premature ending, but he's clearly not going to have a happy time in the aftermath. As for Claire... well, she'll have a baby and a husband who at least still loves her. Still, the look on her face is proof enough that twenty years won't be enough for her to forget Jamie.
The third season will run for 13 episodes, which will be based on the events of Voyager, the third book in Diana Gabaldon's expansive Outlander saga. Gabaldon has stated events of Season 3 are going to follow the events of the book more closely than Season 2 followed the second book, although showrunner Ronald D. Moore has revealed that events may be rearranged from the format of the novel. There will reportedly be more sex in Season 3, presumably because Claire is no longer dangerously pregnant and Jamie is no longer physically recovering from his brutal assault courtesy of Black Jack Randall.
Interestingly, Season 3 marks a time slot change for Outlander. In the first two seasons, Outlander aired on Saturdays at 9 p.m. ET. For the third season, Outlander is moving to Sunday nights at 8 p.m. ET. While a change to an earlier time slot would undoubtedly mean fewer risque and violent scenes on broadcast networks, we don't have to worry about such things on Starz. I'm guessing we'll be in for as much nudity and battles as we've gotten in years past.
Outlander Season 3 debuts on Sunday, September 10 at 8 p.m. ET. Take a look at our breakdown of what we know so far about the third season to discover what characters and plot twists have been revealed to date, and swing by our summer TV premiere schedule to find what you can watch to pass the time until September 10.
Resident of One Chicago, Bachelor Nation, and Cleveland. Has opinions about crossovers, Star Wars, and superheroes. Will not time travel.
Your Daily Blend of Entertainment News
Thank you for signing up to CinemaBlend. You will receive a verification email shortly.
There was a problem. Please refresh the page and try again.