How Mayans M.C. Prevented Spoilers Before The Series Premiere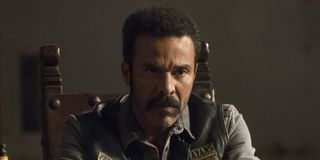 (Image credit: Image courtesy of FX)
The premiere of Mayans M.C. marked the arrival of a series that already had a fanbase ready and waiting to tune in. The Sons of Anarchy spinoff was going to take viewers back to the world that had developed over the years of the original series while also taking them to a new location and featuring almost entirely new characters. Mayans was in the works for years, and now that we're in an age of social media and spoilers, secrets seemed bound to get out. Michael Irby, who stars as Bishop on Mayans M.C., recently spoke with CinemaBlend about the series. In addition to sharing how reshoots impacted the Sons of Anarchy spinoff, he had this to say when I asked if the show had taken steps to prevent spoilers:
As it turns out, some members of the Mayans M.C. team were a bit more open on social media than FX and co-creator Kurt Sutter were hoping for. It's so easy to share on platforms like Twitter and Instagram nowadays that it's also easy to overshare, and even the tiniest details could give away significant parts of a series like Mayans M.C. For a show set in a universe already established and filled in by a whole other series, Mayans managed to keep a lot of details quiet, which made footage from trailers all the more exciting and built anticipation for the September 4 premiere.
Of course, a social media blackout isn't the most drastic measure a project has taken to keep a lid on spoilers. The casts of Game of Thrones and just about every Marvel and Star Wars installment would probably love to only have to deal with a social media blackout. That said, Mayans M.C. doesn't have a member of the cast notorious for dropping spoilers like Tom Holland and Mark Ruffalo.
Michael Irby's comments about the social media blackout indicate that FX was more concerned with protecting the story than keeping every single aspect of production a secret. Would the Mayans premiere have felt as intense and engaging if we'd already known about every character, action sequence, and location?
As surprising as the social media blackout was to Michael Irby, he went on in our chat to explain how effective he believes it was:
The first season of Mayans M.C. has a ways to go, so the cast isn't in the clear to give away all the set secrets just yet. Still, a lot more of the series could have been spoiled even before the premiere if not for the social media blackout in the lead-up to the advertising push. The buzz for Mayans M.C. couldn't be higher nowadays, and that might not have been the case if viewers knew a whole lot of details ahead of time.
To see Michael Irby and the rest of the cast in action in new episodes of Mayans M.C., tune in to FX on Tuesdays at 10 p.m. ET. It's only one of the thrilling new shoes in the 2018 fall lineup, and there's a lot to look forward to on the rest of the nights of the week as well.
Resident of One Chicago, Bachelor Nation, and Cleveland. Has opinions about crossovers, Star Wars, and superheroes. Will not time travel.
Your Daily Blend of Entertainment News
Thank you for signing up to CinemaBlend. You will receive a verification email shortly.
There was a problem. Please refresh the page and try again.