Riverdale Premiere Spoilers: What Archie's Verdict Means For The Rest Of Season 3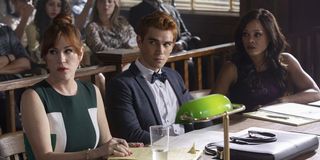 (Image credit: Image courtesy of The CW)
Spoilers ahead for the Season 3 premiere of Riverdale on The CW.
TV's wildest teen drama returned to the airwaves with the Season 3 premiere of Riverdale on The CW, and fans were undoubtedly more than ready to find out what was in store next after the bonkers Season 2 finale that ended with Archie arrested for murder. Well, the main plot of the premiere revolved around Archie's trial, and the verdict is in: Archie pleaded guilty and is headed behind bars.
Interestingly, Riverdale actually skipped most of Archie's trial and picked up just in time for viewers to catch the lawyers' closing arguments. Although fans are perfectly aware that Archie is not guilty of actually committing murder, the truth didn't seem to matter as Archie's less-than-wonderful traits were spun to create an image of a violent murderer. After the closing arguments, the judge sequestered the jury into hotel rooms and sent everybody home for the long Labor Day weekend.
Although Archie had the time to enjoy a Cheryl Blossom pool party and then later go swimming (hopefully without any leeches) with Veronica, Betty, and Jughead, he was consumed by guilt for failing to stop the murder the previous spring. When the time came for the jury to announce their ruling, they had a surprise for everybody: they were hopelessly hung, with six believing Archie guilty and six believing him innocent. The judge had no choice but to declare a mistrial and prepare the court to start all over.
Archie wasn't happy to hear that everybody would have to go through a trial all over again, so when the prosecution offered a deal that involved him pleading guilty to a lesser charge, he jumped at the opportunity. The upside of the lesser charge means that he won't go to prison, and time already served will suffice; the downside is that he's headed to juvenile detention for two years. Against the advice of his mom/lawyer and the pleas of Veronica, Archie accepted the deal on the spot and is headed to juvie.
Now, since this is Riverdale and Riverdale is fundamentally Archie's story, we can bet that Archie won't be behind bars for the entire season. The verdict of the trial with him headed to juvie rather than maximum security means that it could be simpler for his pals to spring him from the clink than it would have been if he'd been convicted of the original charge, although it also means that we have to give up our dreams of a Riverdale/Arrow crossover in prison teaming up Archie and Oliver Queen.
Yes, Archie will inevitably be out of detention before the end of the third season. In fact, I'd put my money on him getting his walking papers by the end of the midseason finale. Riverdale surely would not have sent Archie to juvenile detention for no reason, however, and his incarceration could mean that he meets somebody very important during his stint behind bars. He's bound to have some allies thanks to the imprisoned Serpents that Jughead promised, but the promo for the next episode reveals that he's cruising for a bruising in juvenile detention.
Archie is undoubtedly in the clink for a reason, and we can bet that it means Riverdale has some new tricks in store for the rest of Season 3. Veronica refused to let Archie break up with her and is firmly against her father after he framed Archie, so she'll likely be heavily involved in Archie's story, even if they can't exactly make out at any pool parties any time soon. That said, if Archie behind bars doesn't appeal to you, there should be plenty going on elsewhere.
Betty ended the episode having a seizure due to what could be drug withdrawal, hallucination, something going on with the creepy folks at The Farm, the vision/sight of Polly and her mom dangling the twins over fire, or some unknown cause. The reveal of the Black Hood wasn't the end of Betty's family issues! Throw in the Gargoyle King who seemed keen to sacrifice two of Jughead's friends, and things are shaping up to be as dark and twisty as ever in Season 3. And musical, eventually!
New episodes of Riverdale air on Wednesdays at 8 p.m. ET on The CW this fall.
Resident of One Chicago, Bachelor Nation, and Cleveland. Has opinions about crossovers, Star Wars, and superheroes. Will not time travel.
Your Daily Blend of Entertainment News
Thank you for signing up to CinemaBlend. You will receive a verification email shortly.
There was a problem. Please refresh the page and try again.