9-1-1 Showrunner Is Aware That Chimney Hasn't Had An Easy Time On The Show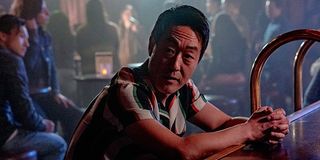 Spoilers for the most recent episode, Season 2 Episode 12 aka "Chimney Begins," of the emergency drama can be found throughout this article. We warned ya!
If you've been keeping tabs on Fox's 9-1-1 it's actually probably been a while since you've thought about the series. That's because the show has been off the air since November – can you believe it's been that long? – and only returned last night with an episode that was once again a doozy for Chimney.
We say a doozy because the episode ended with Doug attacking Chimney in front of Maddie's apartment. Maybe we should back up. Maddie had been spending time with Chimney after she recently escaped her abusive husband Doug. Doug was clearly not happy about this and stabbed Chimney in the gut, also knocking Maddie out.
Chimney ends up hurt and possibly dying at the end of the episode… wait, does this sound a little bit familiar to you?
Back during Season 1 of 9-1-1 the stakes were incredibly high incredibly quickly. During the third episode ever of the Fox drama, Chimney was actually impaled with a piece of rebar. Yes, a piece of rebar went through his skull, after which the doctors miraculously were able to get it out and he was put into a medically induced coma.
He survived that too, suffice to say the man has not had an easy time of it on this show. That's something that showrunner Tim Minnear told TV Line is actually being written into the show:
But if you were worried he might get another cake after this incident, that's something the cast and crew are going to have fun with as well, although Minnear was not pumped about giving away too many details about what's to come. In fact, this storyline could drag on for a bit.
Showrunner Tim Minnear really did the rounds after the recent episode, also telling The Wrap this particular storyline may not play out quite as quickly as the rebar to the head did. He said:
I guess it's becoming a trend that once a season Chimney will get into some sort of trouble. A woman will likely somehow be involved, and with a little luck Chimney will live to see another day!
How good would it be if this near-fatale stuff goes on for like four or five seasons and then in Season 6 the show actually makes one of these sorts of events fatal for Chimney, shocking everyone?
I'm really getting ahead of myself here, as Season 6 would be a long way off, plus I'd hate to write actor Kenneth Choi out of a job, but how wild would that be? Also this show is outrageous enough to make this sort of plotline work. See for yourself when 9-1-1 airs on Monday nights at 9 p.m. ET, only on Fox.
Amazing Race & Top Chef superfan with a pinch of Disney fairy dust thrown in. Theme park junkie. If you've created a rom-com I've probably watched it.
Your Daily Blend of Entertainment News
Thank you for signing up to CinemaBlend. You will receive a verification email shortly.
There was a problem. Please refresh the page and try again.