The Bachelorette: Why Hannah Almost Quit After Her Disastrous Date With Luke P.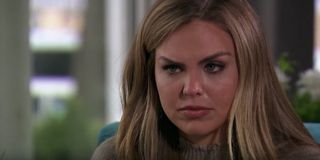 Warning: Spoilers ahead for the latest episode of The Bachelorette. Come back once you've caught up!
It's no secret now that Hannah Brown came close to quitting during the middle of her run on The Bachelorette, but now we know what almost drove her over the edge. Well, no surprise here, but it had a lot to do with Luke P.
So, the infuriating date drama from last week has passed into this week, with Hannah telling Luke that she wouldn't be able to give him the one-on-one rose because this was the worst date she's had during her whole time as Bachelorette. If you don't remember, they literally went around and around with the same questions from Hannah and the same non-answer answers from Luke, leaving Hannah a confused, frustrated mess by the time they met up for dinner.
The big cliffhanger from last week involved whether or not Hannah was actively sending Luke home by not giving him a rose and our questions (and our hopes) were answered this week. After telling Luke that she couldn't give him the rose, he asked if that was it for them and she wanted him to go home...AND SHE SAID YES! But, we've all seen that clip of Luke yelling his face off at Garrett so, what happened to the dude no one but Hannah (sorta) likes hitting the bricks?
I tell you what, Luke fucking hates to lose. As he's walking to the waiting car to take him to get his bags and leave Scotland, he talks about how he doesn't want to go home, now his "eyes have been opened" and he needs to fight for Hannah. So, instead of respecting her decision, which she asked him to do when she told him to leave, he turns around and heads back in to the spot where they were having dinner, where a shocked Hannah asks "What are you doing?" That, dear Hannah, is what we all would like to know.
Bachelor In Paradise Spoilers: One Star Steals The 2019 Show, In A Bad Way
Luke starts by saying that their terrible, no good, very bad date is his fault and apologizing and then he puts on what I can only describe as the most glorious show. He steps off to the side, telling Hannah he feels like screaming and proceeding to do just that, saying he wants to "yell" and "move mountains" for her.
So, once again, Luke has saved his ass by giving Hannah exactly what she wants, even thought it's clearly forced. And, once again, Hannah voiced some reservations, but Luke managed to give her enough for her to keep him around.
As you might imagine, when all the guys are sitting around talking about how badly they want Luke gone and he saunters in saying "What's up boys?" they are not happy. Luke owns up to them about how bad the date was, not getting the rose and Hannah giving him yet another chance despite her initial instincts. Then, we get to the thing that will almost lead to Hannah quitting this whole Bachelorette experience.
Before the one-on-one, Garrett had respectfully asked Luke to make sure he kept the names of all the other guys out of his mouth on his date. So, when Luke shows back up, Garrett says the only way he sees him still being around is if he attempted to throw others under the bus, but Luke says he stayed true to his word and didn't bring up any of the guys. Obviously, this is a lie.
The next night is the cocktail party, and this is where all the shit hits the dating-too-many-dudes-at-one-time fan. After Hannah give a speech about wanting to know "what's hard to share" about all the guys and everyone being "comfortable in sharing the uncomfortable," Garrett grabs her first. And, what does this fool do? Ask Hannah if Luke really did stick to his word and not talk about any other guys on their date. Dammit!
So, she tells him the truth. That Luke mentioned Mike, Devin and Dylan, but that she feels she instigated it by asking for some specifics about what's been happening in the house. This one little thing sets off a firestorm in just a few minutes, though. After Connor comes in to get some alone time with Hannah, Garrett goes back to the assembled fellas and tells on Luke. It's not long before Hannah and Connor's conversation is interrupted by yelling and cursing, so she apologizes to him and goes in to see what's wrong.
This is when yet another awkward, maddening, session of "around and around" happens for Hannah. She has to listen to the guys question why Luke was talking about them and why he said he didn't talk about them when he really did. As it continues, Hannah gets more and more annoyed, so much so that she finally says she wants to "continue with the night but I'm frustrated as fuck. I want to say to you all, stay in your freaking lane because I'm tired of hearing screaming."
Bachelorette Spoilers: How Long Does Luke P. Last With Hannah?
If you're now thinking that she told the guys what she wanted, so that would be the end of it, well, you don't know this bunch of doofuses. Despite dear, sweet Pilot Pete trying to calm things down by reminding everyone that Hannah is really angry about this bullshit now, Garrett and Luke get started again. This time, Hannah is sitting outside the room drinking and listening. She downs her drink in one gulp and heads back in.
She first tells Luke to "stop making excuses and just fix his flaws," but she also blasts the others for focusing on him when she is the one who's supposed to do that and says that she's "a grown-ass woman and I can decide if I want to figure this out." She continues:
Hannah is crying now and Chris Harrison shows up to to ask if she's OK. When she explains that she came in that night wanting to move forward with other relationships, but all the Luke drama is taking up her time, she stars crying even harder. After Chris tries to offer an explanation for the issues, she declares the party over and everyone heads in to the rose ceremony. And, yes, Garrett and Luke get roses.
Who Did The Bachelorette Hannah Pick? Spoilers Reveal Rumored Fiance
The whole crew then moves on to Latvia, and while all the guys are out drinking and sightseeing, Hannah is going over all the issues with Chris, and reveals that she's having trouble staying hopeful and feels like she's "flailing." She adds that she doesn't know how going on this show works for people, even though she thought she did at the beginning, noting that she "doesn't know if this is going to work anymore."
So, if it hadn't been for the Herculean efforts of Chris Harrison, it sounds like Hannah would have at least tried really hard to bow out of The Bachelorette over all the Luke P. drama. But, after going back to the beginning with Chris and detailing all the bad times and good times, Hannah is left saying "if I can get past this, I still have a glimmer of hope."
So, Hannah is still our Bachelorette, but that glimmer of hope is going to continue to be tested in the weeks to come. You can see how Hannah B. handles herself when The Bachelorette airs Mondays on ABC at 8 p.m. EST.
Your Daily Blend of Entertainment News
Yennefer's apprentice, Gilmore Girl; will Vulcan nerve pinch pretty much anyone if prompted with cheese...Yes, even Jamie Fraser.