Vampires In Swamp Thing? Here's What Was Supposed To Happen In Season 2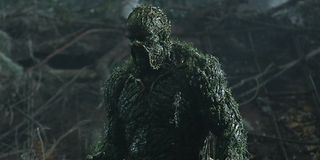 (Image credit: DC Universe)
DC Universe's library of originals has been a success for the most part, which made it downright shocking when Swamp Thing was cancelled after only one episode had released. The reviews had been largely positive, and viewers hadn't even had more than the premiere to gauge whether or not the show would be worth watching.
Those who stuck around won't get to see what happens for Abby Arcane, Swamp Thing, and the rest (unless that movie actually happens) following the Season 1 finale, but showrunner Gary Dauberman has talked about what Season 2 could have involved.
Gary Dauberman and co-showrunner Mark Verheiden worked to make the first season "true to the spirit" of the comics that created Swamp Thing, according to Dauberman in comments to GameSpot. Would Season 2 have seen them diverge more from the spirit of the comics that have already been published, and perhaps go in a wilder new direction?
Well, the plan wasn't to go into the "monster of the week" style of storytelling that is popular on other DC Comics shows, particularly those on The CW. Gary Dauberman did want to include some monsters, however, including vampires and werewolves. There also likely would have been some smaller stories within the full season, if not quite one-off "monster of the week" stories.
Gary Dauberman said this about the goals for Season 2 back before the Swamp Thing team got the bad news:
Basically, Swamp Thing could have continued to set itself apart from the other comics-based TV shows available now, both on The CW and elsewhere on DC Universe. Unfortunately, factors other than the storytelling were reportedly the cause for the cancellation, and the series didn't air long enough to accumulate a fanbase that would get up in arms and campaign for a second season and/or revival elsewhere.
How Involved James Wan Got In DC Universe's Swamp Thing
So, whatever was going to happen with the vampires and werewolves and whatever else Gary Dauberman and Co. could have come up with for Season 2 won't make it to the small screen, unless something truly wild happens and Swamp Thing characters move to other DC Universe shows after the show ends.
Of course, DC Universe isn't The CW, and Titans and Doom Patrol sharing a universe isn't the same as the Arrow-verse, which can more or less send the superheroes that don't fit anymore on Arrow, The Flash, and/or Supergirl to get into some trouble on Legends of Tomorrow.
Gary Dauberman did once suggest that a crossover opportunity could be present between Titans and Swamp Thing, so maybe some familiar Swamp Thing faces will appear on Titans. That said, Titans already has a pretty stacked cast for Season 2 as it seems poised to tackle the legendary Judas Contract arc from DC Comics. And Bruce Wayne in the flesh is coming!
For now, you can catch episodes of Swamp Thing streaming on DC Universe. There may not be vampires and werewolves running around, but plenty of action is undoubtedly still to come.
Resident of One Chicago, Bachelor Nation, and Cleveland. Has opinions about crossovers, Star Wars, and superheroes. Will not time travel.
Your Daily Blend of Entertainment News
Thank you for signing up to CinemaBlend. You will receive a verification email shortly.
There was a problem. Please refresh the page and try again.