The Big Bang Theory's First Streaming Deal Is Expected To Top $1 Billion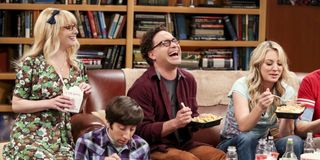 (Image credit: CBS)
The Big Bang Theory was one of the biggest shows on television when it aired its series finale in the spring, although it didn't get the "respect" the CBS boss feels it deserved from the Emmys. In fact, it was still so big in Season 12 that the entertainment head honcho at the Eye Network wasn't happy it was ending. Still, The Big Bang Theory isn't finished generating huge numbers, even if those numbers aren't ratings. The show is poised to drive a streaming deal upward of $1 billion.
Yes, that's $1 billion with a b. What streaming platform is willing to shell out that much money for The Big Bang Theory, along with another big sitcom? Well, not Netflix, even though that streamer may be in the need of some classic sitcoms due to recent events. No, upcoming streaming service HBO Max (from Warner Bros.) is in talks to secure The Big Bang Theory and Two and a Half Men that, according to Deadline, could result in a deal of as much as $1.5 billion.
Up until an official deal has been struck, The Big Bang Theory was only available streaming on CBS All Access. HBO Max already has the rights to stream Friends once the deal with Netflix expires, and a reboot of Gossip Girl is heading to the new platform as well, although it should be quite different than the original CW series. Throw in the fact that Doctor Who is coming to HBO Max, and fans will soon have to find their time travel TV streaming elsewhere than Amazon Prime.
Rewatching David Tennant's Doctor Who Finale Reminded Me Why I Loved Doctor Who
While The Big Bang Theory and Two and a Half Men are certainly big sitcoms, there is still the question of why the price tag is so high to secure them. That Big Bang hasn't had a home streaming elsewhere than CBS All Access -- which, for all that it is the home of Star Trek in live-action on the small screen, isn't really a big fish in the streaming pond -- plays a part, and both Big Bang and Two and a Half Men perform strongly in syndication.
Assuming the deal goes through, HBO Max will be home to The Big Bang Theory, Two and a Half Men, and Friends when it launches in spring 2020. The conversations behind the deal are reportedly complex due to stipulations from co-creator and executive producer Chuck Lorre. Interestingly, Lorre is at least a big part of the reason why no Big Bang spinoff has been launched other than Young Sheldon.
With The Office leaving Netflix for the NBCUniversal streaming service and Big Bang, Two and a Half Men, and Friends heading to HBO Max after huge deals, Seinfeld reportedly could be the next classic sitcom to hit the market in pursuit of a lucrative deal of its own. Although tied up to streaming exclusively on Hulu until 2021, could it be the next to head to HBO Max? Seinfeld is owned by Warner Bros., after all.
For now, you can count on at the very least Friends on HBO Max when it launches next year, with all signs pointing toward The Big Bang Theory and Two and a Half Men as streaming options on the new platform as well. Will HBO Max finally be the platform that can unseat Netflix as the place to be for streaming TV? Netflix still has the edge on all competition when it comes to the sheer number of original series, but times are certainly changing.
Resident of One Chicago, Bachelor Nation, and Cleveland. Has opinions about crossovers, Star Wars, and superheroes. Will not time travel.
Your Daily Blend of Entertainment News
Thank you for signing up to CinemaBlend. You will receive a verification email shortly.
There was a problem. Please refresh the page and try again.