Supernatural's Misha Collins 'Would Love' To Take Part In The Arrow-verse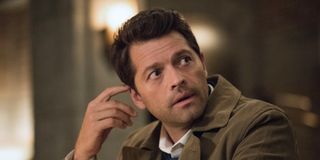 (Image credit: The CW)
The CW is losing its longest-running series in the 2019-2020 TV season thanks to the grand finale of Supernatural, and the end of Supernatural probably means the end of crossover opportunities with the Arrow-verse. Considering how wild Supernatural and the shows of the Arrow-verse have gotten over the years, it wouldn't even be that much of a stretch to reveal that they share a world, or at least exist in the same multiverse. Alternately, the Supernatural cast will soon be on the job market. Could they drop by the Arrow-verse?
Misha Collins, who has of course played the angel Castiel on Supernatural since way back in Season 4, chatted with CinemaBlend's TV Editor Nick Venable at the 2019 TCA summer press tour, and Collins said this when asked if taking part in the Arrow-verse was something that would ever interest him:
The possibility of a crossover between Arrow and Supernatural has been pitched in the past, with Arrow leading man Stephen Amell even saying that he was "totally up for it." The timing really couldn't be better. Arrow is also ending in the 2019-2020 TV season, and the two shows ending could mean that all bets are off and they can do things that weren't really feasible before. Will it happen? Maybe not. Is it fun to speculate? 100%.
Misha Collins didn't say that he'd be set on playing Castiel if he did appear in the Arrow-verse, but he would love to do something funny for it. And what Supernatural and/or Arrow-verse fan could disagree? The possibilities are endless, and pretty much all off them have the potential to be hilarious.
Considering Castiel on Supernatural basically wears the same costume as Constantine on Legends of Tomorrow (and in the comics), why not have Cas turn up on Legends for some wardrobe banter? Cas is a supernatural creature, after all, and Legends is the show in the Arrow-verse that could easily include angels. What's not to love about Constantine snarking at Castiel while Castiel tries and fails to keep everything under control? Or cast Misha Collins as a parallel Constantine!
The "Crisis on Infinite Earths" crossover is coming up, which means that there are possibilities for crossovers that wouldn't even require the craziness of Legends of Tomorrow to make sense. If the Arrow-verse can bring in Kevin Conroy and Burt Ward for "Crisis," and Brandon Routh can play Superman (presumably as well as Ray Palmer), why can't one of the Earths in the multiverse be the Supernatural Earth? Supernatural established a multiverse relatively recently as well.
The Winchesters, Castiel, and Co. wouldn't need to have huge roles, but couldn't they pop up for cameos? Maybe do some shooting or smiting before returning to their own problems? They may not have the Monitor to deal with, but God is the big bad of Season 15.
There's also the point that Supernatural is basically the most meta show in television history. Between "The French Mistake" that had Jared Padalecki, Jensen Ackles, and Misha Collins playing actors named Jared Padalecki, Jensen Ackles, and Misha Collins, the fact that the prophet Chuck (later revealed to be God) published a series of novels about the Winchesters in-universe, and a bunch of teenage girls created an original musical based on those books for the 200th episode (called "Fan Fiction," because of course it was), I feel like nothing is out of the question. More meta is coming in Season 15.
Hey, maybe Supernatural could reprise that pitch for an episode of Supernatural that would have had the Winchesters meeting Smallville's Tom Welling after a Superman curse was cast that killed every actor who played Superman.
Supernatural's final season is going to air beyond Arrow's series finale, so why not tweak it and bring in Stephen Amell to play former Oliver Queen actor Stephen Amell? That would allow Amell to kinda sorta come back without ruining what may be the definitive Arrow ending he's looking for.
Besides, I think Supernatural fans could use some fun in Season 15, considering Dean's mad at Castiel, Jack is dead for now, souls have been unleashed from Hell, God is the villain, and Misha Collins teased that Supernatural won't have a conventional happily-ever-after ending. Jensen Ackles had trouble with the series finale ending as well, although Jared Padalecki's comments are a little bit more reassuring.
If a Legacies crossover with Supernatural is possible, why not the Arrow-verse? We already have the perfect role picked out for Jensen Ackles, and he weighed in on it. Maybe Jared Padalecki could even play the DC Comics role he was once hoping for! He and Ackles would still be playing brothers... sort of.
Is any of this likely to happen? Honestly, not really. Then again, both Supernatural and the Arrow-verse have delivered their fair share of surprises, and the Arrow-verse is pulling out all the stops for "Crisis on Infinite Earths." The Arrow-verse will probably be pretty different following "Crisis" as well, and not just because of what happens to Oliver and the end of Arrow shortly thereafter. Unlike Supernatural with its history of prospective spinoffs that failed to get off the ground, Arrow has been launching spinoffs since the introduction of Barry Allen back in Season 2, and another spinoff could be in the works.
With so much change coming, we can't 100% rule out Misha Collins or any of the other Supernatural guys appearing somehow in the Arrow-verse. If Supernatural could get animated to cross over with Scooby-Doo, I'm waiting until the final credits roll to say for sure. Isn't semi-baseless speculation that could nevertheless be on the money part of the fun of still watching Supernatural after nearly a decade and a half?
Supernatural (as well as most of the Arrow-verse) returns to The CW with new episodes in the fall. The 2019-2020 marks the end of an era on the network, and it should be interesting to see what The CW has in mind to replace Supernatural, as well as Arrow, in its lineup. Somehow I don't see Nancy Drew filling the void left by these genre shows, but maybe Batwoman will do the trick!
Resident of One Chicago, Bachelor Nation, and Cleveland. Has opinions about crossovers, Star Wars, and superheroes. Will not time travel.
Your Daily Blend of Entertainment News
Thank you for signing up to CinemaBlend. You will receive a verification email shortly.
There was a problem. Please refresh the page and try again.