How Worried Should Yellowstone Fans Be For Tate?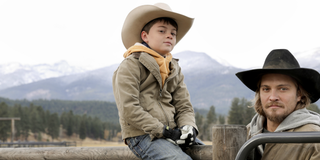 How worried should Yellowstone fans be for Kayce and Monica's son, Tate? That is the stressful question now at the top of the list heading into Season 2, Episode 9 ("Enemies by Monday"). In the latest installment, the diabolical Malcolm Beck (Neal McDonough) set his sights on his next target within the Dutton family.
As Yellowstone's second season hurtles towards its conclusion, John Dutton (Kevin Costner) has been preparing for war against his adversaries. John is leading the charge after his daughter Beth (Kelly Reilly) was viciously attacked on Malcolm Beck's orders. After the Duttons sent Beck a warning about what was to come, Malcolm made his own plans, potentially targeting John's grandson, Tate.
Where Things Stand
At the end of Yellowstone's latest episode, Malcolm Beck picked the next Dutton he was going after, and it was not exactly clear who he selected. A sea of pictures crowded Beck's coffee table, and then he separated the stack, indicating he had made his choice.
Beck parsed out a picture of Tate's mom, Monica (Kelsey Asbille) onto one side of the table. A stack with Tate's picture on top was then moved to the other. Did he choose Tate or Monica? Yellowstone viewers have been left to wonder and worry about both of them.
After initially seeing that scene, I thought that Malcolm was going to target Tate (Brecken Merrill). Upon a second look, it seemed much more ambiguous, with Monica also being a possibility. Yellowstone is no stranger to dark turns, so Malcolm going after Tate, Monica, or both of them, is not out of the question.
At this point, I think it is highly likely that Malcolm, being the ruthless and awful person that he is, could go after John's beloved grandson. John leaving Malcolm alive long enough to have this showdown will probably have consequences. Unfortunately, it has only given the Beck brothers more time to work on a counter-strategy.
What It Means
When Yellowstone left off, Monica and Tate were both safe on the ranch. John indicated that he thinks that his home is pretty impenetrable. However, earlier this season on Yellowstone, the Becks made their presence known by walking right up to their front door. Rip (Cole Hauser) ended up fighting off their enforcers. A positive sign for the future with one exception.
Rip is still recovering from the gunshot wounds he sustained from saving Beth. The Becks do not seem to know that, but an attempt on the ranch could tragically make that clear. Rip will undoubtedly do everything in his power to protect Tate. However, he could find himself overpowered.
There is a strong chance that the Becks could go after Tate, only to have him saved by his mother. A unsettling image from the trailer hinted that someone would be harmed. In it, Beth can be seen crouched over an unidentified, unconscious person. As previous trailers have shown, that is not good.
Will the Duttons think they are in the clear, only to have Beck come back and bite them at the last minute? It is feasible, and Yellowstone has made an important note of Tate wanting to have his own horse this season. Could that somehow play into the scenario to come?
The Possibilities
As I see it, there are two possibilities. I think there is an unfortunate chance that the Becks could have a sniper overlooking the ranch. They could threaten John at their meet-up by saying they have an assassin with eyes on his family. Threatening John by saying if he does not capitulate, they could shoot one of his family members.
John could agree, and Beck could still have the sniper take a shot. There is also the possibility that John kills Malcolm. Out of spite, the latter may have already set-up some payback from the grave. He is not above aiming his evil at young Tate.
If the Duttons succeed in taking out the Becks, Tate could want to ride out with his dad and grandpa. Something that the Duttons agree to, because they think they are safe, only to have Malcolm Beck strike.
If Malcolm has targeted Tate, and Monica is around, she will undoubtedly step in to save her son. Thus, leaving viewers with a massive cliffhanger to take them into Season 3. Yellowstone has endangered Monica before, and she pulled through. Hopefully, if something like this happens, she will do so again.
Casting for Yellowstone's next season has assured the safety of one pivotal character at odds with Malcolm Beck. Fans will have to see if Tate and the rest of the Duttons join them. The hit show has taken some dark detours, however, hurting Tate would be bleak beyond belief.
Tune in to see how all of your worries work out when new episodes of Yellowstone air Wednesdays at 10 p.m. ET on the Paramount Network. After Yellowstone's second season finishes airing, there will be many fall premieres to help fill the void.
Like a contented Hallmark movie character, Britt happily lives in the same city she grew up in. Along with movies and television, she is passionate about competitive figure skating. She has been writing about entertainment for 5 years, and as you may suspect, still finds it as entertaining to do as when she began.
Your Daily Blend of Entertainment News
Thank you for signing up to CinemaBlend. You will receive a verification email shortly.
There was a problem. Please refresh the page and try again.