Mythbusters And Top Gear Stars Are Teaming Up For New Amazon Show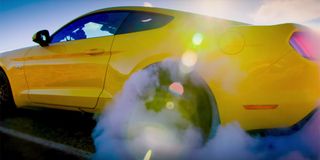 It's the dream team you most certainly were not looking for, but former Top Gear stars and former Mythbusters stars are teaming up for a new show on Amazon. The currently untitled series is being described as "an adventure series" with six episodes currently slated for Amazon's lineup.
But which Mythbusters and Top Gear/ Grand Tour stars will star?
Top Gear And The Grand Tour Star Richard Hammond Will Star
First and foremost, former Top Gear and The Grand Tour star Richard Hammond will be joining the new Amazon project. Richard Hammond is most known for starring alongside Jeremy Clarkson and James May in the British version of Top Gear. They later quit that series to head to Amazon to produce the car-driven show The Grand Tour. This new show should be a nice complement to Hammond's other popular Amazon series.
Luckily, Richard Hammond's mechanical background should prove helpful in the new Amazon "adventure series," but we'll get into that more later.
Former Mythbusters lead Tory Belleci Will Star
Tory Belleci was a major presence on Mythbusters before he was unceremoniously fired from the series, presumably to cut costs and go in a different direction. Belleci was let go alongside fan-favorite Kari Byron and Grant Imahara. A short time later, Mythbusters leads Adam Savage and Jamie Hyneman also called it quits.
Since then, Tory Belleci headed to streaming where he worked on the White Rabbit project for Netflix. Amazon looks to be his next stop and his Mythbusters skills should definitely come in handy for this new hybrid show.
What Will The New Amazon Show Be About?
The new untitled series sort of sounds like a cross between fiction and nonfiction, in that the production company will be "shipwrecked" and the two men will be "stranded on a deserted island, whereupon they will use their wiles over a period of six episodes in order to survive. Using the remains of the "shipwreck" the two will create a functional paradise where they could theoretically subsist thereafter, Swiss Family Robinson-style.
Where the nonfiction portion comes in is the fact that both Richard Hammond and Tory Belleci will be using their scientific prowess for survival to create cool and unique creations like a "hydro-power water wheel" for example. That kind of stuff should tie in to people who both enjoyed Top Gear and Mythbusters.
Although, I suppose we'll have to wait and see how witty Richard Hammond and Tory Belleci are around one another, as banter was a hallmark of their previous works. All in all though, this sounds like both a unique TV pitch and something that fans of the other shows should potentially be excited about latching on to.
Chimp Productions will be producing the project for Amazon, although it currently doesn't have a release date yet. Deadline notes the move comes after Amazon had extended individual deals to Richard Hammond and the other Grand Tour producers Jeremy Clarkson and James May.
We, of course, will keep you posted as this project comes together, but in the meantime, do take a look at all the major TV hitting the schedule this fall.
Your Daily Blend of Entertainment News
Reality TV fan with a pinch of Disney fairy dust thrown in. Theme park junkie. If you've created a rom-com I've probably watched it.