Anthony Mackie Plays Down Captain America Status For Disney+ Show: 'No, I Am The Falcon'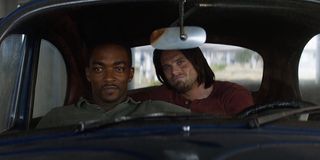 Following the events in Avengers: Endgame, it would seem like the MCU has found the new Captain American in Anthony Mackie's Falcon character. After all, Old Man Cap showed back up in the timeline to officially hand his shield over to Sam so he could do good deeds. However, using Captain America's shield may not mean becoming Captain America. If you ask the actor, he's still just the Falcon.
While at D23, the Marvel actor spoke out about his new job duties ahead of The Falcon and the Winter Soldier, a new TV series heading to Disney+ that will star Anthony Mackie and Sebastian Stan. If the word Falcon in the title didn't let you in on that little secret, Mackie also mentioned in an interview he'll still go by Falcon and won't be known as Cap.
Anthony Mackie confirmed the title will not be changing as one of the details to know about The Falcon and the Winter Soldier, noting the tone of the new show will be serious, despite the fact that Mackie and Sebastian Stan are known for being a comedic duo in movies. Sebastian Stan also mentioned he's happy to still be a part of the MCU and get to do events like D23.
Speaking with Variety, Anthony Mackie also joked about killing Tom Holland, which is timely, giving Sony currently isn't planning to share the rights to Spider-man anymore. He also teased keeping Tom Holland near to his heart, with Sebastian Stan noting, 'Tom, you are always on my mind."
Ultimately, if you had any concerns that the new Captain America shield holder would stick with the same superhero name, you needn't worry. The new Disney+ series may have a shield, but Falcon will always be Falcon, and it seems like he's happy things are that way.
At the end of the day, Anthony Mackie will always be Sam and Sebastian Stan will always be Bucky, so even if they ever do take on the names of Captain America or even The White Wolf, we'll still know who they are inherently.
And actually, giving the characters a TV series should really help us get to know they more. Falcon and Bucky have always played a little bit of second fiddles to characters like Iron Man, Thor or Captain America and it will nice to be able to see their characters' stories fleshed out in a major way for once.
The Falcon and the Winter Soldier will be heading to Disney+ in the fall of 2020, about 10 months after the streaming service launches in November of 2019. In that time, a lot should change in the MCU—just look at the Tom Holland news and upcoming Marvel movies as evidence.
Your Daily Blend of Entertainment News
Reality TV fan with a pinch of Disney fairy dust thrown in. Theme park junkie. If you've created a rom-com I've probably watched it.