After The Ranch Ends, Ashton Kutcher Already Has A New Show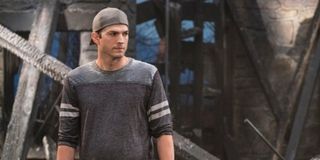 Ashton Kutcher is certainly keeping himself busy. The actor has already lined up his next TV role after The Ranch, which will end its run on Netflix in 2020. Kutcher will executive produce Crackle's new half-hour show, titled Going From Broke. It's a timely series that will delve into the student loan crisis. It won't be a traditional scripted series, though. Instead, Going From Broke will include financial professionals engaging with millennials in Los Angeles to offer them advice about their debt and how they can get out of it.
This is the first time Ashton Kutcher is collaborating with Crackle, an online streaming service that makes its TV shows available for free. Going From Broke will include ten episodes, though Kutcher is only slated to appear in one of them. In a statement (via TheWrap), Chairman and CEO of Chicken Soup for the Soul Entertainment William Rouhana Jr. discussed how thrilled he is that the new series has found its home on Crackle.
Crackle is the best place for a series like this, so it's no surprise that it's a draw for stars like Ashton Kutcher, who continues to branch out as an actor and producer. Going From Broke might prove to be helpful to those who find themselves in a tremendous amount of student loan debt, especially since it's one of the primary sources of financial stress for young people. William Rouhana Jr stressed the importance for financial freedom and hopes that the show will educate its target audience.
You can watch the first trailer for the series, which is incredibly intense and offers a ton of statistics, below.
Going From Broke is also produced by William Rouhana Jr. and Michael Winter. It'll be available to stream on Crackle on October 17. Fall TV is practically at our doorstep, so be sure to check out our complete list of all the new and returning TV shows.
Your Daily Blend of Entertainment News
Your Daily Blend of Entertainment News
Thank you for signing up to CinemaBlend. You will receive a verification email shortly.
There was a problem. Please refresh the page and try again.