The Politician Review: Ryan Murphy's New Dramedy Is A Landslide Victory For Netflix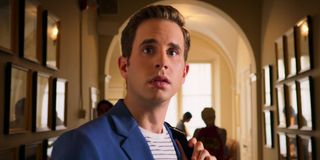 When it comes to Ryan Murphy, it's hard to associate his name with anything other than television success. That's even more true when he's paired with Brad Falchuk and Ian Brennan, who were right alongside him in creating the cultural phenomenon Glee and the beloved but painfully short-lived Scream Queens. Now they've reunited for The Politician, which seems to take the best parts of those prior collaborations and spin them into an exceptional dramedy that results in a landslide victory for Netflix.
While there are shades of the shows mentioned prior in The Politician, it certainly feels that those shows walked so this one can sprint right out of the gate in its first episode.
After that, there are seven more episodes that feature all sorts of twists and turns that make for a series that starts good and stays good. The race continues across eight episodes and culminates in a way to make The Politician into what I dare say is one of the best shows Ryan Murphy has created to date.
The Politician centers on Payton Hobart (Ben Platt), a wealthy Santa Barbara teen who has believed since Age 7 he will one day be President of the United States. The story picks up in Payton's high school senior year, where he must win Class President to keep his carefully crafted resume on point to guarantee he's accepted into Harvard on his own merits. Anything less, as he and his team of advisers (comprised of his best friends hoping to follow him to the White House) will note, is just ammunition for future political opponents to use against him.
Anything less than perfection for Payton is unacceptable, which drives a bulk of the drama and comedy in The Politician. Payton is up against equally competitive classmates that, while not as ambitious as he, would love nothing more than to take Payton down a peg. Others are simply apathetic, or perhaps not quite as understanding that only perfection is acceptable for someone with the level of ambition and dedication that Payton has.
His team understands him though and is comprised of his strategists and best friends James (Theo Germaine) and McAfee (Laura Dreyfuss), and his high-school sweetheart and future First Lady Alice (Julia Schlaepfer). With weeks to go until the election, the team is scrambling to find strategies that will give Payton the edge and secure his success in the election. After vetting a couple applicants, the group decides the best course of action is to bring on their terminally ill classmate Infinity (Zoey Deutch) to help drive the sympathy vote and help win Payton the election.
Payton and his team understand what makes a good candidate, perhaps almost a little too well. The Politician is a good show about the incredibly high moral standard the general public holds for its public offiicials, as the kids frequently worry about creating any "skeletons" that will come back to haunt them on this long-term plan to the Presidency.
Of course, this is high school where teens make frequent mistakes, so it always seems Payton and friends are rushing around in an attempt to put out the proverbial fires that could one day ruin Payton's future campaign. Also, remember this is a Ryan Murphy series which means there's some pretty wild situations that really drive home the satire while still striking a perfect balance between hilarity and high-stakes drama.
The Politician can do more than Dramedy too, as there are a handful of moments in which the comedy is dropped and viewers are compelled to feel real empathy even for some of the series' most unsympathetic characters. It was never over-done though, nor was the singing. Musical moments only happen a few times throughout the season. As someone who was lukewarm on Glee, I appreciated that the few musical moments were organic and part of the plot, not just random characters bursting into song spontaneously.
As is the case with most Ryan Murphy shows, The Politician has a talented and inclusive cast that will spark fandoms for individual side characters. Ricardo (Benjamin Barrett) is a never-ending source of comedy, and I can definitely see folks being big fans of the performances given by Gwyneth Paltrow and Murphy's more frequent collaborators like Jessica Lange and Dylan McDermott. If an actor or actress has a speaking role in The Politician, the writers ensured that character's moment was memorable.
With that being said, this is Ben Platt's show and he shoulders this series masterfully as Payton Hobart. Payton is flawed, manipulative, and sometimes so blinded by his ambition he refuses to respond to life situations that any normal human would. He can treat one small mistake like the end of the world. Platt does it so well that an audience will begin to anticipate his breakdowns and go along with the insanity, completely forgetting this is all for a high school position.
The season does feel a bit short, though it's ultimately a good thing The Politician is no slave to the traditional consistent episode length. Each of the 8 episodes is as long as it needs to be with the premiere clocking in at just over an hour to one episode actually lasting under 30 minutes. The result is an episode that tells the story you want to hear and gets out, with little to no time ever committed to something the audience may consider fluff.
Though it was disappointing to only get a limited amount of time with these characters, The Politician sets the stage for an equally promising Season 2, which has already been green-lit by Netflix. Hopefully The Politician has a plan for more than that, because this series could be the next big hit Netflix needed in light of the oncoming swarm of high profile competitors. It's a must-watch, especially for those looking for a laugh ahead of the oncoming election year.
The Politician premieres on Netflix (opens in new tab) Friday, September 27 at 12:01 PT. Stay on top of what's headed to Netflix with CinemaBlend, and get a jump on October by checking out our top picks for that month.
Mick likes good television, but also reality television. He grew up on Star Wars, DC, Marvel, and pro wrestling and loves to discuss and dissect most of it. He's been writing online for over a decade and never dreamed he'd be in the position he is today.
Your Daily Blend of Entertainment News
Thank you for signing up to CinemaBlend. You will receive a verification email shortly.
There was a problem. Please refresh the page and try again.