The Conners Season 2 Spoilers: Why Darlene Is Heading For Trouble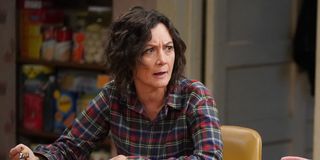 Warning: Spoilers ahead for the Season 2 premiere of The Conners. Head over to one of our other fabulous articles if you're not caught up yet!
Darlene had a big year in Season 1 of the The Conners. She found out, along with the rest of the family, that Roseanne died of a drug overdose, but also seemed to finally put her broken relationship with David behind her. She began dating her boss (I know, not a great idea in theory), Ben, and the two were actually getting along pretty well after an initial hiccup. As Season 2 dawns, though, it's become obvious that Darlene is headed for trouble in a big way, and it has to do with the, um, man-sandwich situation she has going on right now. Let's get into the details, shall we?
When the premiere opened, Dan, DJ, Beverly, Mary and Dan's good buddy Chuck are playing poker in the Conner family kitchen with Jackie hanging around. When Darlene finally gets home from work, Dan mentions how she's been getting home later and later and she blames it on a packed expressway. Darlene quickly asks Jackie to help her look for one of Harris' good earrings in the couch, so they head into the other room.
When they get there, though, Darlene reveals that it was (surprise!) all a rouse, because she actually needed to unburden herself by telling Jackie that she was really with David. When Jackie asks why she couldn't have just told everyone that, since she and the kids see David all the time now, Darlene has to admit that the two exes were making out. I know!
Apparently, they had been talking for a while about getting back together, with Darlene still (still!) thinking that if she can repair her fractured family, she ought to try. There's just one problem: Ben. And, when Jackie tells her that this means she'll have to give up the romance with her boss, Darlene says, "Why? Ben and I are amazing together!" Oh, Darlene...
As you might imagine, all this Darlene / David / Ben stuff isn't going so easily for her. She's actually running herself ragged spending time with both men in secret and has not had much time for her kids. When Jackie mentions that she's getting close to having sex with both guys, Darlene says that's a line she can't cross because she's not that person.
Luckily, Aunt Jackie's been there, and tells Darlene that she's been that person and "it can be a nightmare...A fantastic nightmare." OK, Jackie. Maybe keep some things to yourself, lady.
Meanwhile, Becky comes home from her shift at Casa Bonita and tells everyone that Jackie offered to create a birth plan for her, and while she was expecting a couple of pages, instead it's a bible-sized affair that she's nicknamed "the encyclopedia insanica." She asks Jackie if they can go over it later, because she has two months left and it's just too much right now. But, then, oops, she laughs too hard at something Beverly says and her water breaks!
So, Becky and most of the family are at the hospital seeing if the doctors can stop her labor, and, the next day, Darlene shows up at the office. Ben greets her with a warm hug, asking about Becky, but Darlene gets a text and sends him out for coffee.
Of course the text was from David, who wants to go to the hospital later with Darlene to see Becky. Just as she tells him that she loves him, though, Ben walks back in, having forgotten his wallet, and hears her. Soooo, Darlene quickly adds a "daddy" to the end to make it innocent. When Ben says he's never heard her call Dan that before, she just notes how fragile she's feeling right now.
Ben then sits and tells her he's worried about her because she looks so exhausted and notes that the solution would seem to be her moving in with him, which he'd asked her to do at the end of Season 1. When she says she loves him but can't think about it right now, he holds her hands and says they can talk about it later, after he drives her back to see Becky. Uh, oh.
Darlene, knowing that David wants to go to the hospital that day, demurs, saying that Ben's sweet for wanting to take her to see her sister, but tells him there are already too many people there. Because, obviously, when you're having a preemie they give you a smaller room. Dammit, Darlene. Just dump David, already!
Darlene soon has even more to deal with, though. Because when she finally makes it back to the Conner homestead, Dan has to tell her that the mom of a boy who goes to school with Harris came by and she had to take her kid to urgent care because Harris sold him a cookie laced with pot. Now, Harris might have been able to get away with this anyway, but Darlene almost never being at home certainly didn't help matters.
When the doctors realize they can't stop Becky's labor, she delivers, but her daughter needs to be put on a ventilator. This causes Becky to panic, saying that it's her fault because she's too old and drank too much. Darlene tries to help by saying that she did everything right, but Harris was still a preemie, and she turned out fine, but Becky wails "No she didn't!" and cannot be consoled. Also, she's kinda right.
After Darlene tells the family that they can see Becky, she pulls Harris aside to discuss her pot cookie business, and grounds her. Harris is pissed, and says that Darlene won't even know if she's at home and sticking to her punishment because Darlene is never at home herself. In my day, that kind of comment would have gotten me snatched back, but Darlene is the kind of parent that responds with sarcasm, so she just says that telling her she's a crappy parent is "like water off a duck's back." Congrats for not pulling Harris' hair out, I guess?
The next day, Darlene gets home to give Dan a Becky update and the two sit down to eat some apple pie. That sweetness turns very bitter before long, when she blames Harris' new career on Dan, since he's at home and, apparently didn't smell all the pot his granddaughter was baking up. Dan takes offense (as he should), and notes that he's not sure what Darlene's been doing, getting home at 10 o'clock every night, but she needs to "get her head in the game and raise her kids" because he's already raised his.
Darlene responds, "Did you? Cause I'm pretty sure that was mom," but the Conner sarcasm is in play again when Dan says, "No. If we're gonna be honest, the TV did." Man, this show would be very dark if it weren't for the jokes.
After visiting Becky and taking her to finally see her baby in the NICU, Darlene is at home, and leaves her room at night to get some pizza for herself and her gentleman caller, who just happens to be David. She doesn't get to have this stay a secret, though, because Jackie rounds the corner in time to catch a glimpse of him in her bed.
Jackie tells her niece that it's good she at least made a decision, but Darlene has to come clean and reveal that it just means that she's crossed her own line and is now sleeping with Ben and David. Darlene! What. Will. You. Do?!
Darlene admitted herself that she was already losing control of this man-sandwich she's gotten herself into, and that was before she was actively having sex with Ben and David. It's clear that it's also hurting her parenting and general happiness, so how much longer can she really keep this up? Whether she chooses David or Ben (Ben. Please pick Ben.), she's going to hurt one of them and maybe even have all her dishonesty exposed. But, she truly doesn't seem to be able to make a decision.
Oh, my, Darlene. This is quite a bit of trouble you've gotten yourself into, but it'll at least be sorta fun to watch. We can all see how this love triangle develops (or, more likely, how it falls apart) when The Conners airs Tuesdays on ABC at 8 p.m. EST.
Your Daily Blend of Entertainment News
Yennefer's apprentice, Gilmore Girl; will Vulcan nerve pinch pretty much anyone if prompted with cheese...Yes, even Jamie Fraser.
Your Daily Blend of Entertainment News
Thank you for signing up to CinemaBlend. You will receive a verification email shortly.
There was a problem. Please refresh the page and try again.