The Masked Singer Fails To Launch, Crime Dramas Aren't Killing And More In This Week's TV Ratings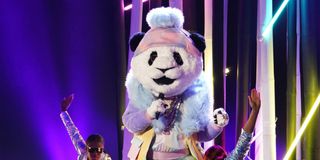 (Image credit: Fox)
Fall TV season launched last week with a whole bunch of new and returning shows that generated huge numbers for the big networks, but the second week of the season can be nearly as important. After all, plenty of people check out new seasons and new shows when they premiere; are the premieres enough to bring them back for another round? Read on for a rundown of this week in TV ratings, which delivered some shockers, some disappointments, and some surprising competition.
The Masked Singer Fails To Launch Almost Family
Fox's The Masked Singer was the big winner for the first week of fall TV premiere season, and it was almost enough to make us forget that the Emmys totally bombed on Fox just days earlier. In Live+Same day calculations in the key 18-49 age demographic, The Masked Singer's two-hour premiere extravaganza scored a 2.5 rating and attracted 8.02 million viewers last week.
With those kind of numbers -- even accounting for the inevitable drop from Week 1 to Week 2 -- surely The Masked Singer would be a lead-in that results in great numbers for the show that followed, right?
Not so much. The series premiere of drama Almost Family, starring Brittany Snow of Pitch Perfect fame, aired on Wednesday, October 2 at 9 p.m. ET on Fox, immediately following the second episode of The Masked Singer Season 2. Despite The Masked Singer scoring a 1.9 rating and winning an audience of 6.75 million in the hour that saw Panda unmasked after some pretty obvious clues, TV Series Finale reports Almost Family only earned a rating of 0.8 and an audience of 2.95 million.
Whether this is because Masked Singer fans were heading to NBC for Chicago Family, ABC for Modern Family, CBS for SEAL Team, or just switching off TV after the 8 p.m. ET hour is unknown; what we can be pretty confident about is that Fox was hoping for better from the Almost Family series premiere following The Masked Singer.
The Unicorn Is A Rare Beast
Last week proved that comedies were off to a strong start in the 2019-2020 TV season, and the pressure was on this week to see if they could sustain their positive numbers. Unfortunately, with only seven exceptions out of the 18 offerings, all of the new and returning live-action sitcoms dropped from Week 1 to Week 2. In fact, the only shows to receive a bump of any kind in the second week of fall TV season were returning shows: The Neighborhood, The Goldbergs, Schooled, Modern Family, Single Parents, and Superstore. Yet CBS' The Unicorn is one worth looking closely at.
The Unicorn was not the highest rated freshman sitcom after its first week on the air with 0.83 in the key demo, falling behind both Bob Hearts Abishola and mixed-ish, on CBS and ABC respectively. It was the most-watched freshman sitcom with 6.01 million viewers, but its edge on Bob Hearts Abishola was slight.
For this past week, The Unicorn experienced the smallest drop in both ratings and viewership among new sitcoms, dropping only 3.61% in the ratings to 0.8 and 0.94% in viewership with 5.9 million. To contrast, Bob Hearts Abishola dropped nearly 20% in ratings and around 9% in viewership, and mixed-ish plummeted 23% in ratings and 9.5% in viewership, and both scored overall numbers lower than The Unicorn in Week 2. If this trend continues, The Unicorn could be the freshman sitcom to beat!
NBC's One Chicago vs. CBS' NCIS: Week Two
The two biggest broadcast networks each have a franchise of shows sharing a universe. NBC's technically goes further back, as all of its Law & Order series do exist in the same world as the three Chicago shows, but they rarely connect. CBS goes far back with its own franchise, though, with NCIS launching in 2003 from JAG, which itself launched in 1995, then NCIS surviving the parent series, and going on to launch NCIS: Los Angeles and NCIS: New Orleans.
Why does all this history matter? Well, if we keep the Chicago shows separate from Law & Order: SVU, which they pretty much are, then both NBC and CBS have three shows in one universe airing in the same season. Both have one failed spinoff, and the youngest series in each is only separated by a single season. So, it's worth comparing and contrasting the two. Which is stronger: NBC with Chicago Fire, Chicago P.D., and Chicago Med, or CBS with NCIS, NCIS: Los Angeles, and NCIS: New Orleans?
That really depends on the criteria. NCIS absolutely destroys all competition in viewership, with its audience for the October 1 episode hitting 12.51 million, which smashes its closest Chicago competition of the week, which was Chicago Fire with 7.57 million viewers. That said, for this week, Chicago Med (7.55 million) and Chicago Fire (7.57 million) both beat NCIS: Los Angeles (6.4 million) and NCIS: New Orleans (6.9 million). The only Chicago show that lost in viewership to all three NCIS series was P.D. with 6 million viewers, and that's not too shabby considering this week was NCIS: LA's season premiere.
Things are a bit stickier when it comes to ratings. NCIS won again with a 1.3 rating, but all three Chicago shows (Med with 1.0, Fire with 1.1, and P.D. with 1.0) beat LA and NOLA, with 0.8 and 0.7 respectively. Does the NCIS franchise have the biggest winner? Absolutely, with the original NCIS. Is the Chicago franchise more consistent between all three shows? Definitely.
Personally, I suspect that part of this has to do with all three Chicago shows airing on the same night nowadays, and it can't hurt that all three shows are closely connected and frequently cross over, which definitely doesn't happen within the NCIS universe. It's easy to park on NBC on Wednesday night and just stick with Chicago action, and Med even featured Fire's Casey in this past week. We're only a couple weeks out from a mega crossover. It's possible NCIS: LA and NOLA would fare better if they had closer connections -- in-universe and with regard to scheduling -- to the parent show.
Crime Dramas Aren't Killing
To be fair, NCIS: Los Angeles and NCIS: New Orleans aren't the only crime dramas not delivering the greatest numbers. NCIS, NCIS: New Orleans, Law & Order: SVU, and Chicago P.D. were all down in Week 2 from their numbers in Week 1, with CBS' FBI and Fox's 9-1-1 (with its giant tsunami) as the only returning crime dramas to get a boost. Prodigal Son on Fox received a boost as well, which bodes well for the freshman series.
The numbers are pretty dire for The Rookie, NCIS: LA, SEAL Team, and S.W.A.T. when looking at the changes from episode to episode with the numbers from this latest week, but it's worth noting that these four shows didn't premiere last week like most of the other fall broadcast network series.
So, while NCIS: LA dropped more than 40% in ratings and viewership, The Rookie dropped more than 20% in ratings and viewership, S.W.A.T. dropped more than 10% in ratings and viewership, and SEAL Team dropped 12.5% in ratings, fans shouldn't despair yet. The numbers for these shows next week could be quite illuminating.
That said, crime dramas simply aren't killing so far in the fall TV season, and it remains to be seen if the numbers for these series can perk up. NCIS: LA and NOLA have the NCIS name going for them, Law & Order: SVU may not be going anywhere until Mariska Hargitay is ready to call it quits, and Chicago P.D.'s drops haven't been alarmingly drastic. What of the others? 9-1-1 will have to sustain itself once the tsunami story finishes.
So, these are some of the most notable twists, trends, and surprises of this past week in TV ratings! Swing by our 2019 fall TV premiere guide for some upcoming viewing options, and our 2019 Netflix premiere schedule is worth a look if streaming is more your style.
Resident of One Chicago, Bachelor Nation, and Cleveland. Has opinions about crossovers, Star Wars, and superheroes. Will not time travel.
Your Daily Blend of Entertainment News
Thank you for signing up to CinemaBlend. You will receive a verification email shortly.
There was a problem. Please refresh the page and try again.