Tom Ellis' Cute Lucifer Season 5 Set Video Promises The Most Trixie Time Yet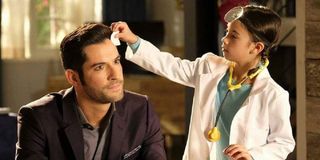 It's been awhile since we last saw Scarlett Estevez's Trixie on Lucifer. The former Fox series began filming its fifth and final season back in September and, though the series is officially ending, it's great to have the cast back. That includes Trixie, the daughter of Detective Chloe Decker and Detective Dan Espinoza. To rejoice in her return, Lucifer Morningstar himself, Tom Ellis, posted a cute video with the young actress to let fans know she's back.
The chocolate cake-loving Trixie, while usually a staple of the series, hasn't been spotted since Season 4, Episode 7. That's not bad considering Season 4 of Lucifer was only ten episodes, but the young actress was most definitely missed.
Check out the sweet video below of Tom Ellis and Scarlett Estevez below!
Tom Ellis took to Instagram to share his excitement for Scarlett Estevez's return. She reposted his video and made it clear she and Ellis will have plenty of screen time together.
It's probably a good thing that Trixie wasn't around for the final three episodes of Season 4, though. She's managed to bond with Lucifer, but considering he'd made a decision to return to Hell in the Season 4 finale, believing he could rule his former home and remain a good person, it was still probably best that Trixie wasn't around to watch him make that decision.
The person who did have to watch him leave, however, was Trixie's mom, Chloe (Lauren German). She and Lucifer have been a will they/won't they kind of couple for many seasons now and the Season 4 finale finally gave fans what they've long been waiting for. In the moments leading up to Lucifer leaving to be king of Hell once more, Chloe finally told him she loved him. He returned the sentiment in kind. However, the confession came at the most inopportune of moments, plaguing their relationship with a lot of uncertainty heading into Season 5.
The cast of Lucifer looks like they're having a fantastic time filming the fifth season of the series, which is great considering it'll be their final hurrah. They shared their excitement for Season 5 on social media, with Tom Ellis teasing all of the great things they have in store for fans. Still, fans should expect the Season 5 premiere to be "really sad".
Although Netflix cancelled the series, it's going out with a bang. Instead of the ten-episode order of Season 4, the streaming giant added an additional six episodes, bringing the final season's episode count to 16. That's great news and gives the show plenty of time to wrap up any and all remaining storylines.
After Fox cancelled the show, Netflix picked up the series for Season 4. It did the same for Designated Survivor, though the latter didn't survive long enough to get to another bonus season after Netflix cancelled it earlier this year.
Lucifer Season 5 doesn't yet have a premiere date, but be sure to check back with CinemaBlend for more information. In the meantime, here is a complete list of every new and returning show premiering this fall.
Your Daily Blend of Entertainment News
Thank you for signing up to CinemaBlend. You will receive a verification email shortly.
There was a problem. Please refresh the page and try again.