Netflix's Lucifer Season 5 Is Bringing Back Mom Charlotte In A Surprising Way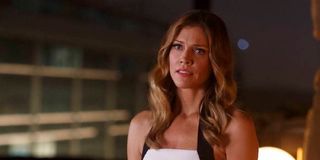 Netflix's Lucifer Season 5 is bringing back Lucifer's mom Charlotte Richards in a surprising way. Now that Lucifer is filming its fifth and final season for Netflix, any and all characters could reappear, including Tricia Helfer as the devilish Goddess/Charlotte. Few fans thought that Lucifer would be getting another visit from his mom. However, since she died a few seasons ago, her return may not be what fans expect and her new look is quite the surprise.
The last time anyone saw Tricia Helfer's Charlotte was in Lucifer Season 3. Back then, Charlotte's wardrobe definitely looked different. In a new picture posted by Tricia Helfer (via TVLine), Charlotte's signature leather jacket has been replaced with a retro dress, pearls, and a hairdo more in line with Pleasantville than Charlotte, mother of Lucifer.
Tricia Helfer's caption seemed to indicate that not all is as it seems.
Anything can happen on Lucifer, but the fact that Tricia Helfer specifically decides to use quotation marks around "who's" is suspicious. It could mean Charlotte isn't, in fact, the mother we once knew, but an entirely new character. Lucifer definitely won't spoil anything anytime soon, but the picture will surely stir up some great fan speculation.
Lucifer fans may recall that Charlotte wasn't always possessed by Goddess. In fact, she was previously a Los Angeles attorney prior to being murdered. After which, her body was hijacked by Lucifer's mom, Goddess of everything and God's ex-wife.
Her appearance will probably be a big surprise to Lucifer, but he's busy dealing with more important things. Last week, Tom Ellis posted a picture to Instagram, announcing the return of Scarlett Estevez as Chloe's beloved daughter, Trixie. The post indicated that her return will include a lot of screen time with Lucifer, which is great because she hasn't been seen since the middle of Season 4.
At the end of Season 4, Lucifer left Earth to return to ruling Hell. Before that, though, Chloe finally admitted her feelings for him and Lucifer returned those feelings before leaving for good.
Since we know nothing much about Lucifer's fifth and final season, it's possible that Lucifer is drawn back to Earth following the Arrow-verse's "Crisis on Infinite Earths." Most fans may not remember, but Lucifer is technically a DC Comics property. While it hasn't been confirmed by an actual trusted source just yet, there is currently speculation that Tom Ellis' Lucifer Morningstar may indeed be appearing in the "Crisis on Infinite Earths" crossover. Whoa.
It wouldn't be surprising, though, especially considering that "Crisis on Infinite Earths" is rounding up almost every DCTV character and dropping them into the crossover. Even if Tom Ellis were to briefly appear, it would be a nice nod to the idea that they're all a part of the shared DC universe.
Lucifer Season 5 doesn't have a premiere date yet, but stay tuned to CinemaBlend for updates. In the meantime, be sure to check out our complete guide to every new and returning show coming this fall.
Your Daily Blend of Entertainment News
Thank you for signing up to CinemaBlend. You will receive a verification email shortly.
There was a problem. Please refresh the page and try again.