Supernatural's Jensen Ackles Is Apparently Going 'Full Dean Winchester As John Wick'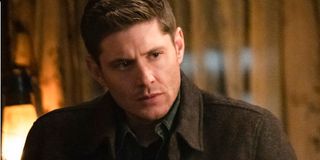 Supernatural has always found a way to go big while still keeping things as intimate as possible. (Plus, it's a CW show, so the budget can only get so big anyway.) When series star Jensen Ackles returned to direct Episode 5 for Supernatural's 15th and final season, he totally wanted to go balls out with the central action sequence. Naturally, that meant giving Ackles' Dean Winchester the John Wick treatment.
Jensen Ackles, who dressed up as Batman for Halloween, last directed an episode of the long-running CW series back in Season 11. And since this is the last time he'll direct Supernatural before he bids it goodbye, Ackles says he wanted to go all out with the opening action scene in "Atomic Monsters," saying:
The scene in question involves Dean fighting a lot of guys who have somehow broken into the Winchester bunker. The lack of security in the bunker aside, Jensen Ackles spoke with Entertainment Weekly about the evolution of the scene.
Dean Winchester, whose relationship with Castiel is "strained" at this point, rarely gets to launch an offensive front like this, so the character becoming John Wick-esque sounds like it'll a lot of fun. While there isn't much information about what else the scene will entail, it's doubtful the eldest Winchester brother will be wearing a John Wick custom-tailored suit while fighting a bunch of bad guys. Still, I can dream.
"Atomic Monsters" is the final episode Jensen Ackles will direct for Supernatural, but it isn't the only reason the installment holds a special place in his heart. The actor, who's been singing for years, is finally lending his vocal talents to the series.
"Sounds of Someday," a song off of Jensen Ackles' debut album Radio Company Vol. 1, produced with musician and friend Steve Carlsen, will be playing during the episode's climax. It was one of three songs Ackles says he used in the director's cut of the episode, and he was thrilled that he was able to use it on the show.
Watch Dean Winchester fight like John Wick (and sing like an angel) on tonight's episode of Supernatural, which airs at 8 p.m. ET on The CW. For more on what to watch this fall, be sure to check out our complete guide on every show premiering through November and December.
Your Daily Blend of Entertainment News
Thank you for signing up to CinemaBlend. You will receive a verification email shortly.
There was a problem. Please refresh the page and try again.