Every U.S. State Where Weed Is Legal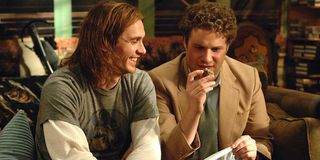 (Image credit: Pineapple Express)
Thanks to a string of recent state elections, the laws concerning marijuana have changed in several states. The drug is still considered illegal on a federal level, but that national law also stipulates that states can pass laws to decriminalize possession of weed within its jurisdiction. Some states have chosen to go ahead and nearly fully legalize the possession, sale, transportation, and cultivation of the drug, while others have kept it completely illegal. Most states fall somewhere in the middle, only legalizing some aspects of marijuana.
With this list, we're focusing specifically on marijuana possession, not the legality of its sale, cultivation, or transportation in each state. And this probably shouldn't need to be said, but this article should not be considered legal counsel --- if you are more interested in the specific laws regarding marijuana in your state, we encourage you to conduct more thorough research, as there are plenty of technicalities to take into account.
I will group each state into one of four categories of marijuana legality: Legal for medicinal and recreational use, Legal for medicinal use only, Decriminalized, and Still completely illegal. Read on to find where your state falls.
Legal for Medicinal and Recreational Use
The following states have completely legalized the possession of marijuana, although be warned that the amount of weed you are allowed to carry varies state by state:
Alaska
California
Colorado
District of Columbia
Maine
Massachusetts
Nevada
Oregon
Washington
Legal for Medicinal Use Only
The following states have legalized possession of marijuana only if it has been prescribed to you by a medical professional, and the type of usage varies from state to state.
Alabama
Arizona
Arkansas
Connecticut
Florida
Georgia
Hawaii
Iowa
Louisiana
Michigan
Montana
New Hampshire
New Jersey
New Mexico
North Dakota
Oklahoma
Pennsylvania
Tennessee
Texas
Wisconsin
Decriminalized
Some that have decriminalized marijuana possession allow people to have small amounts of the drug without prosecution, although you could still face some repercussions depending on the state based on how many offenses you've had, how much marijuana you're found with, and other specifics.
Connecticut
Delaware
Illinois
Maryland
Minnesota
Mississippi
Nebraska
New York
North Carolina
Ohio
Rhode Island
Vermont
Still Completely Illegal
These are the states in which you will face charges if you're caught with marijuana, whether or not it's for medical use. Those charges vary from misdemeanors to felonies based on the state.
Idaho
Indiana
Kansas
Missouri
South Carolina
South Dakota
Utah
Virginia
West Virginia
Wyoming
Your Daily Blend of Entertainment News