Star Trek: Picard - What We Know So Far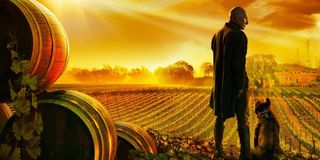 Space. The final frontier. The voyages of the Starship Enterprise continue in spirit with the newest sci-fi series, Star Trek: Picard, which will premiere in just a few short months. It'll serve as Patrick Stewart's unexpected return to the sci-fi franchise, and it'll hopefully be both a fitting, formidable return for the beloved captain. What do we know about the Star Trek series, though, particularly as it's expected to connect the tissues of several hit shows?
With the show practically weeks away from its much-anticipated premiere, we do know a bit about Star Trek: Picard and the rousing return it'll provide to the long-running legacy of Star Trek: The Next Generation. Let's get into a rundown of what Star Trek fans can expect from this streaming program!
Are There Any Trailers For Star Trek: Picard?
During this year's San Diego Comic Con, viewers got their first glimpse at Star Trek: Picard, which was set to premiere roughly six months later. This first trailer allowed fans to get a glimpse at what was considered a more grounded, contemplative show centered on the familiar character. It would be a little different from Star Trek: The Next Generation, yet this teaser was also a chance to remind people of what they loved about Jean-Luc Picard and see the potential in this new streaming series.
It was in early October that viewers got a second trailer (which you can see above). This one showcased some of the other cast members as well, while also providing a broader, more expansive look at the show, thus promising a number of delightful appearances for many long time Star Trek fans.
When Will Star Trek: Picard Premiere?
As the second trailer was making waves around the web, it was confirmed that Star Trek: Picard would premiere on CBS All Access on January 23rd, 2020. This premiere date isn't in line with Star Trek: The Next Generation, but it does follow the rollout of Star Trek: Discovery Season 2, which made its debut in January of this year. The winter release date should hopefully land the series in a nice little window between the crowded return of fall shows and the equally bustling spring television line-up. Hopefully, there will be some wiggle room that will allow this new character study series to find its own little rhythm and rhyme with audiences.
What Is The Premise Of Star Trek: Picard?
In Star Trek: Picard, we follow our title character, played once again by Patrick Stewart, a full 20 years after the events of Star Trek: Nemesis, and find him still grieving the loss of his friend, Data (Brent Spiner). The intention with this series is to provide more of a "real world" feeling to the series, giving it a bit of an edge while never straying entirely far from what people can expect from these popular characters.
It's expected to be quite different from what we'd normally see in a traditional Star Trek series, however, and it's safe to assume that the creators will make great use of the possibilities provided by its streaming service home. It's also reported to show how the destruction of Romulus in Star Trek (2009) has affected our title character.
That last development is certainly an intriguing one, as it'll be the first time that the new Star Trek blockbusters and the events of Star Trek: The Next Generation will correlate, with the new show having a feeling that combines TNG with Star Trek: Discovery. It's unclear how exactly it'll work. But, we know that the character will have a different future than what viewers saw in the flash-forwards during the series finale of TNG, titled "All Good Things." The creators of the show have admitted outright that this series will be both similar and different to what came before.
Who Is The Creator Of Star Trek: Picard?
Star Trek: Picard is created by Alex Kurtzman, who has served as a writer and producer for Star Trek for a little over ten years running. Kurtzman was first involved when he served as a screenwriter / executive producer on Star Trek (2009) alongside Roberto Orci. He also co-wrote and produced Star Trek Into Darkness and spearheaded Star Trek: Discovery as the creator with Bryan Fuller. Picard is part of his five-year overall deal with CBS Television Studios to expand the popular property into several shows following Discovery. Surely, for many Star Trek fans, Picard is the type of show they were never expecting to see.
While Patrick Stewart was initially steadfast in his reasoning that he was done playing the character, he was intrigued by the ideas presented by Alex Kurtzman, Akiva Goldsman, and Kristen Beyer. They were initially interested in having Stewart possibly reprise his character in one of their Star Trek: Short Treks episodes, but the conversation bloomed into the writers producing an outline alongside acclaimed novelist Michael Chabon. In an interview, Kurtzman has gone on to describe Picard as "a more psychological show, a character study about this man in his emeritus years." His broad intention for the series is to have the character find his way back to Gene Roddenberry's original optimistic visions, while also reflecting our times now.
Who Will Write Star Trek: Picard?
Currently, the full writing team behind Star Trek: Picard hasn't been 100 percent revealed, though we know that Alex Kurtzman and Michael Chabon are each credited with an episode, according to IMDB. Akiva Goldsman and Kristen Beyer, as mentioned earlier, were also involved in the show's core concept, but whether or not they're involved with the writing of the actual episodes themselves is currently left unclear. Though it would, obviously, make sense if they were attached. More details about the writers specifically involved with each episode is likely to be announced and confirmed in the weeks leading up to Picard's anticipated release.
Where Will Picard Take Place In The Star Trek Timeline?
Naturally, Star Trek: Picard is an extension of Star Trek: The Next Generation and the movies that followed for the cast. But, this show will deal with an important event from the rebooted Star Trek, which took place in 2379. This means that Picard will pick up in 2399. Even still, it'll be curious to see how the destruction of the Romulan empire has affected our former space captain. As the show premieres next year, it will give viewers a better reflection of how it wishes to present itself, but it should be noted that it's expected to follow what we know while also providing exciting new avenues.
How Many Episodes Are In Star Trek: Picard Season 1?
It has been confirmed that Star Trek: Picard will have a ten episode first season. This is notably more condensed than Star Trek: Discovery, which had a 15 episode first season and a 14 episode second season. It's also notably much shorter than your average season of Star Trek: The Next Generation, which ran between 22 to 26 episodes per season. Given the more isolated, contained focus of the story, though, it makes sense that this newest series would want to narrow down the number of episodes per season, allowing each one to have more bang for the buck.
Jean-Luc Picard (Patrick Stewart)
Jean-Luc Picard, former Starfleet captain and admiral, is back again. After the traumatic death of Data, along with the destruction of the Romulan empire and leading the largest rescue armada ever seen, Picard left Starfleet at the height of his career. He retired to the family winery to live a much more simple, introspective life away from everything — until a young woman in need convinces him that it's time to return to work with the Federation. Although Picard was once one of the most celebrated captains of the 24th century, he now finds himself with a new mission so that he can do what he feels is right.
Data (Brent Spiner)
Data served as the second officer and chief operations officer aboard both the Enterprise D and E. He was capable of great courage and selflessness, as seen when he sacrificed himself in order to save his crewmates, and the universe at large, in Star Trek: Nemesis. But, it appears that Jean-Luc Picard is still haunted by his crew member's sacrifice, as the droid is seen in the trailer providing a paintbrush to Picard and telling him that it's time to finish his picture. It was confirmed back in Comic-Con in July that Data would be back in some capacity. Even still, this brief but lovely glimpse at Brent Spiner reprising his character was very welcomed.
Will Riker (Jonathan Frakes) And Deanna Troi (Marina Sirtis)
In addition to Patrick Stewart and Brent Spiner reprising their respective roles from Star Trek: The Next Generation, there are also at least two other favorites from the sci-fi series who are making their comebacks in Season 1. Specifically, Jonathan Frakes' Riker and Marina Sirtis' Deanna Troi are both returning for Picard. Frakes, in particular, was already confirmed to be involved with the new adventure as a director of at least a couple of episodes. The latest trailer shows fans Riker and Troi, when Picard goes to visit them at home, so you can be sure that this surprise made folks happy.
Seven of Nine (Jeri Ryan)
In addition to the characters from Star Trek: The Next Generation who will be appearing on Star Trek: Picard, there is also a favorite from Star Trek: Voyager who has been confirmed to star in the new CBS All Access program. That would be Seven of Nine (Jeri Ryan), a former Borg who joined the Federation starship Voyager. She was intended to be the Spock to Voyager's Captain Kathryn Janeway, though she developed into an intriguing and memorable presence of her own throughout the show.
Seven's involvement in Star Trek: Picard is certainly a fascinating development, especially when you consider Picard's checkered history (to say the very least) with the Borg — as detailed in both TNG and in Star Trek: First Contact. Not to mention the fact that we see a Borg ship in the most recent trailer, and that Jonathan Del Arco, who played the freed Borg, Hugh, in TNG is scheduled to appear as someone in Picard. So, it looks like Picard's most fearsome foes will be big players in the story.
What New Characters Will Be On Star Trek: Picard?
In addition to all the characters named above, there are a bunch of fresh new faces joining the Star Trek series. While Picard was designed to be more of an introspective character study based on the eventful final years of Captain Jean-Luc Picard, the streaming series will also feature Santiago Cabrera as Cristobal "Chris" Rios, Michelle Hurd as Raffi Musiker, Evan Evagora as Elnor, Alison Pill as Dr. Agnes Jurati, Harry Treadaway as Narek, and Isa Briones as Dahj. Details about their respective characters will be revealed closer to the show's premiere date, but it is definitely a solid cast.
Will Worf Appear On Star Trek: Picard?
Bad news for fans of Worf (which should, hopefully, be a good many of you). It has been revealed that Worf is not expected to appear in the first season of Star Trek: Picard. There had been rumors that the character would make an appearance in the series, though. A clapboard which featured a number of signatures from different cast members had an intriguing signature that looked very similar to the one from actor Michael Dorn.
Alas, the folks at CBS claim Dorn isn't involved with this season, though it's entirely possible they're just saying this as a diversion. Here's hoping that the actor makes at least a surprise cameo. Either that, or he will be asked to join next year. Perhaps this could provide some storyline incentive for season two.
How Can You Watch Star Trek: Picard?
Star Trek: Picard will be premiering exclusively on CBS All Access. The show will make its debut on January 23, and every episode will be found on the streaming service. While it might be an inconvenience for some folks, there is a good chance that a lot of Star Trek fans already have the service in order to watch Star Trek: Discovery. If not, this show might finally give them the incentive to buckle down and get yet another new streaming service.
This is what we know about Star Trek: Picard so far, but there are certainly more details to follow. Be sure to stay tuned here for the latest information about this new Star Trek series and a whole lot more.
Your Daily Blend of Entertainment News
Will is an entertainment writer based in Pittsburgh, PA. His writing can also be found in The Playlist, Cut Print Film, We Got This Covered, The Young Folks, Slate and other outlets. He also co-hosts the weekly film/TV podcast Cinemaholics with Jon Negroni and he likes to think he's a professional Garfield enthusiast.