The Masked Singer Loses Big, Chicago P.D. Stands Out And More In This Week's TV Ratings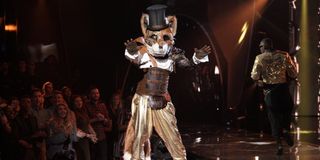 (Image credit: Fox)
Another week of television means another week of ratings to tell us which shows are sinking, which shows are swimming (other than last week's Little Mermaid Live), and which are part of intriguing TV trends. Now that winter hiatuses are approaching for some of the biggest shows in primetime, plots are thickening all around, and reality shows are getting wilder than ever. That said, there were some surprising losses during the week of November 10, and next week should definitely be interesting on the ratings front.
Will the Windy City blow the competition away with fall finales? Will the stars dance better than ever? (Probably, after the latest elimination.) Or will more unexpected deaths go down? Only time will tell. For now, let's take a look back at the week of November 10 with regard to all things TV ratings.
Note: all calculations are Live+Same day in the key 18-49 age demographic.
The Masked Singer Dropped More Than Just A Mask
Fox's The Masked Singer has been a dominant force in primetime throughout its second season, with the kinds of ratings and viewership numbers that leave the rest of the networks squabbling over second place on Wednesday nights. Is it still one of the most bizarre shows on television, with celebrities hidden behind elaborate masks belting through voice modulators? Sure. Do a whole lot of people like it? Well, not so much on November 13.
According to TV Series Finale, The Masked Singer didn't win its time slot in either ratings or viewership, and that's in a season where The Masked Singer has been all but untouchable in the ratings. In fact, The Masked Singer this past week scored its lowest numbers for Season 2 by far in both categories. A 1.6 rating marked a 20% drop in the ratings, and 5.5 million audience is a drop of nearly 22% in viewership. This places it second in the ratings and fourth in viewership on the night. Prior to this broadcast, The Masked Singer's lowest numbers were a 2.0 rating and a 7 million audience.
Now, The Masked Singer was facing different competition than usual in the 8 p.m. ET time slot thanks to the 53rd Annual CMA Awards on ABC, which beat every other show on the night with a 2.0 rating and audience of 11.27 million. Still, even if we leave out the CMA Awards, The Masked Singer was nearly 2 million behind Chicago Med's audience of 7.4 million and still significantly behind Survivor's 6 million, all in the 8 p.m. slot.
Survivor and Chicago Med had ratings of 1.2 and 1.1, respectively, making the difference between them and The Masked Singer with its 1.6 not all that huge. And that's with Survivor dropping more than 10% in ratings and viewership, and Chicago Med dropping nearly 9% in viewership!
The Masked Singer was out-viewed by two other shows on the night as well, with Chicago Fire's 7.15 million and Chicago P.D.'s 6.43 million. Does so much of The Masked Singer's audience overlap with country music fans who would choose the CMAs over Triumph the Insult Comic Dog having his mind blown that this was a one-off drop for Fox? Perhaps the numbers for next week will reveal the answer.
NCIS: New Orleans Survived LaSalle's Death, But For How Long?
NCIS: New Orleans viewers were shocked last week with the death of Christopher LaSalle, who had been around from the very first season. The entire series is going to be different without LaSalle, especially since NCIS: NOLA didn't leave any ambiguity about whether or not he was really gone by the end of Lucas Black's last episode. LaSalle is really, truly, 100% dead. The question was: are there viewers whose interest in NOLA is now dead too?
Well, we can't say for sure on that front after just one episode following the big death, but the drop between LaSalle's final episode and the first episode following his death was relatively minimal. The ratings fell 7.7% to 0.6 and the audience fell 3.1% to 6.41 million.
While these were the biggest percentage drops of Season 6 since all the way back in early October and they do mark season lows in both categories, drops of this size aren't crippling. The lower numbers could be due to variables beyond LaSalle's death, as its NBC rival in the 10 p.m. ET time slot did experience gains in both ratings and viewership.
That said, these were the most significant drops in more than a month and took NCIS: NOLA to the lowest numbers of the season, and this was only the first episode without LaSalle. One episode is hardly enough to establish what the new LaSalle-less status quo looks like, and it's possible at least some of the people upset about the big death only tuned in to see how the show would honor him in the first installment without him.
Basically, NCIS: New Orleans survived LaSalle's death without massive, game-changing, panic-inducing drops, but that doesn't mean the death won't have lasting consequences for the series' numbers. Lucas Black's goodbye videos seemed to indicate that he wanted to leave rather than NCIS: NOLA killing him off against his wishes. This show's ratings will be some to watch moving forward.
Chicago P.D. Stands Out On Chicago Wednesdays
The three shows of NBC's One Chicago -- that is, Chicago Med, Chicago Fire, and Chicago P.D. -- have been a frequent topic of discussion in these weekly ratings roundups due to their incredible consistency and dominance over just about everything else on Wednesday nights not including masked singers. As to be expected, other than the outlier that was the CMAs on November 13, the One Chicago shows were in the top 5 shows in the ratings and first, second, and third in audience size. But I have to give a special nod to P.D. this week.
Now, I will admit that Chicago P.D. is generally the lowest-rated and least-watched of One Chicago, which isn't surprising. The 10 p.m. ET time slot isn't the highest-rated of primetime in general, and P.D. is short on the kind of shenanigans that can happen on Med/Fire and big on drugs, death, and dirty-dealing. One of the darkest shows on broadcast television in the 10 p.m. time slot just isn't going to appeal to everybody. So why am I giving P.D. the shout-out this week?
Chicago P.D. is distinct for its consistency even within the already consistent One Chicago franchise. For the week of November 10, P.D. remained steady in the ratings with a 1.0 and dropped less than 0.2% in viewership to 6.43 million. Fire and Med also remained steady in the ratings with their respective 1.1 and 1.2, but Fire dropped nearly 7% and Med dropped nearly 9% in viewership.
And this wasn't a fluke. Chicago P.D.'s ratings dropped the least from the 2018-2019 season to the 2019-2020 season among the One Chicago shows, and its season averages prove that being the lowest-rated show in the franchise doesn't mean it has the worst numbers week-to-week. In the averages given by TV Series Finale, Chicago P.D. Season 7 has dropped only 1.08% in the ratings, which is not too shabby at all considering that most series drop viewers from season to season. Meanwhile, Chicago Fire Season 8 has dropped 3.41% and Chicago Med Season 5 has dropped 3.75% in the ratings.
Is Chicago P.D. ever going to beat Med or Fire in ratings or viewership? Honestly, probably not. But the minimal changes from week to week, especially with One Chicago heading into their fall finales and P.D. arguably promising the most intense ride with the images of a bloody and beaten Halstead and more, P.D. stands out.
Tuesday Was A Lose-Day
I promise this entry isn't happening just because I wanted to make a "Lose-day" pun. I'm not sure if there was something in the air or just everybody made plans for the night of Tuesday, November 12, but the ratings for broadcast networks not airing reruns were almost entirely in the red, and viewership wasn't the best either. In fact, no fewer than five shows dropped percentages that were in the double digits!
But let's start with the good. It will, after all, be shorter. Only two shows on November 12 experienced gains in both ratings and viewership, and those were relatively slight. The Voice on NBC in the 8 p.m. ET time slot bumped up 1.6% to a 1.3 rating and 3.7% to an audience of 8.45 million, while New Amsterdam on NBC bumped up 1.5% to 0.7 rating and 2.9% to 5.11 million. NBC had a good night; all the other networks weren't so lucky.
Every other show on CBS, ABC, and Fox dropped in the ratings. NCIS on CBS fell the least, with a drop of 1% to a 1.0, whereas black-ish fell the most, with an unfortunate 34% plummet to 0.5. The Conners (ABC), Bless This Mess (ABC), FBI (CBS), and mixed-ish (ABC) also fell by double digit percentages. It was not a good night for ABC in particular, especially considering the viewership for the other networks.
Every network other than ABC experienced a jump in the viewership, despite a fall in the ratings. Fox had the biggest viewership boost with The Resident winning 3.66 million in a bump of 7.6%. The smallest gain goes to NBC with New Amsterdam, and its bump was still nearly 3% to 5.11 million. Basically, this was a rotten night in ratings except for two NBC shows, an okay night in the viewership for three of the big four networks, and a terrible night all around for ABC.
I told you Tuesday was a Lose-day!
Honorable Mention: One Chicago Vs. NCIS For Week Of November 10
If you happen to be a regular reader of these ratings rundowns, you've probably noticed a running trend of comparisons between NBC's three-show franchise and CBS' three-show franchise. I'd be remiss if I skipped a week when we're so close to winter hiatus, so here's an honorable mention rundown:
The original NCIS remains unbeatable in this race in the viewership, with 11.50 million viewers on November 12, but the three One Chicago shows came in second, third, and fourth with Med at 7.37 million, Fire at 7.15 million, and P.D. at 6.43 million. NCIS: New Orleans did come close to P.D. with 6.41 million, while NCIS: Los Angeles came in last with 6.04 million.
As for the ratings, Chicago Med and Fire tied for first with a 1.1 each, P.D. and NCIS tied for second with a 1.0 each, and NCIS: New Orleans and NCIS: Los Angeles tied for last with 0.6 each. I give the win to One Chicago this week!
So there you have the rundown of the latest trends, developments, and outliers from the November 10 week of TV ratings, not to mention another roundup of NCIS vs. One Chicago! Don't forget to check back with CinemaBlend for news and analyses of TV ratings, and be sure to swing by our 2019 fall TV premiere schedule to see what has yet to premiere this season.
Your Daily Blend of Entertainment News
Laura turned a lifelong love of television into a valid reason to write and think about TV on a daily basis. She's not a doctor, lawyer, or detective, but watches a lot of them in primetime. Resident of One Chicago, the galaxy far, far away, and Northeast Ohio. Will not time travel, but will sneak references to The X-Files into daily conversation.