Local News Anchor Accidentally Goes Viral After Emailing Sick Request To Thousands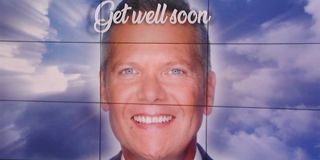 This is Nick Vasos, a man who was a local celebrity thanks to appearing on Kansas City's Fox4 news station. Lately, he's a viral sensation, thanks to sending an email to the entire parent company his news station is a part of in which he requested a sick day.
Maybe you work for a small company and this doesn't seem like that bad of a gaffe, but Nick Vasos works for a company that owns over 200 news stations, a company that also employs thousands of people. These people were all over Nick getting sick.
Austin Kellerman shared a bunch of the responses from other people in the company who saw Nick Vasos' sick email, which kickstarted the viral event.
San Francisco's Grant Lodes also got in on the fun, sharing some real-time updates of people in the company wishing Nick well.
A shrine was even created for the news anchor in his absence from the workplace:
In fact, a lot of people from other stations got into the "Save Nick" fun, like Coumbus' David Mazza, who works for NBC4:
So How Did Nick Vasos Make The Email Mistake?
If you wondered how Nick Vasos made such a blunder, the good news was his own team was checking in on the traffic reporter in the time since he first sent that company-wide email. They did a whole bit after the Save Nick campaign started, explaining what happened and even talking to Vasos himself.
As you can see, despite Nick Vasos being on sick leave during the day this went viral, he did call in to his news station to confirm "I'm alive, I'm alive," before noting what happened was "an honest mistake." He also blamed feeling poorly after an oral surgery on the whole miscommunication, saying he texted his boss but didn't hear back and that's what led him to make the fated email mistake.
His co-worker even mentioned at one point he was beating #Frozen2 on Twitter, which is just phenomenal, given that movie just came out this weekend and was also a viral sensation and a huge box office hit upon release. (Although, I wonder how much confusion there has been between the competing #Frozen2 and #FrozenII hashtags.)
Nick Vasos even attended a fundraiser this weekend, so presumably he's up and about and will be back to work this week. Thus, if you are one of the many, many people who were a part of #PrayersForNick this weekend, your efforts were not in vain.
Every once and awhile a local news moment like this goes viral, either for being outrageous, funny or cute. This one has a little bit of all three of those components, unlike puking incidents (outrageous), the musical weather guy (funny) or celebrating May the Fourth Day with Star Wars fans (cute). Save Nick will likely die down next week, but I'm not sure Nick Vasos will ever fully live the moment down.
Reality TV fan with a pinch of Disney fairy dust thrown in. Theme park junkie. If you've created a rom-com I've probably watched it.
Your Daily Blend of Entertainment News
Thank you for signing up to CinemaBlend. You will receive a verification email shortly.
There was a problem. Please refresh the page and try again.