Will And Grace's Shelley Morrison Dead At 83, Co-Stars Share Heartfelt Reactions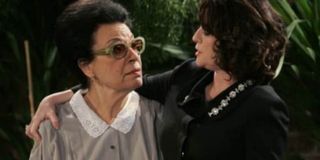 Will and Grace's Shelley Morrison died of heart failure on Sunday, December 1, in Los Angeles. The actress, best known for playing the role of Rosario Salazar during the original run of the popular NBC series, was 83 years old. To be expected, Morrison's Will and Grace co-stars shared some of their heartfelt reactions following news of her death.
Although Shelley Morrison did not reprise her role in the Will and Grace revival, due in part to medical issues, her former co-stars shared some sweet messages on social media. Megan Mullally, who played Rosario's boss Karen Walker and who will miss some Will and Grace episodes herself, took to Twitter to share her sadness.
Will and Grace's Eric McCormack also shared his condolences, posting a sweet message to Twitter about the actress and her performance as Rosario. Without Shelley Morrison, the original run of the show may not have been as funny.
Debra Messing, the titular Grace of the NBC hit, also paid tribute to Shelley Morrison, acknowledging her decades-long career and adding that she'll always be remembered most as Will and Grace's Rosario. In her Instagram post, Messing shared a brief clip of Morrison's character. You can watch the video below.
Sean Hayes posted a nice photo of Shelley Morrison as Rosario to his Instagram, saying she was "absolutely hilarious" and had the "biggest heart."
Shelley Morrison's Rosario, a maid from El Salvador, was originally meant to appear in one episode of Will and Grace. However, the audience and writers liked her so much that her character stayed on for all eight seasons of the show, appearing in 68 episodes throughout the series.
In a statement (via The Washington Post), Shelley Morrison's husband, Walter Dominguez, mentioned how much the actress loved getting to play Rosario on Will and Grace.
Prior to Will and Grace, Shelley Morrison played Sister Sixto on The Flying Nun. She appeared in 56 episodes from 1967-1970 alongside Sally Field. The actress appeared on several other TV shows, including L.A. Law, Murder, She Wrote, Love, Lies and Murder, My Name is Earl, Home Improvement, and Disney's Handy Manny.
We at CinemaBlend send our thoughts and condolences to the family and friends of Shelley Morrison in this time of mourning.
Your Daily Blend of Entertainment News