The Mandalorian Tops Stranger Things As Most In-Demand TV Show In U.S.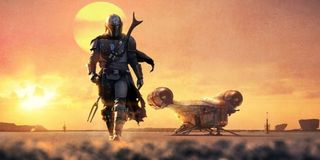 CinemaBlend participates in affiliate programs with various companies. We may earn a commission when you click on or make purchases via links.
When Disney+ launched earlier this month, the new streaming service's offerings didn't seem to affect Netflix subscriber's usage, and when asked whether execs were worried about Disney+, Netflix said it welcomed the competition. However, a new report shows that The Mandalorian has topped Netflix's cross-generational hit Stranger Things as the most in-demand digital TV show in the U.S., and that's a big deal.
After a lengthy 21 weeks at the top of the in-demand chart, Stranger Things was knocked down a peg by Pedro Pascal in The Mandalorian. Season 3 of the Netflix horror series debuted in July and unsurprisingly landed at the top of the streaming service's most-watched shows of the last year, with 64 million people tuning in for at least a short while. It seems the competition is really rearing its head now, since after just three episodes, The Mandalorian has tripled in demand, usurping Stranger Things' spot at number one.
Per Parrot Analytics, which measures audience demand and digital imprints of TV shows across all platforms, The Mandalorian pushed ahead with much Force during the week of November 17-23. The series listed past 100 million in average daily demands, making it one of only a few shows do so. Meanwhile, Stranger Things was one of the only shows in the top ten to actually drop around 20% in that same week, bringing its audience demand total to just over 81 million.
The Netflix series dropped to number two in digital original demand, but landed at number five in overall demand. (The report only analyzes demand and not subscriber numbers, to note.) However, The Mandalorian's increase in demand might also be helped by the service employing the weekly episodic model, instead of the binge-ready method Netflix has.
At the end of the day, it's best to remember that Stranger Things isn't a brand new show like The Mandalorian ,and demand fluctuates all the time depending on multiple factors. The fact that the Netflix series was number one for so many months is still indicative of viewers' continued interest in the series, which is headed into its fourth season.
In addition, Netflix can breathe a sigh of relief now that The Crown Season 3, which may have already found Olivia Colman's replacement, has premiered. Demand for that returning series increased 134% and the series went from 22nd to fourth place in digital original demand.
Still, the Star Wars standalone live-action series starring Pedro Pascal remains a major competitive force to Netflix, which previously reigned supreme in the streaming market. The Mandalorian has made its own pop culture imprint, though, which might be primarily thanks to the introduction of Baby Yoda, who's stolen the hearts of many and "ruthlessly outshined" the titular character.
With so many more shows coming to Disney+ soon, including the Marvel Cinematic Universe's limited series WandaVision and Loki, Stranger Things and other Netflix shows might continue to experience drops in demand. I imagine Season 4 of Stranger Things and Netflix's investment in more original shows might turn things around, but only time will tell. For those who haven't yet checked out what Disney+ has to offer, go ahead and use this link to sign up.
For now, fans can watch The Mandalorian releaseing each Friday on Disney+ at 3:01 a.m.
Your Daily Blend of Entertainment News