The Arrow-verse Is Up Before Crisis, The Masked Singer Slumps And More In This Week's TV Ratings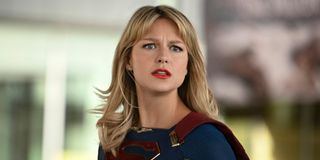 (Image credit: The CW)
Heading into the final month of 2019 doesn't mean that television is just coasting into 2020, even if some shows have already wrapped for the year with their fall finales. One of the most highly-anticipated events in the past year of TV is coming with the Arrow-verse's "Crisis on Infinite Earths" crossover, reality competitions continue, and the festivities are beginning. While some shows could already use a holiday miracle, others are already poised to finish out the year strong. Here's where TV stands after the week of December 1!
Note: all ratings for the week of December 1 are Live+Same day in the key 18-49 age demographic.
The Arrow-verse Gets A Pre-Crisis Boost
The superheroes of The CW's Arrow-verse have had some major ups and downs throughout the 2019-2020 TV season so far, and I don't just mean battling bad guys. The ratings have been up and down all season, and even the best numbers haven't been all that great, which was something of a surprise considering the looming end of Arrow and the long-awaited "Crisis on Infinite Earths" crossover between Arrow, The Flash, Supergirl, Legends of Tomorrow, and Batwoman with a little Black Lightning thrown in.
With "Crisis" kicking off on Sunday, December 8 with Supergirl at 8 p.m. ET, the numbers of this past week could be a sign of how much audiences are actually interested in the crossover so massive that it's not even contained to The CW anymore. Fortunately, all five shows (and Black Lightning, which won't officially join the Arrow-verse until "Crisis") were up or at least even in ratings and/or viewership.
Let's go in order through the week. On Sunday, December 1 at 8 p.m. ET, TV Series Finale reports Batwoman jumped more than 15% in the 18-49 demo to hit a rating of 0.3, and jumped 0.2% in viewership to reach 2.04 million. Admittedly, a rise of 0.2% isn't a whole lot to brag about, but at least it's not a drop, and any kind of rise at all is a good thing for a CW show!
Following Batwoman at 9 p.m. ET was Supergirl, which remained even with its 0.2 rating and jumped nearly 12% to 0.88 million viewers. That's progress and a good sign heading into "Crisis," especially considering only Legends of Tomorrow (which has been off the air since May) has done less than Batwoman and Supergirl to set up the crossover event this season.
Black Lightning gets an honorary inclusion in the pre-"Crisis" Arrow-verse rundown by virtue of the fact that Black Lightning himself has appeared in "Crisis" promotion. The show remained even with its 0.2 rating and dipped almost 11% in viewership, down to 0.58 million. It should be interesting to see if Black Lightning gets a boost in 2020 from the "Crisis" exposure.
Finally, The Flash and Arrow on Tuesday night turned in respectable numbers as well, with The Flash in the 8 p.m. ET hour jumping 25% for 0.5 rating and nearly 14% for 1.33 million for an improvement over the trend from last week. As for Arrow, its final episode ever before The Monitor collects on his deal with Oliver held steady with 0.3 rating and got a nearly 6% boost in viewership with an audience of 0.83 million.
The Arrow-verse performed about as strongly as realistically could have been hoped for in the week before "Crisis" turns everything upside down; the numbers at the end of next week could be quite telling about the Arrow-less future of the Arrow-verse.
Christmas Came Early For Primetime
This may have only been the first week in December, but Christmas came early to primetime! For the week of December 1, the big four networks aired no fewer than 10 Christmas specials/premieres, several Christmas-themed fall finales, and one holiday special set in a world of dragons. It seems viewers were feeling the holiday cheer, because the Christmas broadcasts generated some pretty solid numbers for the various networks.
But before we get into the numbers, here were your holiday offerings for the week of December 1: Santa Claus Is Comin' to Town/ABC, Ice Age: A Mammoth Christmas/Fox, Rudolph the Red-Nosed Reindeer/CBS, Great Christmas Light Fight/ABC, Dr. Seuss' How the Grinch Stole Christmas/NBC, How to Train Your Dragon: Homecoming/NBC, CMA Country Christmas/ABC, 87th Annual Christmas in Rockefeller Center/NBC, A Charlie Brown Christmas/ABC, A Saturday Night Live Christmas Special/NBC, and Same Time, Next Christmas/ABC.
My holiday spirit is just about exhausted just typing that all out! Maybe I need to rewatch the devastating holiday-themed 9-1-1 midseason finale to snap me back into festivity.
The Christmas TV fare was impressive for more than just sheer number. Christmas tended to dominate time slots throughout the week. If we remove football from the equation, Santa Claus Is Comin' to Town won Sunday at 8 p.m. ET with 0.7 rating and 3.12 million, beating The Simpsons and Batwoman. In fact, the only non-football, non-news broadcast of the night to score higher numbers across the board was the post-milestone episode of NCIS: Los Angeles. Sunday night goes to Christmas!
On Monday, Rudolph dominated the entire night, with CBS' 8 p.m. ET broadcast of Rudolph the Red-Nosed Reindeer winning a 1.5 rating and audience of 7.04 million. No other show beat the 1.5 rating, and only The Voice beat the reindeer in viewership, and that by less than a million. The Season 7 premiere of ABC's Great Christmas Light Fight wasn't so solid, beating only The CW's All American in the 8 p.m. hour, but tying the runner-up in the ratings and beating it in viewership in the 9 p.m. hour. Good call airing two hours in one night, ABC! Monday goes to Christmas.
How the Grinch Stole Christmas was on top of the Tuesday ratings with a 1.1 (and 5.3 million viewers) the 8 p.m. ET NBC broadcast, with How to Train Your Dragon: Homecoming holding up respectably at 8:30 with a 0.9 rating, and 3.87 million. ABC's CMA Country Christmas ranks third in the ratings of the holiday specials of the night with 0.7, but the audience of 5.08 million is impressive. Tuesday is all Christmas!
Wednesday was the exception of the week, with NBC's 97th Annual Christmas in Rockefeller Center as the only holiday offering, and it came in third in the ratings in its 8 p.m. ET time slot with a 1.1. It did win the slot in viewership, though, with 6.9 million. Christmas is kinda sorta almost the Wednesday winner.
Christmas also lacked its Tuesday dominance on Thursday, but A Charlie Brown Christmas on ABC and A Saturday Night Live Christmas Special on NBC came in second and third in the 8 p.m. ET ratings behind Young Sheldon, with Same Time, Next Christmas on ABC coming in second in the 9 p.m. slot.
The Masked Singer Slumps
Once the undisputed juggernaut of the fall TV season, Fox's The Masked Singer hasn't been the most consistent performer on Wednesday nights, let alone the whole week. That's not to say that its numbers have been bad, and The Masked Singer won the demo in the 8 p.m. slot on December 4, as usual. But this week was still a slump, and it saw the competition rise. And that's without One Chicago in the mix!
The Masked Singer dropped nearly 5% in the demo for a 1.8 rating and nearly 3% in the audience for 6.5 million. That viewership drop put The Masked Singer not in first or second, but third place for the night. 87th Annual Christmas in Rockefeller Center on NBC took first with 6.88 million and Survivor on CBS took second with 6.68 million. The Masked Singer did soundly beat both in the ratings, with Rockefeller Center earning a 1.1 and Survivor a 1.2. Survivor boosted across the board, however; if The Masked Singer continues to fall while Survivor continues to rise, could there be a Monday night upset?
Well, there's no need to start panicking that The Masked Singer will lose the top spot in the ratings or close to the top in viewership, although any who were hanging on to find out the Butterfly's identity may no longer tune in. Still, 1.8 rating and 6.5 million viewers makes the December 4 broadcast the second-lowest of the season. What would Thingamajig do?
Making It Isn't Making It On NBC
I hate to harp on such a heartwarming show (especially when it occupies a huge block of primetime), but Season 2 of Making It may not have what it takes to make it on NBC. Season 2 of the competitive crafting show hosted by Parks and Rec alums Amy Poehler and Nick Offerman premiered Monday, December 2 at 10 p.m. ET and continued to air each night at 10 p.m. through Thursday, December 5. The numbers for the first week were... well, not good.
The Season 2 premiere on Monday, December 2 with the 0.5 rating and 2.94 million audience was down nearly 55% in the ratings and 43% in viewership, putting it behind a rerun of CBS' Bull in both categories on Monday night. The December 3 episode hit 0.5 and 2.66 million, meaning that it didn't drop in the demo from the first to the second episode, but fell almost 10% in viewership.
Wednesday, December 3 kept Making It even in the ratings with 0.5 again, and even gave the show a 6% audience bump to 2.83 million. Thursday was the kicker -- or perhaps killer -- for Making It, as the December 4 installment fell 20% to 0.4 rating and nearly 40% in viewership to 1.7 million. Ouch!
Well, the good news is that it seems NBC was never banking on Making It breaking any positive records with its second season. The Peacock Network decided the air the full second season over a span of two weeks in December. Making It is fun, frivolous, lighthearted fare that airs in the midst of holiday specials and reruns while the networks pass the time before winter premiere season kicks off. Making It won't get the axe in Season 2, but the question is: will it get an order for Season 3 if the second half of the season doesn't pick up?
So, there you have the latest trends, twists, and outliers from primetime TV ratings! Stay tuned for more of what's noteworthy in world of television numbers, and be sure to check back with CinemaBlend for more rundowns. For some viewing options once the 2019-2020 TV season picks up again in the new year, check out our winter and spring TV premiere schedule!
Your Daily Blend of Entertainment News
Laura turned a lifelong love of television into a valid reason to write and think about TV on a daily basis. She's not a doctor, lawyer, or detective, but watches a lot of them in primetime. Resident of One Chicago, the galaxy far, far away, and Northeast Ohio. Will not time travel, but will sneak references to The X-Files into daily conversation.