CBS' S.W.A.T. Just Added A Longmire Star For The Back Half Of Season 3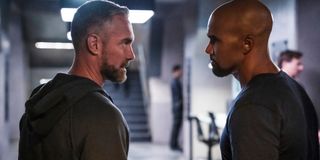 Things are about to get a lot more interesting in the back half of S.W.A.T. Season 3. The CBS series just added Longmire star Bailey Chase as a recurring character opposite Shemar Moore, and his arrival in Los Angeles might spell trouble for the S.W.A.T. team and especially for Jay Harrington's Deacon.
Bailey Chase will recur as Owen, an ex-Army Ranger who's planning to open a high-end private security firm in L.A. Not only will that directly compete with the S.W.A.T. team, who already lost Stephanie Sigman's Captain Jessica Cortez in Season 3, but Owen also has his sights set on recruiting Jay Harrington's Deacon to join his firm.
Per TVLine, Owen hopes that his key connections and deep pockets will help lure the S.W.A.T. sergeant, who always seems to be in need of money. It's smart for Owen to swoop in to try and sway Deacon to join his firm, because he's pinpointing the sergeant's financial weakness. It's uncertain how it'll all play out, especially since Deacon's been with S.W.A.T. for over ten years at this point, but perhaps he'll flirt with the idea.
If that happens, it'll likely cause a lot of unwanted tension between Deacon and his team. Owen's firm is the competition, after all, and the team is nothing if the members aren't loyal to each other. Bailey Chase will definitely be around for more than one episode, so it's possible fans will learn more backstory for why he really has his sights set on recruiting Deacon. Either way, Owen's appearance will certainly shake things up in the back half of Season 3.
Owen isn't the first new character to be introduced in Season 3, either. Earlier this season, S.W.A.T. added Officer Jim Street's foster brother, Nate, with Cory Hardrict joining the show in a recurring role. In addition to that, Shemar Moore was recently reunited with former Criminal Minds co-star Rochelle Aytes, who was brought onto S.W.A.T. to play Nichelle, Hondo's love interest, after his former lover Jessica left.
Bailey Chase is no stranger to television. The actor has not only starred in Longmire in recent years, but also Saving Grace, Queen of the South, 24: Legacy, and Chicago P.D. I have no doubt that he'll feel right at home playing Owen on S.W.A.T. in its recently changed time slot in the new year.
S.W.A.T. is currently on winter hiatus from CBS, but the series will be back with new episodes on Wednesday, January 15, 2020 at 10 p.m. ET. For more on what to watch in the new year, be sure to check out our winter and spring midseason schedule to find out when every TV show will premiere.
Your Daily Blend of Entertainment News