Duane Chapman Remembers Late Wife Beth On Her Birthday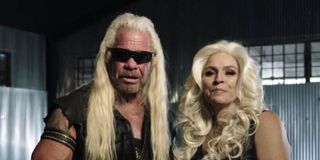 The death of Beth Chapman hasn't been easy on her husband, Dog's Most Wanted star Duane "Dog" Chapman. Ever since she died in June after a long battle with throat cancer, Dog Chapman has been honest about his personal struggles. Setting the hurt aside for a bit, Dog took to social media to remember his late wife on her birthday.
There's no doubt that Dog Chapman is still processing the death of his wife and, while some days are harder than others, Chapman took a moment share a special message to Instagram for Beth, which showcased how much he adored his wife in a simple, but touching, post.
Alongside the caption, Dog Chapman included a video of his late wife chasing the bad guys and other similar clips from their WGN show, Dog's Most Wanted.
Though Dog Chapman has not been shy about sharing what he's been through with audiences, he and Beth's daughter, Bonnie Jo Chapman, hasn't been as publicly open about her grief as her dad. In a rare personal post, though, the couple's daughter shared a sweet message to her mother in celebration of her birthday and thanked her for being there.
Next to the message, Bonnie Chapman shared a solo picture of her mother and several other photos of both of them at Chapman's graduation.
This family has really been put through the ringer this year. A month ago, Bonnie Chapman was sent to the hospital after experiencing piercing back pain, which turned out to be a case of sciatica. However, she seems to be doing OK at the moment.
Most recently, Dog Chapman paid tribute to Beth by posting a throwback picture of them. In the picture, the husband and wife duo were all smiles and the image showcased their enduring love for each other.
Last week, Dog Chapman also opened up about his struggles with intimacy and dating, saying that he'd "never love anyone else as much as I loved her." Even the thought of having sex has not been a desire he's had since Beth's death at the early age of 51.
Dog and Beth Chapman allowed viewers to follow along with Beth's cancer treatments, which were filmed for Dog's Most Wanted. The reality star has recently struggled with his own health issues as well, including being hospitalized and later diagnosed with pulmonary embolism. It's something he hadn't even told his children about, though they probably know about it now.
You can still catch episodes of Dog's Most Wanted, which is currently airing Wednesdays at 9 p.m. on WGN. For a full list of other fall shows premiering through November, be sure to check out our complete TV guide.
Your Daily Blend of Entertainment News
Thank you for signing up to CinemaBlend. You will receive a verification email shortly.
There was a problem. Please refresh the page and try again.