What's Up With The Mandalorian's First Wave Of Merch (Not Counting Baby Yoda)?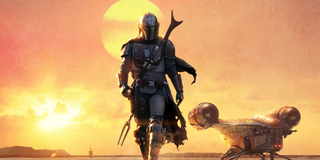 (Image credit: Disney+)
Spoilers ahead for The Mandalorian Season 1.
The Mandalorian launched in November 2019 as the first live-action Star Wars series, and it's pretty safe to say at this point that Disney+ has a hit with critics and viewers alike. Baby Yoda fever swept the internet as soon as the child (who is not actually a baby Yoda) debuted, but there was no merch for him or other characters en masse for fans to get their hands on in time for the holidays. Now, some Funko merch is coming, and there's already the question: what's up with it?
Disney reportedly missed out on a lot of revenue by not releasing merch before Christmas, and most items are still only available for pre-order. While this move allowed The Mandalorian to keep Baby Yoda a secret rather than a plot twist revealed via action figure (and a Solo star is apparently to thank/blame), fans can only wait for the merch to start hitting shelves. Luckily, Funko hasn't held back in revealing the figures that will be available, and there are reasons to start speculating.
First, take a look, and be sure to click through to all four slides:
For diehard fans of The Mandalorian, the first question here might be: "How many of these can I justify buying for myself?" If you ask me, these Funko Pops are just further proof that absolutely everything is more awesome when a Mandalorian helmet is involved. Notably, there are no scout trooper Funkos despite the fact that they were two of the most talked-about characters from the Season 1 finale, but considering the hate surrounding what those troopers did to Baby Yoda, they probably wouldn't exactly have been best-sellers.
In all seriousness, questions worth considering are whether some of these Funkos are examples of characters that will be important in Season 2, if fans missed some clues about them in Season 1, and/or whether these are just fun figurines and there are no hidden meanings whatsoever. After all, the Client is quite definitively dead, as is IG-11, and they both have Funkos. But what about those Mandalorians who earned Funkos despite not even being named? Do they matter?
Well, the Instagram post doesn't share any details beyond the looks of the Funkos and which of them will be exclusive to places like Amazon and Target, but the official website (opens in new tab) is a little bit more helpful. The Mandalorian in blue and yellow is the "Heavy Infantry Mandalorian," the one in the green helmet is the "Covert Mandalorian," and the one in light blue is "Death Watch Mandalorian." Are these Mandalorians meaningful, or do they just look cool and will sell based on that fact alone?
"Covert Mandalorian" may simply be one of the many nameless Mandalorians who were in the covert on Navarro before they were wiped out after helping Mando and Baby Yoda escape, but "covert" could also mean that there's more to this Mandalorian than meets the eye. "Covert" does have multiple definitions, after all, and the Mandalorian in green looks more feminine to me than the others in armor. I'm not saying this person is Sabine Wren (despite the actress' willingness to play the character in live-action) or Bo-Katan, but they could be significant!
"Death Watch" should remind Clone Wars and even Star Wars Rebels fans of the Mandalore arcs in animation, especially considering the appearance of the Darksaber at the end of The Mandalorian's Season 1 finale. Could Season 2 delve more into the history of what happened to the Mandalorians during the original trilogy, how former Death Watch member Bo-Katan lost the Darksaber, and what remains of Death Watch at this point in the Star Wars timeline?
The Mandalorian: Could Star Wars Rebels' Ezra Bridger Be Key To Season 2?
Unfortunately, fans have a while to find out about the next stage in Mando's journey, as The Mandalorian won't be back with Season 2 for the better part of a year. You can catch up on more Mandalorian lore (and probably the Darksaber) with the revival season of The Clone Wars coming to Disney+ in February. For more options, swing by our 2020 winter and spring premiere schedule.
Resident of One Chicago, Bachelor Nation, and Cleveland. Has opinions about crossovers, Star Wars, and superheroes. Will not time travel.
Your Daily Blend of Entertainment News
Thank you for signing up to CinemaBlend. You will receive a verification email shortly.
There was a problem. Please refresh the page and try again.