Vikings Season 6 Premiere: Eight Major Developments You Need To Know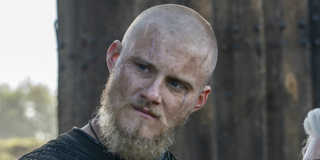 (Image credit: Jonathan Hession / History)
Spoilers for the Season 6 premiere ("New Beginnings" and "The Prophet") of Vikings are discussed below.
Vikings opened Season 6 with a two-hour premiere that set the stakes high for its central characters. As previously teased, a lot was going on as Ivar's journey took him to Rus. Back in Kattegat, Bjorn made his first moves as king, while Lagertha set her final chapter in motion.
The family drama continued as Hvitserk fell into a downward spiral. Ubbe had his sights set on a new adventure after Vikings provided a mysterious update on Floki. All told, the Season 6 premiere was full of action, intrigue, and the introduction of a disturbing new character. Time to dig into it all!
Bjorn Pulled A Jon Snow
Shortly after becoming King of Kattegat, Bjorn learned that an injured Harald had been captured, and was in need of Bjorn's help. Ragnar's eldest son struggled with what to do before ultimately deciding to come to his recent ally's aid.
Sorry to make comparisons, but as a Game of Thrones viewer, Bjorn's decision gave me the same sinking feeling that Jon Snow's Dragonglass mission did. Like Bjorn, Jon left Winterfell shortly after being crowned and put his sibling in charge. I hope Bjorn returns without having bent the knee!
Ivar May Have Finally Met His Match
Alex Høgh Andersen teased the violent leader Ivar would run into in Rus during Vikings Season 6, and he was spot-on. Danila Kozlovsky's Prince Oleg is as brutal as they come, and Ivar seemed to hit it off with him.
It turns out that they have a lot in common to bond over. Ivar and Oleg both killed their wives and one of their brothers. They are also ruthless in their pursuit of power. And we thought Ragnar and Ecbert's relationship was complicated! Vikings just upped the ante – big time.
Ubbe Got A (Temporary) Promotion
Bjorn left his younger brother, Ubbe, in charge of Kattegat upon his departure. Ubbe reluctantly agreed to lead despite Vikings tossing that mysterious Floki story in his direction. Rest assured that journey is still on the horizon.
I am psyched that Vikings is giving Ubbe this opportunity in Season 6. Yes, I want Bjorn to reign as the King of Kattegat indefinitely. However, this storyline gives Ubbe the chance to dig into something front and center. It will be interesting to see how he handles the power. I do not expect his time on the throne to corrupt him.
Lagertha Is Enjoying Her New Life
Lagertha said she was leaving her life as a warrior behind, and she stayed faithful to her word. The retired shield maiden even buried her sword in a ceremony of sorts in recognition of her new life. As previously revealed, Lagertha was focused on building a new life for herself as Season 6 began.
She remained aware that Ivar was out there somewhere and advised Bjorn. Vikings is keeping the mother and son's remarkable relationship going strong in Season 6! How long will Lagertha be able to resist returning to her former life? Sadly, trouble does not seem far away.
The Seer Is Still Seeing Stuff
In one of Vikings' biggest shockers last season, Ivar murdered the omnipotent person known as The Seer. Despite that, Bjorn still managed to seek his advice from the great beyond in the Season 6 premiere. This came as quite as a surprise to me.
Was Bjorn talking to himself and using The Seer to channel his conscience? Or did The Seer really come online for Bjorn and speak to him from the next life? Is Vikings validating the supernatural? This seems to be a step largely in its favor. For Bjorn, it was an authentic experience.
A Mysterious Woman Really Wants Bjorn
Ingrid (pictured above), the servant of Bjorn's new wife Gunnhild, got awfully flirty with Bjorn in the Season 6 premiere. Bjorn's wife noticed and confronted Ingrid. Gunnhild made it clear that she trusts her relationship, so what is going to happen in Vikings?
Will Bjorn follow in his father's footsteps and fail to resist temptation? Or will he resist and endure unexpected fallout in Season 6? I hope Bjorn remains loyal. On that note, where did this woman come from? And does she have an ulterior motive besides wanting to get with the King of Kattegat? So many questions, speaking of which...
Floki (Still) May Or May Not Be Dead
As seen in promotional images for Vikings' Season 6 premiere, Kjetill is back in Kattegat. Neither Ubbe nor Bjorn bought his story about Floki, whose fate remains a significant mystery. He was last seen in a cave when it fell it in. While viewers were left to presume his death, you can never assume anything with Floki.
Floki should have gotten killed, but he is Floki, and Vikings gave some significant clues that he was alive. Lagertha not accepting it made me more suspicious than ever that Ragnar's best friend may still be among the living.
Bjorn Put His Loved Ones Into Grave Peril
Bjorn decided to opt for branding and banishing Ivar's supporters. His plan to put them outside the community seems destined to come back and bite him. Look no further than the group's leader spying on Lagertha. They are up to something!
Why, Bjorn? For that matter, what was Lagertha thinking supporting this idea? Her Vikings history should have told her it was a bad one. All Bjorn did was further this group's determination to succeed. Now they are out there waiting to attack. As the Season 6 premiere wound down, that became even more apparent.
Another element worth noting from Vikings' Season 6 premiere is that viewers did not see Wessex. Is the action there officially over? It seems like Ivar's activities in Rus will stand in for Wessex's drama as a non-Kattegat storyline. Prince Oleg is a brutal addition, but I am looking forward to seeing where his cat-and-mouse game with Ivar leads. In related non-Kattegat news, Rollo was not shown. I am not done hoping he will appear at some point in Vikings' final season.
Overall, Vikings got off to an eventful start in its final season. Seeing Bjorn finally be King and Ivar meeting up with his other half was intriguing. Based on the opener alone, Season 6 is going to be a ride. Hopefully Harald is not going to betray Bjorn. However, I get a feeling that he might.
After an arduous wait, Vikings is finally back. It was worth the wait too! Season 6 is beginning with a bang. New episodes of Vikings air Wednesdays at 10 p.m. ET on History. The series' return is part of this winter's premieres.
Your Daily Blend of Entertainment News
Like a contented Hallmark movie character, Britt happily lives in the same city she grew up in. Along with movies and television, she is passionate about competitive figure skating. She has been writing about entertainment for 5 years, and as you may suspect, still finds it as entertaining to do as when she began.