The Mandalorian: How Boba Fett Could Make An Appearance In Season 2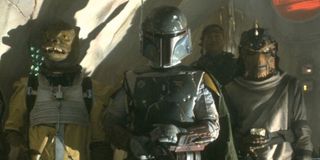 Season 1 is over, and while there is a bit of time to wait before The Mandalorian Season 2, there's no time like the present to start speculation! For all the things fans loved about the Disney+ series, there were a few disappointed or at least wondering why the series left out one of the most famous Mandalorian-associated bounty hunters of all time, Boba Fett.
Boba Fett may have missed the boat to join in Season 1 (though I have my doubts he actually didn't appear), but there's still a chance for it to happen in The Mandalorian Season 2. How the series may do that, why it would make sense, and what it could mean for the show's future are all explained below.
Yes, Boba Fett May Be Alive After Star Wars: Return Of The Jedi
Back before Disney took hold of Star Wars, Boba Fett's survival post-Return of the Jedi was canon. He went on to have a few adventures following Jabba's Palace, but in the current canon we have no definitive confirmation Fett survived being eaten by a Sarlacc. With that being said, there is evidence that suggests he's more alive than not.
Boba Fett's survival, while not confirmed, has been teased in Star Wars media post-Disney acquisition. The Aftermath series, which chronicled the time directly following Star Wars: Return of the Jedi, makes mention of his Mandalorian armor, which has been salvaged without the famed bounty hunter attached to it. The armor was found in the same area as Jabba's Palace, and there's some implication that the Sarlacc from the pit Boba Fett fell into had died.
So, while there is not explicit confirmation Boba Fett has survived, there's some existing canon material that suggests he did. Season 1 takes place about 5 years after Return of the Jedi, so it's entirely possible that the character could make an appearance in The Mandalorian Season 2 provided he hasn't already. Yes, I know that Jon Favreau has said Boba Fett wasn't in Season 1, but keep all that's been talked about in mind while revisiting a scene from the Disney+ series.
The Mandalorian's Mysterious Figure On Tatooine
For all the questions The Mandalorian answered in Season 1, there were a good number that were left on the table. One of the biggest questions is who was the person who checked on the dead body of Fennec Shand, who some may have mistaken for the insidious Moff Gideon. That's understandable given the black ensemble, though Moff Gideon was not sporting spurs like the character seen in Episode 5.
The Mandalorian did not reveal the identity of the character, though there's reason to suspect it's Boba Fett. To start, Mando was on Tatooine, which is the last known whereabouts of Fett. Second, the character he was checking on was a notorious bounty hunter, and Fett himself is a notorious bounty hunter. If it was Boba Fett, the character wasn't sporting his classical armor, though that makes sense given the Aftermath books noted it was salvaged. In short, it's entirely possible this character was Boba Fett.
Again though, there's only a chance. There are no shortage of people in the world of Star Wars, so far be it for anyone to outright assume it's any one person and not someone entirely new who may appear in The Mandalorian Season 2. Having said that, The Mandalorian is a work of fiction where odds are only as improbable as a writer can dictate, so fans maybe shouldn't be so quick to take Jon Favreau at his word that Fett isn't featured in Season 1.
How Boba Fett Could Be Used In The Mandalorian Season 2
Provided Boba Fett is that mysterious figure in The Mandalorian, he may soon come face to face with Din Djarin. Fennec Shand may have had some relationship with the bounty hunter, and while he saw she was dead, he may not have seen the event happen. So to recap, he saw a handcuffed woman shot dead, which is an unethical bounty hunting tactic, to say the least.
So in the hypothetical that Boba Fett saw that a bounty hunter killed a target they had subdued, he might be pretty pissed. Depending on how loyal he is to Mandalorian customs he might be doubly pissed, as The Mandalorian signaled earlier in the season there is no pride in dishonorable kills. It'd be plenty motive for Fett to ship off from Tatooine, and bring a Mandalorian to justice he thinks is actively dishonoring "The Way." Again though, we have no real track record of Fett's adherence to Mandalorian customs, only that he likes their armor. For that reason, we can only speculate on what Mandalorian customs mean to him, or if he even follows them.
If Boba Fett isn't that mysterious figure, he could still show up in other ways. For example, he could just be one of those familiar Star Wars characters and Din and The Child could just happen upon him in their travels. He could also be back working for some Empire-affiliated outfit, considering his capture of Han Solo for Darth Vader was surely recognized throughout Imperial ranks. Perhaps Moff Gideon would seek the hunter out if he knew he was alive to help him in his efforts?
Wasn't Boba Fett Clearly In The Mandalorian?
Disney+ subscribers may think they already spotted Boba Fett in The Mandalorian when Din Djarin first traveled to the people's covert location. Screenshots were widely circulated of the scene which, when brightened, showed someone in Mandalorian armor in the background who many thought was Boba Fett.
To begin, the paint jobs on this Mandalorian's armor and Boba Fett's do not match. Look even closer, and the armor is definitely different between the two characters and not even close. Take that, add in the Aftermath book stuff discussed earlier about how Fett's armor was taken from him, and realize how silly it would be for Jon Favreau to deny Fett's appearance when he's blatantly in the background of a scene, and it is almost certainly not Fett.
Related: The Mandalorian's Baby Yoda Cost $5 Million And Adam Pally Was 'So Nervous' To Punch Him
The Mandalorian Season 1 is currently available on Disney+. Stick with CinemaBlend for continued updates on the progress of Season 2, and for the latest news on what's happening in television and movies.
Mick likes good television, but also reality television. He grew up on Star Wars, DC, Marvel, and pro wrestling and loves to discuss and dissect most of it. He's been writing online for over a decade and never dreamed he'd be in the position he is today.
Your Daily Blend of Entertainment News
Thank you for signing up to CinemaBlend. You will receive a verification email shortly.
There was a problem. Please refresh the page and try again.