The 5 Best Streaming Services For Kids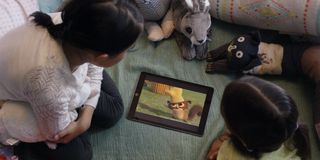 As a parent of two--but also a huge nerd--I often wonder what are the best movies, books, and TV shows to introduce to my children at a young age. But then I realize that I'm super old and the stuff that appealed to me as a child won't necessarily appeal to them (except for Spider-Man, of course). No, my kids want to watch their own shows, and mostly on their own time. But there is a lot of stuff out there that I am not comfortable with my children watching, especially on certain streaming services. That's why I've taken the time to compile the best -- and in my opinion, safest -- list of streaming services that you can feel comfortable with allowing your children to watch both on their own and with you in their presence.
Now, some of these services cost money, and some of them are free. Some have parental controls, while others have content so squeaky clean that they don't need parental controls. But most importantly is the fact that you know what your children are watching at all times. After all, you don't want little Johnny watching Game of Thrones when you're not in the room now, do you?
1. Disney+
Okay, so Disney+ is the no-brainer. With 100s of movies already on there, including content from Star Wars, Marvel, National Geographic, Pixar, and Disney's own content, your children literally have a whole vault at their fingertips. And most of it is pretty safe. There is a parental controls option when you're setting up profiles that will block all PG and PG-13 related content, but there's enough on there at the G level that your kids won't feel like they're being slighted.
So what's on there (opens in new tab), exactly? Well, tons of Disney live-action shows like Hannah Montana and the new High School Musical series. There are Disney cartoons ranging from Mickey Mouse to Darkwing Duck, a whole section for Disney princesses, content from Marvel, like an entire listing of Spider-Man, Star Wars cartoons like The Clone Wars, Pixar shorts, the list goes on and on. And of course there are movies galore. Moana? Check. Frozen? Check. Aladdin? Which one?
Seriously, if your kids love anything Disney, Pixar, Marvel, Star Wars, or nature-related, then Disney+ could be your one stop shop. It's also relatively affordable compared to the competition. It costs $6.99 a month or $69.99 a year. There are also bundle packages to include Hulu and ESPN as well if your children watch those, too. But all you really need is the base model. There's something on Disney+ for everyone. Even you.
2. Netflix
Netflix is the other big dog in the room. Their kid selection is vast, with fantastic movies, like Spider-Man: Into the Spider-Verse and Bolt, to shows for young kids like Oddbods, Masha's Tales, and Hello Ninja. There are even movies for not-so-young kids, like The Cat in the Hat with Mike Myers. In fact, that might be my one complaint with Netflix (opens in new tab). While there is a parental setting, the kids selection is wildly varied. While I always make certain to preview what my children watch ahead of time, there are shows on there that look child-friendly, like Talking Tom and Friends, but the characters will call each other "stupid" and other words that might not be allowed in your household if you have very young kids.
Still, there is a ton of great content on there and the price isn't too bad. The basic plan is $8.99 per month, but can only use one screen at a time, which kind of stinks if you also want to watch Netflix, while your kids are watching their own shows. Standard is $12.99 a month to get it on two screens in one house, and the premium membership is $15.99 per month if you have a big family and want it on four different screens at the same time. It really all depends on how many people in your household want to watch The Witcher, and how many want to watch Goldie & Bear.
3. PBS Kids
If you have young children, then PBS Kids is the place to be. Their app, which you can download on the Apple store, Windows, Google Play, or Amazon, features educational games and a lot of the great, wholesome shows you can find on PBS proper, like Daniel Tiger, Dinosaur Train, and Arthur. Plus, they're all available through pictures rather than names, so even if your kids can't read yet, they can figure out which one is Sesame Street and which one is Caillou.
And best of all is the price. It's free! You can even watch live episodes of shows, and since there's always new content on there, your little one will never get bored. Plus, there are no parental controls options because they aren't needed. You can feel comfortable with your children watching each and every one of these shows in the house or on long car rides. I highly recommend PBS Kids, especially if your children are on the younger side.
4. Nick
Now there are two Nickelodeon apps, Nick Jr. and regular Nick. Nick Jr. has a lot of the shows that I'm sure you're familiar with, such as Paw Patrol, Blaze and the Monster Machines, Peppa Pig, etc, while Nick has shows for older kids, like Ninja Turtles, Spongebob Squarepants, as well as some of the shows on Nick Jr. But here's the problem. If you were hoping to introduce your kids to the world of Avatar: The Last Airbender, then you're going to have to buy the DVDs as some of the shows you may have loved and grown up with aren't on here. And the service can be a little slow. Many complain that buffering is a problem, which I've also encountered myself.
Still, the price is right for the most part since the app is free, though there are advertisements. But if you can get through all that, then the Nick app is a pretty great little download for your phone or tablet. You can find it in the app stores.
5. Cartoon Network
The Cartoon Network app is a lot like the Nickelodeon app, problems and all. One common issue is that it often freezes. Another issue is that some of your children's favorite shows might be limited to only one or two episodes, even though a lot of the new episodes will arrive one day after they air on television. Also, to get the full benefits of the app, you have to already have a cable provider. If you don't, the app will be slightly limited.
While that might seem like a lot of problems for this free app, what makes up for it are the actual shows, which are usually for the age 9 and up crowd... Uncle Grandpa, Ben 10, Steven Universe, Teen Titans, there's really something here for everyone. It might not be the perfect app, but if your kids are into the shows on Cartoon Network, it's a great free alternative to Netflix or Hulu, where a lot of these shows also appear.
So, that's the list. There are a lot of other great options out there (HBO Go/Now, Universal Kids, YouTube, etc), but these are the five that my kids watch when they're not learning to read or playing. Whichever you pick, just make sure that you check it out for yourself first. In the end, you're the ultimate guide to what your children can and cannot watch. Choose wisely.
Rich is a Jersey boy, through and through. He graduated from Rutgers University (Go, R.U.!), and thinks the Garden State is the best state in the country. That said, he'll take Chicago Deep Dish pizza over a New York slice any day of the week. Don't hate. When he's not watching his two kids, he's usually working on a novel, watching vintage movies, or reading some obscure book.
Your Daily Blend of Entertainment News