Yes, Outlander's Season 5 Trailer Delivers All The Action And Passion For The Frasers You've Hoped For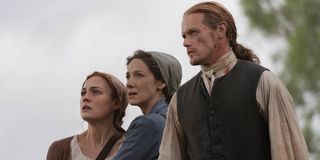 Good news, Sassenachs! Our current Droughtander is almost over, and Outlander Season 5 is nearly upon us. By the time the new season kicks off on February 16, it will be over a year since we got to feast our eyes upon Claire, Jamie, Brianna, Roger and the whole Fraser clan as they tried to make a life for themselves in the new world. The wait has been long, but as we near the premiere of Outlander's fifth season, Starz has now gifted us with a full trailer!
We've already seen a bit from the new season of Outlander, and while that peak at what kind of drama was to come for the Frasers as they settled into life in North Carolina was pretty good, now fans have a much better look at how things will play out in Season 5. This includes so much of the dynamic action and passion that audience have come to expect from the romantic historical fantasy series. Take a look!
Phew! Well, we knew things were going to be tough down on Fraser's Ridge, because, well, things have never been easy for this clan. But, there's a big difference between time gravel shenanigans, dealing with local villains, building a new home / life, keeping your family together in hard times and dealing with those things plus all-out war. As we can see from the trailer, though, that's exactly what the Fraser's are up against in Season 5.
Claire might be right that everything was pointing her toward Jamie and the life she would go on to build with him, against all odds, in the 18th century. And, it's lucky that their love can really stand the test of time, because with the American Revolution brewing, all of them will be in harm's way, especially since the governor tasked Jamie with hunting down his godfather, Murtagh, and killing him. The family will be continuing to try and hide their association with Murtagh, while trying to keep him safe.
Of course, Claire and Jamie will also be trying to keep their daughter, Brianna, and the rest of their family safe, too. And, this will include Jamie attempting to convince his newly found kin to flee his time with her husband, Roger, and their son, Jemmy. But, we know that Brianna is nothing if not her parent's daughter, and because we see her talking with Roger about staying in the 1700s, it's likely they won't be heading anywhere any time soon.
With so much for the Fraser's to be stressed about (including some mystery illness that Claire is trying to stop), you might think there would be less attention paid to Outlander's famed sexytimes, but, it looks like you'd be wrong. I mean, what better way to blow off some non-murderous steam than to make out by candlelight or in the middle of some lush, Carolina countryside, right?
I have to admit, though, the final conversation between Claire and Jamie in the trailer seems to point us toward something we might not be expecting. After Claire wonders aloud what kind of world they're living in, and her husband tells her it's "the only world," she reminds him that, technically, it's not. Could Claire be thinking of trying to escape back to the 20th century with Jamie and Brianna's family in tow? It makes sense that she'd consider it, but Jamie has shown no ability to time travel through the stones like the rest of his family. Plus, will baby Jemmy be able to make the trip?
These and many more questions will be answered (I hope) when Outlander Season 5 hits Starz on Sunday, February 16 at 8 p.m. EST.
Bachelor Nation, Gilmore Girl; will Vulcan nerve pinch pretty much anyone if prompted with cheese...Yes, even Jamie Fraser.
Your Daily Blend of Entertainment News
Thank you for signing up to CinemaBlend. You will receive a verification email shortly.
There was a problem. Please refresh the page and try again.