Vikings Final Season: 4 Game-Changing Theories For The Midseason Finale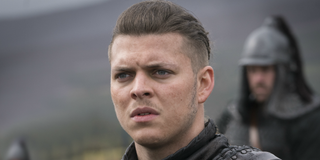 (Image credit: Bernard Walsh / History)
Vikings Season 6 is heading toward the midseason finale with a lot on the line. Bjorn's bad decisions as the King of Kattegat, Ivar's quiet scheming in Rus, and Hvitserk's ever-changing loyalties have all come down to this. Ubbe is away from Kattegat, so he is unlikely to come into play during Prince Oleg's invasion.
The Rus are on their way, and Oleg is bringing an army with him to invade Scandinavia. It is such a game-changer that King Harald (a.k.a. King of all Norway) is putting aside his differences with Bjorn to fight them. Vikings teased the conflict before Season 6 started. Now, the midseason finale will see it reach its climax.
So, it's time to consider some game-changing midseason finale theories! From the future of Floki to how and where the battle lines will ultimately be drawn, it is a lot to get into. Vikings has set the stage for some significant power plays between its various personalities. It is time to dig into the theoretical fallout of it all!
Floki Comes Back
Vikings has tried to indicate there is something viewers do not know about what happened to Floki. This, despite it seeming like a pretty open and shut case, which Ubbe is set on solving. As with many things surrounding Floki, mystery abounds. Is he really dead like he should be after that cave tantrum?
I think there is a small yet viable chance that Floki may show up in Vikings' midseason finale. Why else have Ubbe go off to find him and have many characters utter hushed words among each other about him? The intimation is that he is alive, or at least not in the condition fans expect.
If Floki were dead, what would be the point of the storyline? My theory is that he might show up when Ubbe, Torvi, and the kids need him most. That said, if the people in the community have been holding him hostage, I do not know why they would keep him alive. Vikings has something in mind.
Ivar and Bjorn Team-Up Against Oleg
It was tough to imagine any circumstances that would bring these sworn enemies and brothers together, but then there was Ivar's expression when Oleg declared that he would destroy the Vikings' gods. Bjorn and Ivar have their religion as a common cause. Ivar's relationship with Oleg has been complicated, and there is arguably no more affection between them than Ivar and Bjorn.
Vikings' Alex Høgh Andersen told TV Guide that all Ivar's love for Bjorn is "gone." If Ivar had to choose between putting his differences with Bjorn aside to save the worship of their gods and Oleg, I think there is a chance he might side with his brother. Bjorn's reign has already been troubled.
If Bjorn is able to make a brief alliance with Harald to assure the defeat of Oleg, maybe Bjorn could be willing to make one with Ivar. Of course, the trailer for Season 6 showed Bjorn sitting with nothing but death surrounding him as Ivar taunted that the gods liked seeing them fight. So, maybe this theory is way off-base.
Hvitserk Betrays Ivar and Bjorn
When it comes to Vikings, no one is harder to figure out than Hvitserk. On the surface, he is a disloyal, angry, and aimless individual who feeds off of whoever he is nearest to. After killing Bjorn's mother, he pretended to have remorse, and then bragged about the slaying to Ubbe, and later Ivar.
Banished from Kattegat by Bjorn and newly reunited with his brother, the wheels are turning yet again for Hvitserk. Instead of choosing between Ivar and Bjorn, I could see Hvitserk choosing himself. Thus, leading him to betray both of them to help Oleg's cause. Plus, Hvitserk has not been as devoted to the gods as either Bjorn or Ivar.
Hvitserk may get in his head that he could be the king that Oleg is planning to make Ivar. Let's face it, Hvitserk would totally be willing to function as a "puppet king." That is the role Ivar had no interest in playing when Oleg suggested it to him earlier on Vikings. If he did something for Oleg, I could see Hvitserk getting to play the part.
Gunnhild Dies Fighting the Rus
Promotional photos from Vikings' midseason finale show Gunnhild heading into battle against the Rus. Will she survive the clash? Sadly, I believe there is a strong possibility that Gunnhild could go to Valhalla in Vikings' midseason finale. It seems like her story is hitting a roadblock of sorts.
The first one is that her and Bjorn's love story is falling apart thanks to Bjorn. He has been cheating on her almost all of Season 6. To keep her family together, she pitched Bjorn marrying his mistress, making for a plural marriage between the trio. He accepted. When Gunnhild made her plural marriage proposal she said something potentially foreshadowing.
She told Ingrid that her son could have the benefit of two mothers. During the scene, I got the strange sense that Gunnhild may not be alive to be a mother to her son. Vikings puts little moments in there sometimes, so you never know. Gunnhild going to battle does not bode well for her life expectancy and she just recovered from an injury.
Vikings is not shy about including shocking demises. Having already killed off Lagertha, Season 6 does not need another casualty to add to its list. However, Gunnhild's death would be another breaking point for Bjorn and Katheryn Winnick did hint at Bjorn's downfall. That tease indicates his life is not going to get much better any time soon. The midseason finale should just see further implosion.
Out of all of Ragnar's sons, Ubbe is in the best position heading into the midseason finale. Although even he is surrounded by mysterious danger. I could see Hvitserk getting killed off if my theory about him throwing in with Oleg does not happen. Vikings has been toying with where he is headed, and it may just be an early grave.
Find out what happens when the midseason finale of Vikings Season 6 airs Wednesday, February 5, at 10 p.m. ET on History. After the first half ends, there will still be a lot of winter and spring premieres to look forward to watching.
Like a contented Hallmark movie character, Britt happily lives in the same city she grew up in. Along with movies and television, she is passionate about competitive figure skating. She has been writing about entertainment for 5 years, and as you may suspect, still finds it as entertaining to do as when she began.
Your Daily Blend of Entertainment News
Thank you for signing up to CinemaBlend. You will receive a verification email shortly.
There was a problem. Please refresh the page and try again.