Where To Stream Firefly And 10 Other Great Shows Cancelled After One Season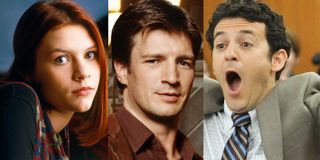 So many TV shows are cancelled too soon. Some series never even live past one season, leaving fans hanging forever. Every Monday I share streaming recommendations, and today I'm focusing on TV shows that were cancelled after one season but still live on through streaming. Some great one-season shows -- like Freaks and Geeks -- are not even available for streaming right now. That sucks, but it could also change at any time as streamers add and subtract content each month. (Hint hint, Netflix.)
For now, here are 11 gone-but-not-forgotten TV shows you can and should stream ASAP. Since they only lasted one season, it shouldn't take you too long to binge them, but you may end up feeling sad and wistful.
Firefly
Joss Whedon's Firefly is pretty much the gold standard of They Cancelled That After ONE Season?! Fox only gave the world 14 episodes with Nathan Fillion's mac and the Serenity crew from 2002 to 2003. It was a crime against humanity that has never fully been avenged, but at least the show became enough of a cult classic that it spawned a 2005 movie, Serenity.
You can stream Firefly right now on Hulu (opens in new tab) with a subscription. If you don't have one, you can buy Season 1 for $12.99 on Amazon (opens in new tab), or watch through iTunes (opens in new tab), Vudu, YouTube, or Google Play.
My So-Called Life
This show had such an impact on my own so-called life, it's still hard to believe it only aired for one season. ABC gave fans 19 episodes from 1994-1995, ending on a cliffhanger, since The Powers That Be figured they'd get to return. Even though the groundbreaking teen angst show didn't last, it gave huge career boosts to Claire Danes and Jared Leto.
You can stream My So-Called Life right now for free on ABC.com, or for a small fee per-episode on iTunes, Amazon, Vudu, YouTube, and Google Play.
The Grinder
How did this legal comedy with Fred Savage and Rob Lowe not find an audience? Fox at least gave fans a full season of 22 episodes from 2015-2016. Critics loved it, and the viewers who did watch were equally enthralled. Unfortunately, but the end of the first season it was only getting about 1.5 million viewers a week and a 0.6 rating. Alas...
You can stream The Grinder for a fee on YouTube, Amazon Prime (opens in new tab), iTunes, Google Play, or Vudu. It used to be on Netflix, but it's not available for U.S. users at the moment.
Bunheads
Amy Sherman-Palladino's ballet dramedy was another surprise cancellation, and fans still talk about missing it. Bunheads actually has a 100% fresh rating from the 26 critics who posted to Rotten Tomatoes. There was a huge push for ABC Family to renew the show for Season 2. Unfortunately, the 18 episodes didn't get many viewers during their airings from 2012-2013. So that was it for the Sutton Foster and Kelly Bishop show.
You can stream Bunheads now on Freeform's site, or on Hulu (opens in new tab) with a subscription, or YouTube TV with a subscription. If none of that grabs you, go ahead and pay for episodes through Amazon Prime or iTunes.
Terra Nova
Fox and ABC both have histories of at least being willing to try ambitious sci-fi genre fare ... and then cancelling the shows if they don't get enough viewers or they're just TOO ambitious. Apparently that was a problem for Fox's Terra Nova, which was reportedly very expensive to make. According to ScreenRant, the pilot cost more than $10 million to film, with future episodes budgeted around $4 million. That's a lot. And so even though it had a fairly healthy audience, the 13 episodes that aired in 2011 ended up closing the futuristic sci-fi story.
Terra Nova isn't available on Netflix at the moment, but you can watch the whole thing for $10 on Amazon (opens in new tab), iTunes (opens in new tab), or Vudu (opens in new tab).
Everything Sucks!
Fans were shouting the title when Netflix cancelled this comedy after one season in 2018. Ten half-hour episodes dropped in mid-February and by April of 2018 Netflix had already decided that would be enough. It was certainly a quick cancellation and fans were not happy about it. Since then, Everything Sucks! has become another cult favorite and every so often you still see people tweeting to Netflix about it.
Stream Everything Sucks! on Netflix (opens in new tab).
FlashForward
ABC has earned a reputation for yanking genre shows off the air before the mysteries get solved. That's part of why I'm worried about getting too invested in Emergence. But at least fans got 22 episodes of FlashForward from 2009-2010, starring the amazing cast of Joseph Fiennes, John Cho, Sonya Walger, Courtney B. Vance, Peyton List, Jack Davenport, Christine Woods, and Dominic Monaghan. I loved the premise of the show, a global flashforward where everyone sees into their own futures, and with multiple Lost alumni on board it should've been a slam dunk.
Stream FlashForward right now on ABC.com, or for pay at Amazon Prime, iTunes, YouTube, Vudu, or Google Play.
Awake
Sadly, there's a reason why those laugh-track comedies can get endless seasons and high concept shows keep getting cancelled early -- complex shows like Jason Isaacs' Awake require close attention and consistent viewing. You really have to use your noggin, and you can't follow along while doing the dishes in the other room. Viewership and ratings for the alternate reality show dropped across the 13 episodes NBC gave us in 2012. Awake's pilot episode had an early release on Hulu, but strangely enough the show is not available on Hulu at the moment.
You can stream all of Awake Season 1 for $10 on Amazon (opens in new tab), or $2 an episode on YouTube.
The Passage
This loss is still fresh for me. The Passage was always an ambitious show to tackle, since it was an apocalyptic sci-fi drama based on the trilogy of novels by Justin Cronin. The story was dark and complex, but at the heart was the sweet father-daughter chemistry between Mark-Paul Gosselaar as Brad Wolgast and Saniyya Sidney as Amy Bellafonte. Unfortunately, Fox cancelled the show after one 10-episode season in 2019, even though there was a lot more story to tell. It marked a repeat of what Fox did for Gosselaar's 2016 show Pitch.
Stream The Passage free on Fox Now, or for pay on Amazon Prime (opens in new tab), YouTube, Google Play, or Vudu.
Moonlight
I'm still surprised that Moonlight was cancelled after one season, since it seemed to pull decent numbers for CBS. Only 16 episodes aired from 2007 to 2008, but that was enough to get fans hooked on the supernatural show, following vampire P.I. Mick St. John (Alex O'Loughlin), his ex-wife Coraline (Shannyn Sossamon), new love interest Beth Turner (Sophia Myles), and buddy Josef Kostan (Jason Dohring). OK, critics never liked the show, but it seemed like a hit with fans. I think if it aired today it would be successful, but maybe it was just ahead of its fandom.
Stream Moonlight for $2 an episode or $15 for all of Season 1 on Amazon Prime (opens in new tab). You can also find the show at iTunes (opens in new tab) and Vudu (opens in new tab).
Rubicon
The conspiracy theories and intellectual puzzle of Rubicon may have been too much for viewers. AMC only aired 13 episodes of the show across the summer of 2010. Maybe it was bad timing, maybe it was just too highbrow. Either way, the James Badge Dale series left us too soon.
Stream Rubicon on AMC or free with a YouTube TV subscription.
If you're looking for more streaming recommendations, check out these past features:
• 5 Excellent Keanu Reeves Roles Worth Streaming On Netflix And Amazon
• 5 Sci-Fi TV Shows To Watch On Netflix: Our Streaming Recommendations
• 5 Documentary Series To Watch On Netflix: Our Streaming Recommendations
• 5 British TV Comedies On Netflix You Should Bloody Well Watch: Our Streaming Recommendations
• 3%, Occupied, Harlots, and Other Streaming Recommendations
• 5 Robert Downey Jr. Movies To Love 3000 On Netflix
• 5 Chris Evans Movies Worth Streaming On Netflix And Amazon
• 5 Ryan Reynolds Roles Worth Streaming On Netflix And Amazon
• 5 Will Smith Movies Worth Streaming Right Now On Netflix And Beyond
• 5 Refreshingly Non-Toxic Reality TV Shows Worth Streaming On Netflix
• 5 Joaquin Phoenix Movies Worth Streaming On Netflix And Amazon Ahead Of Joker
• 5 Stripper Movies Worth Streaming In Honor Of Jennifer Lopez's Hustlers
• The 5 Best Space Movies To Stream In Honor Of Brad Pitt's Ad Astra
• 11 Unbelievable True Crime Series Worth Streaming On Netflix
• 8 Movies With 100 Percent Ratings Worth Streaming Before Netflix's The Irishman
• 7 Paul Rudd Movies Worth Streaming On Netflix Before Living With Yourself
• 8 Movies With Twist Endings Worth Streaming On Netflix After Fractured
What other TV shows cancelled after one season have you been streaming? Let me know if Freaks and Geeks ever becomes available again.
Your Daily Blend of Entertainment News
Gina grew up in Massachusetts and California in her own version of The Parent Trap. She went to three different middle schools, four high schools, and three universities -- including half a year in Perth, Western Australia. She currently lives in a small town in Maine, the kind Stephen King regularly sets terrible things in, so this may be the last you hear from her.