Russo Brothers Call The Simpsons' Avengers: Endgame Episode 'Surreal' To Record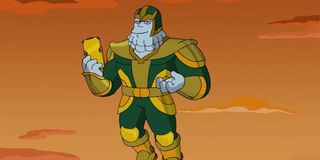 The Simpsons has been on the air for 30 years yet still manages to attract some fun and incredible talent to do voice work and cameos. Enter the Russo brothers, the famed directors of such fare as Avengers: Infinity War, Avengers: Endgame, more Marvel movies and of course TV fare like Community, who will appear on The Simpsons this weekend. Although they've been around the block, it sounds like the experience has still been a bit "surreal."
We've known for a while that the Russo Brothers would be a part of this weekend's episode. Before we delve into their involvement, I would like to point out the episode in question "Bart The Bad Guy" will be a Marvel-centric episode and not just feature the Russos, as Marvel head honcho Kevin Feige is also making an appearance.
The Russo brothers took to social media this weekend to share a clip from the special episode, which airs this Sunday from 8:00-8:30 p.m. ET, also noting that The Simpsons has been a major part of themselves and their kids' lives over its unique and lengthy run. But don't take it from me, take a look yourselves.
The Russo brothers shared a clip from the weekend's big episode, in which the joke is that there's a superhero movie that must be a success or there will be dire consequences. In fact, they are stating anything less than a 55% hold in the movie they are touting's second weekend would be a disaster. That's a joke, because generally a 45% hold like the one Wonder Woman nabbed is considered to be good. Fifty-five percent would be an incredible hold.
In addition, the episode will poke fun at the secretive nature of spoilers around superhero movies. During "Bart the Bad Guy," Bart will be privy to seeing a brand new superhero movie at an early screening and will realize his "newfound plot-spoiling powers" shortly thereafter, becoming the supervillain Spoiler Boy.
A first-look clip at the episode informed us we will see a Thanos-like bad guy known as Chin-os. Not to be mistaken for chinos, a type of pant.
Real-life partners Taran Killam and Cobie Smulders also will do voice work in the episode. Smulders famously plays Nick Fury's partner, Maria Hill, throughout the MCU.
I'm assuming all of these cameos along with the nature of this episode will lend itself to a lot of clever jokes and or nods/Easter eggs involving the MCU. But you won't have much longer to wait to find out. This weekend will house not one but two episodes of The Simpsons. "Todd, Todd, Why Hast Though Forsaken Me?" will air at 7 p.m. ET, followed by the new animated comedy Duncanville at 7:30 and the episode above at 8 p.m. ET.
Previously the directors and the network shared a first look poster at the episode, which you can also see below:
The Simpsons is currently airing its 31st season on Fox. While MCU movies feel just as old hat at this point, that franchise is in much more of a transitional period and you can see what's coming in Phase 4 with our full guide.
Amazing Race & Top Chef superfan with a pinch of Disney fairy dust thrown in. Theme park junkie. If you've created a rom-com I've probably watched it.
Your Daily Blend of Entertainment News
Thank you for signing up to CinemaBlend. You will receive a verification email shortly.
There was a problem. Please refresh the page and try again.