Wait, Did The Witcher Add Another Game Of Thrones Star For Season 2?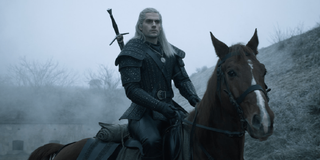 Production on The Witcher Season 2 is currently underway, and the folks over at Netflix recently confirmed several new cast members that have joined the popular series' sophomore season. One of the newest cast members to join is Game of Thrones' Kristofer Hivju as Nivellen, seemingly solidifying the connection between the oft-compared fantasy shows. But, wait, did The Witcher just add another Game of Thrones star for Season 2? Maybe.
Rumor has it that Natalie Dormer may have already joined The Witcher's Season 2. The actress, who played the ill-fated Margaery Tyrell on Game of Thrones, was reportedly spotted riding a horse in Surrey, England, near the area where the Netflix series was filming a couple of weeks ago. The Witcher's casting director (via Redanian Intelligence) also seemed to imply that Dormer is involved in Season 2 of the series. In an Instagram story, she posted an image of the actress on a horse, with the following message:
With all that said, it's best to keep in mind that Natalie Dormer's involvement has not been confirmed by anyone at Netflix, The Witcher's showrunner, or even by Dormer herself. At this point, it's pure speculation based on very limited information. And while it's not the craziest rumor, it's still just that.
If the rumor of Dormer's involvement does turn out to be true, though, she would be joining fellow Game of Thrones alum Kristofer Hivju, who played Jon Snow's ally Tormund Giantsbane. Speculatively speaking, Dormer could presumably play the source material's Vanessa-Marie, who's reportedly set to appear in three or four episodes of Season 2. The character is described as a demon who scours the Continent, preying on people's desires.
While fans should take this rumor with a grain of salt, I do find it odd that the actress would be riding horses so close to The Witcher's filming location, and alongside the casting director no less, if she isn't involved in any capacity. However, it's always possible she was simply there as a friend and/or a fan, and not for work.
I'd personally love to see Natalie Dormer appear in Season 2 of The Witcher. She's a great actress who would fit right into the fantasy world. In the meantime, fans can always watch the Honest Trailer for The Witcher for some laughs while we wait for more information.
The Witcher Season 1 is currently streaming on Netflix. Season 2 is on the way and is scheduled to premiere at some point in 2021. Luckily, Netflix has a cool plan to keep fans engaged with The Witcher in between seasons, which includes an anime film set in the world of the TV show. The Witcher: Nightmare of the Wolf will introduce audiences to Vesemir, who will be portrayed in live-action by Killing Eve's Kim Bodnia in Season 2.
For more on what to watch in the meantime, be sure to check out our 2020 midseason schedule for updated premiere dates and times for all streaming and cable shows.
Your Daily Blend of Entertainment News
Thank you for signing up to CinemaBlend. You will receive a verification email shortly.
There was a problem. Please refresh the page and try again.