Why Clare Crawley's 2020 Bachelorette Season Might Be Spoiled Way Before It Airs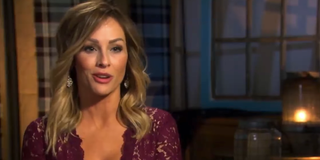 Warning: Spoilers ahead for Clare Crawley's 2020 stint as The Bachelorette, which will be Season 16 for the franchise!
The night is finally upon us, Bachelor Nation. We're about to get the sweet release we've all wanted for weeks from "Pilot" Peter "Windmill Sex" Weber's maddening season of The Bachelor. But, lest you think this will remove franchise spoilers from our lives for the next couple of months, there's much more to come! Season 16 of The Bachelorette, which will star four-time franchise vet Clare Crawley in 2020, will begin filming in just a few short days, on March 13. With that will come plenty of spoilers, but we might get them quite a bit quicker than usual this year.
Now, the master of Bachelor Nation spoilers, Reality Steve, is no slouch when it comes to supplying fans with all the details on the leads, their bachelors or bachelorettes, the dates, locations and every other aspect of the shows. But, sometimes it can take a while for that information to get to him, especially as the shows film in far flung locales. This year, though, that looks to be changing in a big way, because, according to Steve, all international travel has been put on hold for Season 16 of The Bachelorette.
Aside from the obvious side effect of denying fans a look at places like Iceland, Croatia and Italy (all countries where the production was previously looking to film), this means that spoilers will leak out way faster than usual, because it sounds like all of the action will take place around the United States.
OK, let's back up a bit and go over what's happening with Clare Crawley's 2020 season of The Bachelorette. While filming is still set to begin this Friday, last week word came down that Italy (they were planning to shoot in Rome) had been scrapped as a location due, naturally, to fears of the cast and crew getting the coronavirus, which has gained a nasty foothold in that country recently.
At the time, a spokesperson for Warner Bros., which produces the show, said that "production travel is being evaluated on a case-by-case basis" and they were using information from several health organizations to determine whether or not countries / cities were safe. But, now that spoilers are indicating that those behind The Bachelorette have actually decided to forgo all foreign travel, it means fans are a lot more likely to have info about Clare's dates, which men are on them and what they do if all of these things happen in the U.S.
As Reality Steve was quick to remind us, when The Bachelor or The Bachelorette film dates here, they are almost always public and even ask Bachelor Nation to come out to be a part of the dates. Sound weird? Well, if you think about Peter's season of The Bachelor (which is, again, blissfully almost over) I'm sure you remember the flag football date that left several women with bruises? Right! Of course you do!
That date happened in the same U.S. city as his awkward date with Chase Rice...I mean, Victoria F. (LOL) and Peter's soap box derby race with Kelsey, and both of those had crowds of fans to back them up. Plus, we found out about those dates and who was on them on the very day they filmed. While we don't have word on all the non-Los Angeles U.S. cities that will be featured on Season 16 of The Bachelorette yet, it sounds like we'll have much more information up front about Clare's dates than we did about Peter's this year.
Speaking of U.S. filming for Clare's season of The Bachelorette, spoilers have told us that Chattanooga, Tennessee will be featured on the series, which should be shown in Episode 4, and will film at the end of the month. According to Reality Steve, here are the filming schedules for the first three episodes, which will all take place in L.A.:
So, we'll have to wait and see what comes after Episode 4 and Clare's time in Chattanooga, but if you love spoilers her tour of the United States might be just the thing you need! The Bachelorette starts airing May 18 at 8 p.m. EST on ABC, but in the meantime be sure to check out Peter's finale of The Bachelor and the new musical entry in the franchise The Bachelor: Listen To Your Heart, which begins April 13.
Bachelor Nation, Gilmore Girl; will Vulcan nerve pinch pretty much anyone if prompted with cheese...Yes, even Jamie Fraser.
Your Daily Blend of Entertainment News
Thank you for signing up to CinemaBlend. You will receive a verification email shortly.
There was a problem. Please refresh the page and try again.