The Bachelor's 10 Most Dramatic Endings Ever, Including Peter Weber's 2020 Finale Spoilers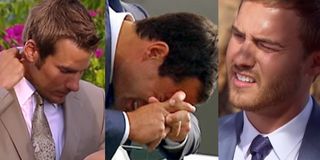 SPOILERS ahead from The Bachelor 2020, aka Bachelor Peter Weber's Season 24.
How many times has The Bachelor and The Bachelorette host Chris Harrison called a season The Most Dramatic Season Ever? Sometimes, it's not even hyperbole! The Bachelor 2020 lead Peter Weber is about to end his journey to a million tears on Monday, March 9 and Tuesday, March 10, and spoilers suggest his Season 24 finale has one of the most dramatic endings ever. More on Peter's 2020 finale spoilers below, plus 9 other Bachelor and Bachelorette finales that belong on that list.
Bachelorette Jen Schefft, Season 3, 2005
Let's go in chronological order, starting with one of the very first finale shockers. Bachelorette Jen pulled a half-Womack, two years before Brad Womack's infamous season. On her three-hour finale, the pre-taped portion showed her reject John Paul Merritt and pick Jerry Ferris. However, she did not accept Jerry's proposal. She told him to hold on to the ring and give it back to her if he still felt the same way down the road. He said he wasn't going anywhere.
But that same night, the live Bachelorette "After the Final Rose" special showed the results of their relationship. Rumors had already suggested the relationship had soured in the months after filming. Sure enough, on the ATFR, Jerry asked what he should do with the ring, and Jen dumped him -- or basically admitted they had decided in the break that they were better off as friends. So she ended the show single and the finale was very disappointing to fans. She probably would've liked to have not picked anyone -- a full Womack -- but considering the negativity to her finale and the HUGE outcry against Womack, I can't blame her for trying to have a softer landing.
Bachelor Charlie O'Connell, Season 7, 2005
If you ever wonder why The Bachelor doesn't just let the lead date his two finalists in the real world and make a decision live on the "After the Final Rose" episode, well, they already did that once. It was Bachelor Charlie's season. He couldn't decide between Sarah Brice and Krisily Kennedy so the show gave him more time. The finale made a big deal about showing him dating both women in the real world before making his decision live. In that live decision, he dumped Krisily and gave Sarah "a promise ring" to try it out in the real world.
Charlie and Sarah did work in the real world for a while, but broke up for the first time in 2007 and then reunited and broke up again in 2010. But considering everything Charlie was dealing with in his personal life (he's been open about his struggles with alcohol) I do think this real-world experiment was successful and they should do it again -- especially since Bachelors have become notoriously bad at choosing between their finalists. This is never really a problem for the Bachelorettes, so get your shit together, boys!
Bachelor Brad Womack, Season 11, 2007
Oh boy. Today, Brad's choice to pick himself in the end is applauded. It makes perfect sense to just be honest and leave on your own if you're not feeling it. But that's hindsight. There's no way to overstate the shock and fury when he did it in 2007. Because he didn't sit down with finalists Jenni Croft and DeAnna Pappas and share how he was feeling. He had a traditional final rose ceremony set-up, so when he dumped Jenni and DeAnna showed up at the end -- and Brad told her he just sent Jenni home -- everyone, including DeAnna, fairly assumed Brad was about to propose. Instead, he took a brief walk around in a circle and told DeAnna he couldn't tell her he loved her, he had to tell her goodbye.
No one saw it coming, and it felt like the entire season was a waste of time. Even Ellen DeGeneres called Brad Womack a "jerk" and apologized later when ABC gave Bachelor Brad a second chance at love (which was also wasted, in a different way, when it was clear he and Emily Maynard were not a practical match). DeAnna became America's sweetheart and got her own chance for (brief) love on The Bachelorette, and Brad was declared The Most Hated Bachelor Of All Time ... for two years.
Bachelor Jason Mesnick, Season 13, 2009
Brad Womack should send Jason Mesnick a thank you card every year for so quickly dethroning him as The Most Hated Bachelor. Single dad Jason was an absolute sweetheart, and that's part of why his decision was so shocking. This was the first season Reality Steve ever had an ending spoiler to, and it's no wonder people didn't believe him at first. Jason picks Melissa, proposes, and then dumps her for his runner-up Molly. Really? Jason?! But that's exactly what he did.
The painfully awkward two-night "After the Final Rose" specials had monster ratings, with fans gaping through the car crash as Melissa called out "bastard" Jason for what he did to her, followed by Jason awkwardly asking out Molly right there on TV. I've still never seen anything like it. (Re-watch it on Netflix, since it's the only season on the streamer.) The silver lining is that Jason and Molly are still together today, with a child of their own, and Bachelor Jason's decision made it easier for Bachelor Arie to pull a similar move almost a decade later.
Bachelorette Jillian Harris, Season 5, 2009
I loved Jilly's season, and so many of the bachelors on it. Ed Swiderski actually quit her season at one point, then returned before the ending. However, the guy I most wanted Bachelorette Jillian to be with -- Reid Rosenthal -- was eliminated at Final 3 ... then returned on final rose ceremony day for another chance! He told Jillian he loved her and proposed to her right there in the end. Sadly, she rejected him. She also rejected Kiptyn Locke, but I was less torn up about that.
Ultimately, Jillian accepted Ed's proposal and they were together for a little while. But Reid's return is part of why I always wonder/hope if my favorite will return again in the end for a last minute proposal. It's also part of why I wondered if Hannah Brown would pull the same move on Bachelor Peter Weber's finale, but that theory was shot down.
Bachelor Juan Pablo Galavis, Season 18, 2014
Juan Pablo was eliminated back in Week 6 on Bachelorette Desiree Harsock's season. We didn't really get to know him, but the former pro soccer player still became a fan favorite from his brief scenes. So The Bachelor took a risk on the relative unknown -- and boy was that a mistake. Juan Pablo is the human definition of problematic -- on screen, off screen, everywhere -- and it culminated in our new 2020 Bachelorette telling him off at the final rose ceremony. More on that over here, but he had it coming.
I'm still surprised Clare waited as long as she did to tell him off, considering the rude thing he said to her during the finale episode on their helicopter ride. She waited until it was clear he was picking Nikki, then pushed him away when he wanted to hug her, then told him she thought she knew the kind of man he was. She was disgusted with how he treated her. She would never want children with a man like him. Take note, The Bachelorette 2020 contestants!
Bachelor Arie Luyendyk Jr., Season 22, 2018
Since Jason Mesnick had already pulled the move of dumping your fiancée for the runner-up, Bachelor Arie's season felt compelled to up the ante by truly terrorizing "winner" Becca Kufrin. Not only did Arie dump Becca for Lauren Burnham, ABC cameras taped him doing so in the Bachelor safe house, and then Arie and the cameras stalked Becca through the house as she cried and tried to get some effing space to breathe.
To me, that was the worst part of the whole thing -- trying to milk Becca's pain for every last drop. At least Bachelor Jason first dumped Melissa off-camera before their awkward "After the Final Rose" special talk. But, once again, the silver lining is that Arie and Lauren are still together, married with a daughter. There's just something in the water when it comes to Bachelors and their runners-up. (Fun fact: 2006 Bachelor Lorenzo Borghese also dated his runner-up; he didn't have a dramatic finale, but after he and Jennifer Wilson broke up, Lorenzo dated runner-up Sadie Murray for a little while.)
Bachelor Colton Underwood, Season 23, 2019
The fence jump! Actually, the fence jump happened during the fantasy suites episode, not the finale, but the finale picked up from what happened. Bachelor Colton jumped the fence in Portugal in frustration for his Chosen One, Cassie Randolph, quitting the show. So he had no final rose ceremony at all, telling his other finalists Tayshia Adams and Hannah Godwin that he was letting them go because he wanted to be with Cassie and Cassie quit.
So the finale episode ended with Colton single. Then, on the "After the Final Rose" episode, we saw Colton approach Cassie for a second chance, in more pre-taped footage. They ended the show as a couple, not engaged but dating, and they are currently still dating now.
Bachelorette Hannah Brown, Season 15, 2019
At the start of Bachelorette Hannah's season, spoilers pointed to Hannah picking Tyler Cameron in the end. Then the spoilers changed to Jed Wyatt, and a ton of bad info came out about Jed. Hannah's finale didn't even show her picking anyone yet. The "After the Final Rose" started with Hannah feeling sick about her finale decision, then dumping Tyler and accepting Jed's proposal. Any other season, that would've been a happy ending. But by then, viewers already knew what Hannah B. did NOT know during the final rose ceremony -- that Wrong Reasons Jed already had a girlfriend back home waiting for him to come back and maximize his TV exposure for his music career.
The facts about Jed came out via news reports while The Bachelorette 2019 was airing, and that's how Hannah learned about the extent of Jed's relationship with his "ex." That led to Hannah Beast confronting Jed during a safe house talk, pre-taped by ABC cameras. She dumped him, and then later on the live portion of the "After the Final Rose" special, she asked out runner-up Tyler C. That didn't seem to go anywhere, but after that, Hannah was everywhere. She won Dancing With the Stars 2019 and even showed up twice on Bachelor Peter Weber's season, feeding the theory that maybe he ended up with her in the end of his own season. Nope!
Bachelor Peter Weber, Season 24, 2020
Bachelor Peter bragged that his season's ending would not be spoiled, and he was mostly right. We knew his final two, Madison Prewett and Hannah Ann Sluss, from back in November 2019 when the finale was taped. But we were told Peter did not have a "normal ending" and that the finale changed right up until the last second. Chris Harrison said even Peter wasn't sure how the season would end when it came to the live "After the Final Rose" special, that's how much everything was in flux. Reality Steve's spoilers came piece by piece, including the note that Madison quit in the final week.
Reality Steve heard conflicting information about the finale right up until this week. On March 5, he posted what he heard from a trusted source, but then heard from someone else that it's not quite right. However, what he posted on March 5 was that Peter and Madison are currently together but not engaged. It's possible Peter will propose at the live "After the Final Rose" special, so that's where the idea that Peter may not know the ending himself comes in. This ending is also convoluted and seems to grab from several past endings, from Charlie dating both women in the real world to Colton losing his Chosen One when she leaves to maybe even a full Jason/Arie move.
Several other seasons of The Bachelor and Bachelorette were controversial for other reasons, but most of the time the finale itself is a happy occasion. Man, I can't wait to get back to those days. I'm ready for a drama break!
The Bachelor fans will see the end of Peter Weber's season this Monday and Tuesday, March 9-10, 2020 on ABC. Then we have the Listen to Your Heart spinoff, with spoilers on those winners, before The Bachelorette 2020 premieres in May, with Clare Crawley hopefully finding love this time.
Gina grew up in Massachusetts and California in her own version of The Parent Trap. She went to three different middle schools, four high schools, and three universities -- including half a year in Perth, Western Australia. She currently lives in a small town in Maine, the kind Stephen King regularly sets terrible things in, so this may be the last you hear from her.
Your Daily Blend of Entertainment News
Thank you for signing up to CinemaBlend. You will receive a verification email shortly.
There was a problem. Please refresh the page and try again.