Disney+'s Obi-Wan Series Is Moving Forward With Exciting News Behind The Scenes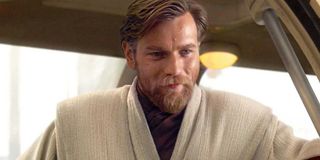 A plethora of TV productions may have shut down recently, but that doesn't mean that plans aren't moving along swiftly behind the scenes. The untitled Obi-Wan Kenobi project went through some setbacks earlier this year, but the Disney+ series is now moving forward with some very exciting news.
Earlier this year, Ewan McGregor explained why the Obi-Wan Kenobi series was facing delays, while still offering assurances that everything was still happening, with the caveat being the production start date got pushed back from August to early next year. Reports at the time alleged that the delays were due to Lucasfilm looking for a new writer to replace Hossein Amini after execs expressed displeasure with his scripts. Now, according to Variety, Edge of Tomorrow and John Wick 3 executive producer Joby Harold is taking over writing the Obi-Wan Kenobi series from Amini, who departed the project back in January.
Beyond serving as the EP for the aforementioned projects, Joby Harold's writing credits include King Arthur: Legend of the Sword, which starred Sons of Anarchy's Charlie Hunnam in the titular role, and Zack Snyder's highly anticipated Army of the Dead. He was also one of two writers tapped to pen two separate scripts for the upcoming Transformers franchise revamp, as well as being a producer for the upcoming I Am Legend reboot.
The Obi-Wan Kenobi series will mark Joby Harold's first foray into the world of fully heading up a TV series, and it's such a big-named project to get that going. However, he has executive produced acclaimed series like WGN's now-cancelled Underground and Netflix's short-lived ice skating show Spinning Out.
Honestly, it's good news for the Obi-Wan Kenobi series, especially considering all those cancellation rumors that were circulating at the beginning of the year. That said, there's no word on whether or nor Joby Harold is writing the series from scratch or if he's working off of what Hossein Amini had already written. In that same vein, it's still unclear how that might affect the timeline for the show, which was set to take place eight years after the events of Star Wars: Revenge of the Sith. I imagine that if Harold is starting anew, certain details might have to be reworked, but that's simply speculation for now.
Fans can at least rest assured that Ewan McGregor is still attached to star as Obi-Wan, the character he began playing in Star Wars: The Phantom Menace. McGregor admitted last year that it was hard keeping the show a secret, so he was relieved when it was finally announced last August. As prep, the Birds of Prey actor watched the first season of The Mandalorian to keep up with all the Star Wars projects ahead of filming.
The Obi-Wan Kenobi series doesn't yet have a scheduled release date, but stay tuned to CinemaBlend for updates. In the meantime, fans can watch The Mandalorian Season 1 on Disney+. To stay up to date on every TV production shutdown, be sure to swing by our updated list for information.
Your Daily Blend of Entertainment News