Hawaii Five-0 Showrunner Reveals The Reunion He Always Wanted To Make Happen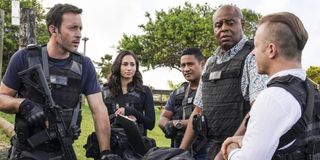 Hawaii Five-0 recently wrapped its ten-season run with a series finale that was jam-packed with a lot of action, surprising twists, and a lot of heartfelt moments between each of the characters. Oh, and Chuck Norris also made an appearance, too! While showrunner Peter M. Lenkov had hoped the series would go on for a "few more seasons," he made due with what he had and scrapped some major plans before reworking the Season 10 finale into a series finale. What's more, Lenkov recently revealed the reunion he always wanted to make happen before the end of Hawaii Five-0.
Characters have come and gone on Hawaii Five-0, but the loss of Grace Park's Kono Kalakaua always stung because she and Ian Anthony Dale's Adam Noshimuri had a good thing going for a long time. However, Park parted ways with the show ahead of Season 8 over salary disputes, leaving her character's relationship with Adam up in the air. It wasn't until halfway through Season 9 that the show gave an update on their relationship status, with Adam revealing that he and Kono had broken up due to distance and having changed as people. Suffice it to say it was heartbreaking. Over on Twitter, a fan recently asked Peter M. Lenkov whether there were ever plans to have Adam get back with Kono. Check out his answer below:
A reunion between the beloved couple would have been lovely and would have provided Hawaii Five-0 fans some closure regarding their marriage, which ended offscreen. Adam took it pretty hard when he revealed that he and Kono were over, so it would've made sense to reunite the pair at some point. Perhaps there could've even been a storyline where Adam actively decided to leave the islands and head to Nevada to be with Kono. I'd imagine fans would've been thrilled by that prospect.
All that said, I personally doubt Grace Park would've ever returned to the show following her departure. Still, Peter M. Lenkov probably could've made it work so that Adam would've been the one to leave in the end. However many scenarios there might have been, we'll unfortunately never get to see that reunion play out onscreen or off now that Hawaii Five-0 is over for good.
Season 10 saw Adam further explore his relationship with girlfriend Tamiko, whom he began dating in Season 9. But this being Hawaii Five-0 and all, Adam's journey to get Tamiko back after being kidnapped got a bit "dark and twisted" along the way.
Hawaii Five-0 may be over, but there are plenty of other shows coming up on their season endings, so be sure to check out our complete list of all the big TV finales airing this spring and summer.
Your Daily Blend of Entertainment News