The Most Popular Key And Peele Videos On Their Youtube Channel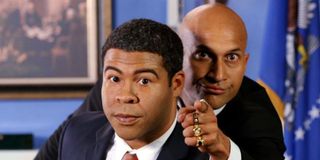 CinemaBlend is partnering with PIA VPN to bring you fresh content to stay in and stream with each day. We're also offering a special 76% discounted rate for a limited time only. You can sign up for the package with PIA here (opens in new tab).
By now, most people have heard of the beloved comedy duo of Jordan Peele and Keegan Michael-Key. Their show Key & Peele developed a devoted cult following during its five seasons, and still gains new fans through the power of the internet. The sketch comedy series allowed Jordan Peele and Keegan Michael-Key to show off their many different talents.
Key and Peele created many memorable skits that fans repeatedly turn to when they need a good laugh. Their official Youtube page has over 2 million subscribers and received nearly 900,000,000 page views. Among their collection of unique videos, these are the ones people view the most.
10. Al Qaeda Meeting - 15.5 Million Views
Members of Al Qaeda have a meeting to discuss how to bomb a plane. It then turns to a hatefully praising TSA session. They try to think of various ways to carry out their plans, but the TSA's restrictions shut down all of their ideas.
This skit mocks the TSA for their tough flight restrictions, while also going "but they could be right and we should just follow them to be safe." Key and Peele once again makes a taboo topic, like Al Qaeda, hilarious by embracing the absurdity of the possibility of these situations existing.
9. You Can Do Anything - 16.3 Million Views
Key plays an interviewer and Peele plays a basketball player who just won a big game. Feeling overly confident, he advises children to believe in themselves and their ability to literally fly.
Sometimes sports stars try a bit too hard to sound insightful and motivational. While there is nothing wrong with encouraging children and kids to believe in themselves, it can be a little too much. This is displayed in Peele's character's crazy rant about flying and robots.
8. Gangsta Standoff - 17.2 Million Views
Key and Peele play two gangstas who have a chance encounter. They both pull out their guns ready to shoot, but then they bond over their mutual love of Twilight. They are both team Edward. The skit then shows them going through their lives as best friends who never lower their guns.
Gun violence and gangs are a very serious topic, but Key and Peele shows the sad truth and ridiculousness of the fact that two rival gangs could easily become best friends if they just focused on their commonalities and less on their differences.
7. Ultimate C--k Blocker - 17.8 Million Views
Two friends go to a club and one (Key) spots a hot girl. He tells his friend (Peele) to check her out, but he seems uninterested. He then proceeds to hit on her and get her number. Every time Key's character says that a girl is hot, Peele's character goes to hit on her.
"Ultimate C**k Blocker" takes on horror movie elements. The way Peele's character speaks, moves, and the atmospheric music puts this character right up there with the top horror movie villains, like Pennywise and Freddy Krueger. There is also a twist ending that suggests the cock blocker is actually Key's inner self working to keep him faithful to his wife. The style choice of the skit makes sense because you never know when a cock blocker will strike.
6. Party Game - 18.5 Million Views
Two male friends (Key and Peele) and their female partners (Danielle Nicolet and Mekia Cox) are playing a game that seems a lot like Taboo. Key is giving the clues and Peele is the guesser. The two men start off really strong guessing right with very little clues. Then Key reads the clue, "pretends to be straight but really gay," and Peele's character says "me."
The rest of the game is just awkward looks and tension as the answer is Ricky Martin, but Peele's character just outed himself. He continues to further insist the clue talks about him as everyone in the room becomes increasingly uncomfortable. Telling your significant other that you're gay (by accident, during a game) is certainly one way to stop game nights.
5. Fútbol Flop - 18.6 Million Views
Key and Peele are fútbol players on opposite teams. Key's player prepares to steal the ball and likely bring his team to victory. Key's character clearly has no physical contact with Peele's character, but Peele's character falls to the ground in agony. He soon dies, but wait, not really. It was an elaborate hoax to get Key's team a red card and steal the victory.
The entire "Fútbol Flop" skit only happens in slow motion, and the only commentary or lines come from the sports announcer. Peele uses his knack for physical comedy to dramatize a man magically injured and dying. This skit is made even more funny by Peele's fake ascent to Heaven, only to reject it to make the winning goal.
4. Pawn Shop - 20.1 Million Views
Key plays a sketchy character who comes to a pawn shop to request various items. His list includes a bow and arrow, skates, a suit of armor, and a bag with a dollar sign on it. Peele plays the judgmental pawn shop owner who catches on to Key's character's poorly thought out plan.
Peele and Key really capture the essence of their characters. Peele fully embodies the pawn shop owner who has seen a lot of these characters, and Key plays the guy who has no clue what he's doing and probably is heading right towards his death.
3. Obama's Anger Translator - Meet Luther - Uncensored-20.6 Million Views
Peele plays our former president, Barack Obama and Key plays his anger translator, Luther. Obama gives an address to the people and Luther translates it to show Obama's inner-angry monologue.
Peele does an amazing impression of Obama and Key's angry translator is hilarious because I wouldn't be surprised if deep down, Luther really represents Obama's frustration with the American people. Obama remains cool and collected throughout the address while Luther's anger escalates. In a hilarious conclusion, Obama only panics about what Luther has said when he calls Michelle Obama, Barack's bitch. Fun fact, the real Barack Obama enjoyed the skit so much that he had Key revise his Luther character during the White House Correspondent Dinner.
2. Dubstep - 21.2 Million Views
Two friends, one moving (Key) and the other helping him move (Peele) are packing up an apartment. Peele's character asks if he can play some dubstep music. The music takes control and their packing becomes more of a smashing session.
Ah dubstep. Some people really love the genre and others find it painful, noise without a place or purpose. Key and Peele's skit reflects the damages it causes on a daily basis, but sometimes the beat is kind of hot, so who cares if you end up tossing yourself out of a window, right? The "Dubstep" skit's dedication to madness is true art.
1. Awesome Hitler Story - 24.5 Million Views
Modern Family's Ty Burrell guest stars in this clip. It opens with American soldiers being murdered by German soldiers during World War II. The soldiers are all shot through a closed door, so the Germans think that they're all dead, but they miss the soldier played by Keegan-Michael Key. The soldiers played by Burrell and Jordan Peele then enter to inspect. Peele's character notices Key's character pretending to be dead, but Burrell's character is too dedicated to telling his story about a brief, random encounter with Hitler to notice.
There are multiple levels of absurdity with this clip; first Burrell's Nazi's dedication to his boring Hitler story, second Key's soldier being really obvious with being alive, and then the final act where now both the Nazi soldier and American soldier are faking their deaths. The clip gets its humor from the ridiculousness of the situation but the familiarity of it as well. You know minus the Nazis and Hitler part, we have all had a friend really into their awesome story that isn't really awesome but we have to fake interest.
Key and Peele have branched off into their own projects, but come together when the project is right, so we can always expect and hope for more fun Key and Peele collaborations. Stream all five seasons of Key & Peele on Hulu (opens in new tab)
Your Daily Blend of Entertainment News
Spent most of my life in various parts of Illinois, including attending college in Evanston. I have been a life long lover of pop culture, especially television, turned that passion into writing about all things entertainment related. When I'm not writing about pop culture, I can be found channeling Gordon Ramsay by kicking people out the kitchen.