Katie Couric Has Thoughts About Jennifer Aniston In Apple TV+'s The Morning Show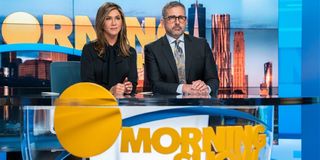 Apple TV+'s The Morning Show premiered last fall to somewhat of a mixed critical reception. It was initially compared to HBO's The Newsroom and also critiqued for not fully diving into the issues it presented. However, the one thing many seemed to agree on is that the cast was excellent, which is good, because they were earning a whole lot of money to be on the show. Now, former Today show anchor Katie Couric says she has seen The Morning Show and has a few thoughts about the storyline and Jennifer Aniston's portrayal in particular.
The Apple TV+ series was inspired by CNN correspondent Brian Stelter's book, called Top of the Morning: Inside the Cutthroat World of Morning TV. The drama followed Jennifer Aniston's Alex Levy and Steve Carrell's Mitch Kessler, who was fired following sexual assault allegations that ultimately left Alex to fight for her job as anchor amidst the scandal. Katie Couric was recently asked about her impressions of the series, and while speaking on the podcast Everything Iconic with Danny Pellegrino, Couric said that Aniston did well, but that she was ultimately missing a key component in her portrayal. Here's what Couric had to say about her in the role:
That last part makes it sound like Katie Couric isn't exactly thrilled with all aspects of the series. Although she thinks Jennifer Aniston's performance lacked an overall charisma, there is one storyline that the former anchor believes The Morning Show got right. Here's how she put it:
Katie Couric is, of course, referring to Mitch's workplace behavior on the show. Ironically, many believe that the Apple TV+ series parallels certain aspects of the scandal surrounding Katie Couric's former Today co-anchor Matt Lauer, who was fired from NBC for inappropriate workplace behavior. Lauer did respond to the sexual assault allegations after more women came out with claims against him, though Couric maintains that she "had no idea" these things were going on at the time.
The Morning Show was renewed for Season 2, but the series was in the midst of production when filming was suspended a little over a month ago, like so many other television and film productions. Viewers can still watch Season 1 of the show on Apple TV+. For more on what to watch in the coming months, be sure to check out our 2020 summer premiere guide.
Your Daily Blend of Entertainment News