6 Netflix Shows That Are Crazy Expensive To Make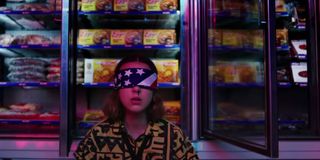 With dozens of Emmys, Golden Globes, and other awards over the years, it's a proven fact that Netflix knows how to make top-notch television series that bring in subscribers while pleasing critics at the same time. But for shows like The Crown, Stranger Things, and any of the other award-winning series brought to us from the streaming platform, it take truckloads of money.
Those big name actors, visionary directors, and lavish sets and costumes, not to mention all the eye-catching visual effects aren't just going to come together on their own. With shows sometimes costing upwards of $100 million for a single season, Netflix takes a gamble with every one of these big-budget commitments, which sometimes don't pay off. Like any other streaming service or traditional television network, Netflix sometimes hits it big with The Crown, but falls short with lesser known and just as pricey experiments like Marco Polo.
Here are some of the most expensive shows that Netflix has produced over the course of the last decade.
The Crown - $130 Million Per Season
Since its debut in 2016, The Crown has welcomed audiences into the extravagant and dramatic world of Queen Elizabeth II in this critically acclaimed and beloved period drama. Through its first three seasons, Peter Morgan's sprawling epic centered around the reign of the Britain's longest serving monarch has been filled to the brim with some of the best acting, set designs, and costuming money can buy. And it takes a lot of money to buy all of that.
According to The Daily Beast, The Crown is not only one of the most expensive shows on Netflix, it has one of the largest budgets ever dedicated to a television series with the 10-episode first season costing a whopping $130 million. That's more money than you see put towards some of the biggest blockbusters. But the large production budget hasn't been for nothing as the series has brought home plenty major awards in its first three seasons.
Stranger Things - $6 to $8 Million Per Episode
If there were a more popular and culturally significant show on Netflix than Stranger Things I'd love to see it, but I'm afraid there is just nothing out there that can bring as many eyes to the streaming service than this eerie and eye-popping love letter to '80s cinema and pop culture. Since debuting on the service in the summer of 2016, millions upon millions of subscribers have fell in love with Eleven, Hopper, and the rest of the talented and well-rounded cast of characters living in the fictional town of Hawkins, Indiana in the early to mid '80s.
But with an expanding cast, story(especially after that groundbreaking Season 4 teaser), and more eye candy than anyone knows what to do with, it should come as no surprise that each episode comes with a hefty price tag. According to Variety, it takes anywhere from $6 to $8 million to produce a single episode of the fan-favorite series, though that number is likely to only go up as the story grows more complex.
Altered Carbon - $7 Million Per Episode
While some of us are still trying to wrap our minds around what happened at the end of Season 2 of Altered Carbon or what lies ahead for the Netflix science-fiction action series, there are some out there who are probably wondering just how much the series setting the streaming platform back. All those visuals, and the stellar cast can't come cheap, but the number still isn't as high as you would think.
Altered Carbon showrunner Laeta Kalogridis has long scoffed at the purported $150 million budget attached the show's debut season in 2018 and has remained tight-lipped about that actual cost of the sprawling narrative, but the number that is generally thrown around, even by The Hollywood Reporter, is an estimated $7 million per episode. But don't look to Kalogridis for confirmation.
Sense8 - $9 Million Per Episode
Created by the visionary minds behind The Matrix, The Wachowskis, alongside J. Michael Straczynski, the Netflix original series Sense8 was bound to be an epic, wide-reaching, and expensive television experience when it was first released in 2015. With filming locations set in Berlin, Chicago, London, Kenya, Italy, Paris, and pretty much everywhere else around the globe, this science-fiction epic required quite a budget to properly tell the story.
And that scope, combined with the lower viewership, led to Netflix pulling the plug on Sense8 after the show's second season in 2017. At one point, the show reportedly cost $9 million per episode, which equals out to a little less than $110 million per season. With costs soaring and fan engagement not where Netflix would have liked for it to be, the streaming service pulled the plug, but not before it let the showrunners give the series a proper sendoff with a two-and-a-half-hour final episode in 2018.
Marco Polo - $90 Million Per Season
There was a time in which Netflix didn't cancel too many of its shows before they finished telling their individual stories, and then came along the epic period drama that was likened to Game Of Thrones, the ill-fated and expensive Marco Polo, which according to the New York Times, cost a staggering $90 million per 10-episode season back in 2015.
The show wasn't a hit with critics but fans generally enjoyed the story of Marco Polo during his time spent with Mongolian ruler Kublai Khan, but the two-season series wasn't enough of a hit for Netflix and the Weinstein Company, who together, according to The Hollywood Reporter, lost an astounding $200 million on the series.
The Get Down - $120 Million Per Season
Before The Crown came in and swooped up the title of most expensive Netflix series ever, Baz Luhrmann's The Get Down reportedly cost a staggering $120 million per season. According to Variety, the show, which ran for one season (split into two, six-episode sections) on the streaming service, had a troubled production that missed deadlines and continued to add costs as shooting stopped and stalled.
Known for eccentric and eye-catching movies like Moulin Rouge, Romeo + Juliet, and The Great Gatsby, it appears that Baz Luhrmann's flash and flair didn't translate well to a television series about the beginnings of the hip-hop movement in 1970s New York City. Netflix cancelled the series after one season in 2017.
Those are a few of the more expensive shows that have premiered on Netflix over the years. It remains to be seen if The Crown will only get more expensive as the show prepares for its final two seasons, but for shows like that, the high cost of production is well worth it.
Philip grew up in Louisiana (not New Orleans) before moving to St. Louis after graduating from Louisiana State University-Shreveport. When he's not writing about movies or television, Philip can be found being chased by his three kids, telling his dogs to stop yelling at the mailman, or yelling about professional wrestling to his wife. If the stars properly align, he will talk about For Love Of The Game being the best baseball movie of all time.
Your Daily Blend of Entertainment News
Thank you for signing up to CinemaBlend. You will receive a verification email shortly.
There was a problem. Please refresh the page and try again.