Big Brother Season 22: 8 Major Questions We Still Have About The 2020 Season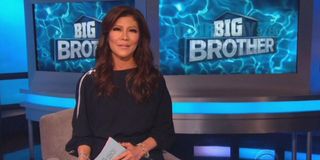 The COVID-19 epidemic has put the entire world on-hold, including the production of many major movies and television series. Some of these films have been shifted and now have new release dates but many television and film projects are in limbo. Big Brother Season 22 is one of these unfortunate shows that still have an uncertain future. Before the coronavirus hit America, Big Brother Season 22 was set to premiere in the summer of 2020.
Now fans, potential houseguests, and the production crew have no clue what the future of Big Brother Season 22 holds, or if it'll even air in 2020. As the world continues to adjust to our new normal, we have a lot of questions about Big Brother Season 22.
Is Big Brother Season 22 Happening?
The short answer is yes, Big Brother Season 22 is expected to happen at some point. Back in September 2019, CBS confirmed that Big Brother would return in the summer of 2020 for a new season, and it was also confirmed that Julie Chen-Moonves would return as the host. So we know that Big Brother 22 is happening, but we don't know when it will occur. The coronavirus has halted most major productions, so it's likely that things like redesigning the house and casting calls have been completely stopped.
At this point, with no confirmation of if or when Big Brother might return this summer, we can only speculate. Big Brother usually airs at the end of June or the very beginning of July, so it's still a possibility that it could air during that time period, but highly unlikely. The stay at home order in Los Angeles County, where Big Brother is filmed, has been extended until the end of July. This likely means, if the plan is to keep the series in the same filming location with the same format, the earliest Big Brother could air Season 22 might not be until August or early September. And that's also assuming they were to have everything ready to go at the time they could start filming.
Is Big Brother Season 22 Casting Complete?
While fans have a lot to say about the casting process, the series really can't move forward without a confirmed cast. Everything else falls into place after the contestants have been chosen. All of the Big Brother Season 22 scheduled live casting calls were set to occur in March and April, and they were all cancelled. Now the Big Brother casting website instructs everyone who wants to apply for the show to just send in videos. The deadline to apply was April 3, 2020. Big Brother Head of Casting Robyn Kass took to Twitter to vent some frustration about people sending in videos after the deadline or begging her to extend it.
This is a good sign for the casting process because it means that, as of April, Kass was still actively working to get through the video submissions. Also Kass not being flexible on the deadline, might mean that she hopes to still have Big Brother Season 22 in 2020. The tricky thing about casting is that the number of contestants also depends on how long the season plans to air. A full 90 plus days usually means 16 contestants (or in the case of Big Brother 19, 17). A shorter season means less contestants or multiple eliminations in a week. So deciding how many people to make finalists could be difficult right now.
Assuming the plan is to get Big Brother back on the air at some point this year, Kass and team likely plan to continue to watch videos and narrow down the contestants. From there, we'd assume that at some point they would need to do in-person interviews before they could actually sign people on for the show. And again, we don't know when that would be feasible for them to do.
Could Big Brother Season 22 Be Delayed To Later In The Year?
If Big Brother Season 22 is airing this year, it seems unlikely that it will premiere around its usual time, so it may not happen until August or September, if not later. The Big Brother production team told EW that Big Brother and Love Island won't air until "when the time is right." This vague answer offers no real insight into when fans should at least hope for a new season. Big Brother Network also got a pretty vague answer about if Big Brother Season 22 will air in 2020 when they reached out to a casting producer at Kassting in April. The site was told "It's a day to day figuring out as you can imagine, but still moving forward with the show!!"
What we can interpret from these general answers is that everyone at CBS and Big Brother want to air Big Brother Season 22 at some point, but it depends on what happens in the next few months with LA and the coronavirus. This probably means that the production team will likely air Big Brother sometime in 2020, especially with many shows that were scheduled to air in the fall potentially getting delayed because filming hasn't started, and many shows scheduled for the summer also facing delays. So CBS will likely churn out Big Brother this year if at all possible.
Will Big Brother Season 22 Be An All Star Season? Will It Have Twists?
Big Brother Season 22 was going to mark the official 20th anniversary of when Big Brother premiered in the USA. This likely meant that the series planned to have some sort of special season to commemorate this occasion. What's more special than an all-star season? Additionally, Big Brother was expected to go up against the Olympics over the summer, so they might have had something big planned, either related to returning houseguests or some other twists to keep the audience engaged. Whether that would've meant an All Star season or not, we don't know, but it's possible.
However, with no Olympics, the chances of an all-star season seems less likely. Big Brother may save that trick for 2021 when it hopefully airs against the Olympics. An all-star season is still possible, especially if the season weren't the typical 90-something day season that would require a three-month commitment from the returning houseguests. If Big Brother Season 22 is a shorter season, then some alumni may be interested in appearing.
Personally, I don't think this will be an all-star season, unless it's a combined North American season featuring USA players and Canadian ones. Many memorable players have gone on to marry and start families, which may make them less likely to want to spend months away from home, especially right now, during the pandemic.
Part of the Big Brother DNA now includes major twists. We expect every season, in some way, to have a twist. The twists may be not as vital to the season as they've been in the past, but a simple audience-involved twist like the Big Brother Care Packages could return for Big Brother Season 22, especially with so many people available to vote at home.
Will There Be Any Specials To Honor The 20th Year?
On July 5, 2000, Big Brother aired its first episode on CBS. This year marks the 20th year for the series, with over 21 seasons. This is a huge accomplishment. I expected that Big Brother Season 22 had plans to honor this 20 year anniversary in multiple ways, but with everything going on, it's likely that the fanfare for the anniversary will be done on a lesser scale.
There are ways Big Brother could still celebrate its 20th year. For example, Big Brother could take a cue from other shows and movies with a virtual reunion of the original cast, or even just a mixture of players from over the years. CBS could also just do virtual interviews with some popular houseguests as a way to honor and celebrate the 20th anniversary. There are numerous ways the show can have virtual celebrations. It just depends on if CBS wants to do anything like that while we wait for news on Big Brother Season 22.
If Big Brother Season 22 Does Happen This Summer, How Might The Pandemic Impact The Game?
It would be an understatement to say that the Covid-19 pandemic has had a major impact on many aspects of our lives and work. So it stands to reason that Big Brother would be no exception. At this point, we don't know how much of an impact the pandemic might have on the way the game works when it resumes, but it does seem likely that adjustments would be made to ensure a safe environment for the cast and crew of the series. If Big Brother happens this summer, most likely some new rules might have to go into place. The selected contestants may have to be sequestered earlier than normal, to avoid them coming into contact with someone and catching the virus. There may also be adjustments behind the scenes. Possibly a smaller on-site staff.
Will Big Brother Continue The Slop Punishment?
In Big Brother 21, Jackson Michie was a very controversial winner and player. One of his biggest scandals involved him secretly eating food while on slop. He was seen on the live feeds eating multiple times, but never punished by production. Jackson wasn't the first offender to break the slop rule and get little to no punishment, but he was one of the worst offenders. This made me, and many others, question why Big Brother even does the slop punishment if they're not going to enforce their own rules. It leaves us to wonder if Big Brother might consider dropping that aspect of the game or changing it to something else.
It's time that Big Brother either ends the slop punishment or make it stricter. I'm fine with them ending it. I would rather they instead do food competitions, or take a cue from Big Brother UK. I think it would be cool if now they give people a basic budget vs a luxury budget if their team loses a food competition. That may not seem that terrible of a punishment, but imagine eight people trying to share a $200 food budget for a week. Slop would seem like a luxury.
Could Big Brother 22 Work Like The Circle?
A way to ensure that Big Brother happens is if the show takes some notes from The Circle. The Circle involves people interacting only through an app called The Circle, while living in separate apartments. Big Brother can't completely steal this format, but it could use inspiration from The Circle and the online series Sequester. Maybe part of the season could involve sequestering the houseguests in a hotel and have them interact for the first part of the game via video chats, and then later (when stay at home order is lifted), the remaining contestants can move into the live interaction portion in the house. This change in format could allow Big Brother to still include isolation and start in the summer as planned.
There are still so many unknown variables involving Big Brother Season 22, so all we can do is wait and hope that we start to get some answers soon. Until then, we can always watch Big Brother reruns (opens in new tab) when we need some Big Brother in our lives.
Spent most of my life in various parts of Illinois, including attending college in Evanston. I have been a life long lover of pop culture, especially television, turned that passion into writing about all things entertainment related. When I'm not writing about pop culture, I can be found channeling Gordon Ramsay by kicking people out the kitchen.
Your Daily Blend of Entertainment News
Thank you for signing up to CinemaBlend. You will receive a verification email shortly.
There was a problem. Please refresh the page and try again.