The Mandalorian Season 2 May Suffer From A Classic Star Wars Problem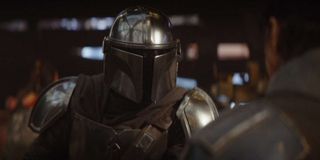 The Mandalorian Season 2 is on the way, and the hype for the sophomore season of the live-action Star Wars series has only built in the past couple months. That's thanks in large part to a number of leaks and reveals about the upcoming season, which teased the appearance of some familiar characters.
The news and reveals for The Mandalorian Season 2 are just about as exciting for me as they are concerning. I fear this season will suffer a common problem that has plagued the Star Wars franchise for years. While reveals do help build hype and excitement, I'm of the opinion that the excessive information rolled out ahead of The Mandalorian will hurt this coming season more than it'll help.
Leaks, Reveals, And High Expectations
So far, it has been reported (whether by Disney or unofficially by reliable sources) that four characters with significant ties to Star Wars will appear in The Mandalorian Season 2. Boba Fett and Ahsoka Tano are, provided the rumors so far are legit, major jaw-droppers that turned the fandom on its head, and Bo-Katan Kryze and Cobb Vanth are nothing to turn one's nose up at either. All of these characters have different histories in the world of Star Wars, meaning some viewers would have an idea of what they're about going in.
Because of that, there's presumably foundation now for fans to hypothesize or even predict what The Mandalorian Season 2 will be about. As an example, it's known that Cobb Vanth is the inheritor of Boba Fett's Mandalorian armor after purchasing it from Jawas following Star Wars: Return of the Jedi. It has also been reported that The Mandalorian enlisted Jango Fett actor Temuera Morrison to play Boba Fett, which, if true, may mean the character will have some unmasked role in the upcoming season. To me, it feels like a confrontation with Vanth and the once-thought-dead Fett is on the horizon.
And that's just the start. There are people coming up with how Ahsoka Tano's story will weave into The Mandalorian, and others trying to work what we already know about the story into Bo-Katan Kryze's stuff. These are all beloved characters to hardcore Star Wars fans, after all, and given the acclaim of Season 1, many may be assuming this whole thing will be perfect and just the way they imagined.
How Leaks And Reveals Have Impacted Star Wars
The problem with these big leaks and supposed reveals for The Mandalorian Season 2 is that, historically, these things haven't always played out well for other Star Wars projects. There are lots of examples throughout franchise history in which the reveal of a character resulted in unrealistic expectations, controversy, and opinions being formed before the scenes they were in were even shown. One example of all of the above can be found with the recent release of Star Wars: The Rise of Skywalker, as well as throughout the entire franchise.
Much like with The Mandalorian Season 2, the reveal of certain characters comes with a lot of history. These characters often bring their own stories into the existing story, and fans take those ideas and construct theories on how these characters will be used or impact the overall story. For example, when it was rumored Wedge Antilles would appear in Star Wars: The Rise of Skywalker, thus began theories that Wedge was leading some old sect of The Rebellion or that the Rogue Squadron would make its return.
As we now know, neither of those last two scenarios happened. Wedge merely had a cameo in the massive final battle on Exegol, which was cool, but not really that big a deal. It's a perfect example of what fans will run with, when they only know a little part of the story, and why the leaks and supposed reveals of The Mandalorian Season 2 could be so detrimental to the show.
It's also a classic problem that, well, can't be helped. Star Wars is a massively popular franchise across many generations, and when something is that big, keeping secrets becomes a massive undertaking. Journalists will dig for scoops, minor crew members might get a little too chatty, and passionate fans can attempt to fly drones over sets to see any details they can in advance. The leak of secrets and spread of unconfirmed rumors is more or less unavoidable, though that was not always true in regards to The Mandalorian.
The Mandalorian Season 1's Major Secret
Even now, it's nothing short of incredible that The Mandalorian was able to keep the secret of "Baby Yoda" for so long. Disney had to be asked to hold off on merch, tons of cast and crew interacted with the puppet, and there were even some key details of the series allegedly stolen early into the filming process. And yet, we were all blindsided with the reveal and the lack of knowing what to expect became one of my favorite things of The Mandalorian Season 1.
It's a feat that, frankly, I'm surprised hasn't been repeated to some degree in Season 2. Sure, The Mandalorian got a lot of critical acclaim after Season 1, but even before that it was the first live-action Star Wars show in existence. One would think that had The Mandalorian successfully buried the news of Ahsoka Tano or Boba Fett (again, assuming the reports are true) in Season 2, it would've resulted in Baby Yoda-like hysteria all over again.
Which is disappointing, especially considering how much of the story was tied to that reveal. Now, The Mandalorian may have a couple major secrets already exposed, and people trying to work out all that it means well ahead of the premiere. They're setting themselves up to be disappointed, be it through high expectations or through another cruel mistress when it comes to a deep knowledge of Star Wars lore.
The Mandalorian Season 2's Potential Predictability
As I've touched on previously, many of the new characters reportedly revealed ahead ofThe Mandalorian Season 2 have a history in Star Wars lore. Because of that, there's an expectation that things we've learned about these characters from stuff like the prior projects they've appeared in will remain valid, which makes it easier to predict how they'll be utilized.
For example, Bo-Katan Kryze was the last known person who wielded the Darksaber seen at the end of The Mandalorian Season 1. Given that Moff Gideon was in possession of the Darksaber, a popular theory is that he gained it from killing her during The Great Purge. Of course, part of that theory could've been concocted prior to the reveal that Katee Sackoff would join The Mandalorian Season 2.
The Mandalorian started as something that felt very new, but as more familiar characters from Star Wars work their way into the story, it's inevitable the plot threads will get a bit more predictable. For some this is a bad thing, because the show's unpredictability and ability to bring something new is what made it so enjoyable. I'm not so sure the show will suffer from having more familiar faces in Season 2, but I can see the frustration in seeing more familiar than original characters getting attention ahead of the season.
At the end of the day, it's unknown whether or not The Mandalorian will suffer from the classic problem of too many reveals ahead of Season 2. Perhaps if all these reveals are legit there are still some bigger secrets yet to be uncovered, or the cat's out of the bag. We can only wait and see, and trust that Dave Filoni and Jon Favreau have what it takes to keep this Disney+ series top quality.
The Mandalorian Season 1 is currently available on Disney+. Continue to stick with CinemaBlend for updates on the series, and for the latest news happening with Star Wars, television, and movies.
Your Daily Blend of Entertainment News
Mick likes good television, but also reality television. He grew up on Star Wars, DC, Marvel, and pro wrestling and loves to discuss and dissect most of it. He's been writing online for over a decade and never dreamed he'd be in the position he is today.
Your Daily Blend of Entertainment News
Thank you for signing up to CinemaBlend. You will receive a verification email shortly.
There was a problem. Please refresh the page and try again.