Coming To HBO Max: The Big Bang Theory And Other Shows That Will Be On HBO's New Streaming Platform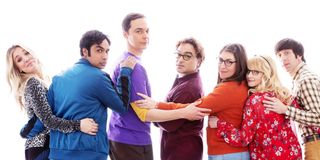 On May 27, HBO Max launches. For premium cable fans, this will be like Christmas in the summer, and HBO is a generous Santa Claus. WarnerMedia worked very hard to develop and curate a large collection of original and licensed content. HBO Max will charge subscribers $14.99 a month, making it one of the higher-priced streaming services, but it more than makes up for the heavy price tag with beloved series like The Big Bang Theory and Friends, along with plenty of highly anticipated original content from creators like Mindy Kaling, Nicole Kidman, Greg Berlanti and Lena Dunham.
With so much HBO Max content launching in 2020, now is a great time to review some of the options that you'll have available soon.
The Big Bang Theory And Other Classic Shows
HBO plans to release every episode of Friends (yes all 236 episodes) on May 27. Friends fans had a bit of a meltdown when the series left Netflix in January, but happy days are here again with it hitting HBO Max soon. Revisiting Friends should keep most fans busy and excited for a while, but there are other great shows available, like The Big Bang Theory, The West Wing, and The Fresh Prince of Bel-Air, to make staying at home a lot more fun.
HBO Max will also be home to various CW series, starting with the ones that aired in fall 2019 like Batwoman and Katy Keene. Here's a lineup of the licensed content to expect on HBO Max in 2020:
Friends
Fresh Prince of Bel-Air
Rick and Morty
Doctor Who (2005-present)
The Big Bang Theory
Pretty Little Liars
Batwoman
The West Wing
Adventure Time
Anthony Bourdain: Parts Unknown
Two and a Half Men
Nancy Drew
Katy Kenne
Top Gear
Luther
The Office (original version)
Sesame Street
South Park
New Original Shows
HBO has a massive new content launch for 2020. Along with revivals of your favorite series like Gossip Girl and The Boondocks, the streaming service has completely new shows coming like Nicole Kidman's series Crime Farm. It's about a couple who find it a bit kinky when they investigate notorious crimes. For DC fans, the DC TV Universe is about to expand even further with TV versions of some of your favorite comic characters, such as the Green Lantern.
DC Related Series
HBO Max plans to release four new DC shows in the coming years. They are DC Superhero High, The Green Lantern, Justice League Dark and Strange Adventures. Doom Patrol Season 2 will also air on both HBO Max and DC Universe.
The Green Lantern is arguably the series that has many DC Universe fans most excited, because Green Lantern is such a well known and popular comic character. Additionally, Greg Berlanti has done a good job so far with all his other DC series. Personally though, Strange Adventure sounds the most exciting. It's a DC hero anthology series with hour-long episodes about DC characters facing moral dilemmas. Berlanti joins forces with Sarah Schecter and John Stephens for Strange Adventures.
Grease And Other Revivals
Olivia Newton-John and John Travolta made everyone fall in love with "Summer Nights," and finally told their crush that "You're the One that I Want," when Grease became such a huge movie in 1978. Fans of Sandy and Danny get to return to Rydell High with the new series Grease: Rydell High. Along with that revival, there are a few others: The Boondocks and XOXO Gossip Girl.
The Adaptations
HBO, like all good creative companies, is adapting some of your favorite books into shows and anthology series. Here are the ones already on the docket: Circe, Americanah, Made for Love, Overlook (not a direct adaptation, but based on Stephen King's The Shining), Station Eleven, The Uninhabitable Earth, Tokyo Vice, and Dune: The Sisterhood.
Circe and Americanah are both best selling novels with a lot of dedicated fans. Americanah also has the star power of Danai Gurira and Lupita Nyong'o behind it. Circe's concept is based on Greek Mythology, so it already has the gods in its favor.
Made for Love has the charming combo of Cristin Milioti and Ray Romano, so this might be one to watch if you enjoy dark comedies. Adam McKay is the driving force behind The Uninhabitable Earth, an anthology series based on David Wallace-Wells' novel. Station Eleven is a post-apocalyptic story with Patrick Somerville and Hiro Murai acting as the showrunner and director.
Issa Rae's Rap Sh*T And Other Big Name Projects
HBO Max has a ton of original scripted content coming, and some major celebrities are attached, either as writers, producers, directors or stars. Here's all the ones coming to HBO Max: Beth & Sam, College Girls, Crime Farm, Duster, The Flight Attendant, Gen: Lock, Generation, Love Life, The Prince, Raised by Wolves, Rap Sh*t and Search Party (Alia Shawkat's TBS series moves to HBO Max for Seasons 3 and 4),
Ridley Scott is executive producer on Raised by Wolves, a sci-fi series about two androids raising human children. The series Gen: Lock is an anime sci-fi series featuring the voices of stars like Maisie Williams, Michael B Jordan, and Dakota Fanning. It was originally aired as an Adult Swim series. The other original scripted series coming to HBO Max are Close Enough, Hot Dog, Starstruck, and Untitled Aniello, Downs, Statsky Project.
Original Kids Shows
HBO Max hasn't forgotten about the little ones. It's planning to launch content specifically geared towards them, like a new Adventure Time series and an animated Gremlins series called Gremlins: Secrets of the Mogwai. Here are the rest of the great new kids programming to catch on HBO Max: Adventure Time: Distant Lands, Craftopia, The Fungies, Jellystone, Karma, Little Ellen, Looney Tunes Cartoons, Mecha Builders, The Not Too Late Show with Elmo, Tig N'Seek and Tooned Out.
The Not Too Late Show with Elmo is a talk show for kids. It'll feature Elmo and his Sesame Street friends along with special guests. This sounds almost too adorable for words. HBO Max seems to have plenty of family friendly content for when parents aren't alone binge watching Game of Thrones.
Friends And Other Unscripted Shows
The Friends reunion special is one of the series gaining the most buzz about HBO Max. Ellen DeGeneres also has a major unscripted series coming to this streaming service. She'll be hosting a competition series about home design. Not to be out done by Netflix, HBO also has a reality dating series called First Dates Hotel. DeGeneres is also producing this one, and it involves singles trying to find love while on a trip to Italy.
Here's the rest of HBO Max's unscripted collection: Birth, Wedding, Funeral, Brad & Gary Go To, EQUAL, Esme & Roy, Full Bloom, Generation Hustle, The Greatest Space, Heaven's Gate, The Hos, Legendary, Team Coco Comedy Specials and the Untitled Selena Gomez Project.
Classic And New HBO Series
All of HBO's original series will be available to stream on HBO Max. So if you haven't had time to catch up with critically acclaimed series like Succession, Westworld, The Comeback and The Sopranos, now is your time.
HBO Max has everything that HBO Now and Go has, but also a lot more content. So it might be worth giving a try when it launches on May 27. Let us know if you plan on subscribing to HBO Max, and if you are, what you'll be watching first (be it classic or original content) down below.
This poll is no longer available.
Your Daily Blend of Entertainment News
Spent most of my life in various parts of Illinois, including attending college in Evanston. I have been a life long lover of pop culture, especially television, turned that passion into writing about all things entertainment related. When I'm not writing about pop culture, I can be found channeling Gordon Ramsay by kicking people out the kitchen.
Your Daily Blend of Entertainment News
Thank you for signing up to CinemaBlend. You will receive a verification email shortly.
There was a problem. Please refresh the page and try again.