That '70s Show And The Ranch Star Danny Masterson Charged With Raping Multiple Women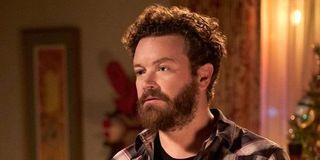 Danny Masterson, best known on the small screen for his roles on Fox's That '70s Show and Netflix's The Ranch, has been charged with raping multiple women. Investigations into Masterson for alleged sexual assault began back in 2017.
The actor, currently 44-years-old, is charged with raping three women, according to Los Angeles County District Attorney Jackie Lacey and the Los Angeles County District Attorney's office. Danny Masterson's alleged rapes took place by "force or fear" in separate incidents between 2001 and 2003. Masterson is accused of raping a 23-year-old woman in 2001, between January and December.
The other two allegations for which Danny Masterson has been charged took place in 2003. In April of that year, Masterson is accused of raping a 28-year-old woman, as well as a 23-year-old woman between October and December.
According to Reinhold Mueller, Deputy District Attorney of the Los Angeles County Sex Crimes Division, all three of the alleged rapes took place at Danny Masterson's home in Hollywood Hills. The office of the District Attorney chose not to file sexual assault charges from two other cases against the actor. For one case, there was reportedly insufficient evidence to prosecute, while the other was declined due to the statute of limitations.
According to the charges, Danny Masterson would have been between 25- and 27-years-old at the time of the alleged rapes. If Masterson is convicted in all three cases, he faces a potential maximum sentence of 45 years to life, to be served in a state prison. The case currently remains under investigation.
Accusations of sexual assault against Danny Masterson became public in early 2017, and he was ultimately fired from his role on Netflix's The Ranch in December of 2017. His character was written out and he was replaced by Dax Shepard. Although all the details of the investigation into Masterson weren't public, his status as a member of the Church of Scientology and an episode of Leah Remini's Scientology and the Aftermath raised questions about the handling of the accusations against him in early 2019.
Scientology and the Aftermath reportedly produced an episode centered on Danny Masterson that would feature interviews with Masterson's accusers, and one accuser claimed that the Church of Scientology circulated letters to press A&E and Disney into not airing the episode. The show did cover the allegations against Danny Masterson in its two-hour series finale in August 2019.
The Church of Scientology and Danny Masterson were sued by sexual assault accusers in August 2019, facing claims that the Church targeted them after coming out with their allegations against Masterson. In the lawsuit, four women claimed that they were stalked and intimidated by the Church of Scientology after reporting Masterson. Less than a year later, Masterson faces three charges of rape.
Danny Masterson's arraignment is scheduled for September, so the case against him in Los Angeles County likely won't be resolved for quite a while. Stay tuned to CinemaBlend for more updates on the case, as well as the latest in TV and movie news.
Resident of One Chicago, Bachelor Nation, and Cleveland. Has opinions about crossovers, Star Wars, and superheroes. Will not time travel.
Your Daily Blend of Entertainment News
Thank you for signing up to CinemaBlend. You will receive a verification email shortly.
There was a problem. Please refresh the page and try again.